Nuclear star dancer Robert Parker leaps to head ballet school |

reviews, news & interviews
Nuclear star dancer Robert Parker leaps to head ballet school
Nuclear star dancer Robert Parker leaps to head ballet school
Birmingham Royal Ballet star to be artistic director of Elmhurst Ballet School
Monday, 19 September 2011
Robert Parker in Stanton Welch's Powder
Birmingham Royal Ballet's star Robert Parker has been a ballet dancer and a trainee pilot - and is now to become artistic director of Elmhurst Ballet School in Birmingham, one of the two most important ballet schools in Britain.
Known as "nuclear" Robert as a child, the tall, blond dancer has long been the major attraction of BRB for his combination of dynamic dancing and characterful dramatic acting, in an enormous range from classical leads such as Romeo and Prince Siegfried to contemporary ballets by Twyla Tharp and Kim Brandstrup and ballet-drama heros such as King Arthur and Cyrano., two roles created for him by BRB's director-choreographer David Bintley.
He quit ballet for a year in his early thirties to move to the US, where he trained as a pilot, but was soon back in ballet shoes after missing the stage too much. (Much the same happened to the Royal Ballet's principal man Jonathan Cope - he too found the lure of ballet too strong, despite trying to leave it and start a new business career.)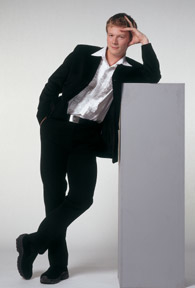 Parker, who is still only 35, remains a major draw with both public and dancers. He said in an interview last year, "I am a yes man, which is why I've never had any problems with any of my partners. In my eyes the ballerina is always right, so by making her life easier, I make my life and my job easier. A bit of psychology involved here!"
He's married to fellow BRB principal dancer Rachel Peppin, with whom he has a daughter, and recently completed a dancer's degree at University of Birmingham, from where he will graduate in December as a MPhil.
For the past three years BRB's senior coach Desmond Kelly has been leading Elmhurst, and with the appointment of Parker it's evident that the stylistic link between Birmingham Royal Ballet and Elmhurst School - flagged up when Elmhurst moved from Surrey to the Midlands in 2004 - is developing an even stronger identity than the association between the Royal Ballet and the Royal Ballet School. Kelly will be remaining as the school's Artistic Advisor.
Billy Elliot could have been me. It rang frighteningly close to my upbringing
Parker's statement goes: "I am thrilled to be Elmhurst's Artistic Director effective from September 2012 and I look forward to new and exciting challenges ahead. Under the artistic direction of Desmond Kelly, Elmhurst has gone from strength to strength and I hope to build upon his outstanding contribution to nurture and produce some of the finest classical and contemporary dancers in the world. After a rewarding 18-year career with Birmingham Royal Ballet, my aim is to utilise my experience and passion for dance to train a future generation of dancers and prepare them for the realities of a professional career.
"Based on my close working relationship with David Bintley, I plan to strengthen the school's association with Birmingham Royal Ballet, providing students with a direct link to the company and the wider dance world. I am very much looking forward to working with [principal] Jessica Ward and the dedicated Elmhurst staff and students to further the aims of the school."
Parker was Billy Elliot prototype
When the film Billy Elliot was released in 2000, I interviewed Robert, then 24, for the Daily Telegraph. This is an edited version of his story.
For Robert Parker Billy Elliot "could have been me. It rang frighteningly close to my upbringing." Watching the film, he often found himself in tears, thinking of his own upbringing in gritty Hull where his family - his mother in particular - made painful sacrifices to help him chase his hopes.
"I have got a large family, a brother and two sisters. My dad was a builder and joiner, and would often be away a month or two at a time.
"My mum, who's a nurse, just knew we had to get out of Hull, and she worked all hours, night and day, to get us all to boarding school. My sisters went to Hammond and the Arts Educational School, and my brother went to a nice school and then Imperial College."
As with Billy Elliott in the film, Parker stumbled into dance through boxing lessons.
"I think Hull has more boxing and dance clubs than anywhere else. The film rang a bell instantly with me. When I was 6 or 7, I went along to boxing with my brother, because my dad was manager at the boxing club. My sisters started to go to ballet class, and my mum would leave me there afterwards while she was working. I'd watch and pull faces at my sisters.
"And then the teacher said, 'If you are going to cause trouble, you can join in next time.' I thought I would wet my pants, but I caught the bug.
"My teacher was just like Julie Walters in the film. She would stand around and have a fag. She was tired and bored, until she saw a kid with drive, who gave her hope. I immediately felt I must do ballet correctly, and I was willing to take criticism."
Like Billy in the film, Parker found himself isolated by his unlikely new hobby.
"At first I was bullied for my interest in ballet. I think my dad was a little apprehensive. Then when I won a dancing competition, my picture started getting into the paper. He would cut the pictures out and show them to his mates in the pub. He is still so proud, although he would never tell me himself. My grandma will tell me he was crying when I'd achieved something. You'd never think it to look at him - he's a huge bloke."
The snotty portrait of the Royal Ballet School audition panel rang true with Parker. "Except that you did not do your audition alone with them like that. You did feel like a guinea pig, that they wanted to mould you, not take you for what you were. And you felt like you were in the presence of royalty there. I do remember changing my accent, but when you are a child you don't know about class divisions and we were all speaking the same language at White Lodge."
He was aware, though, of being the only lad who did not go home at long exeat weekends - because his mother (by then divorced) had neither a car nor the money for the journey to Hull. She would visit him for the afternoon - making a mammoth journey by coach, bus and Shank's pony, starting at dawn and ending at 2 the next morning.
"I think it does toughen you. The amount of struggle my mother put in, I felt I must put in 110 percent. I owe everything to her. She could have told me to stick to boxing."
Though Parker is deeply proud of his life, the northerner in him still finds it uncomfortable to reply in a pub back home to a casual inquiry about what he does.
"It's only in England that you get this stigma, this poofy prejudice about men in tights and makeup. We work our butts off and then we get ridiculed. I don't know why it is - it's like the way people still talk about the Germans.
"Ballet's always going to keep that elitist middle-class slant to it, as long as it is portrayed like that in the film. But recently I noticed a song on MTV - a Britney Spears-type video, American - with a young lad who takes off his trainers to dance and ends up doing grand pirouettes. I thought, Wow, that's the way forward. That sort of video will change people's minds."
I am a yes man. In my eyes the ballerina is always right. A bit of psychology involved here!
Explore topics
Share this article