Triple Bill, Cedar Lake Contemporary Ballet, Sadler's Wells |

reviews, news & interviews
Triple Bill, Cedar Lake Contemporary Ballet, Sadler's Wells
Triple Bill, Cedar Lake Contemporary Ballet, Sadler's Wells
This young American company pull off European choreography with panache
Saturday, 28 September 2013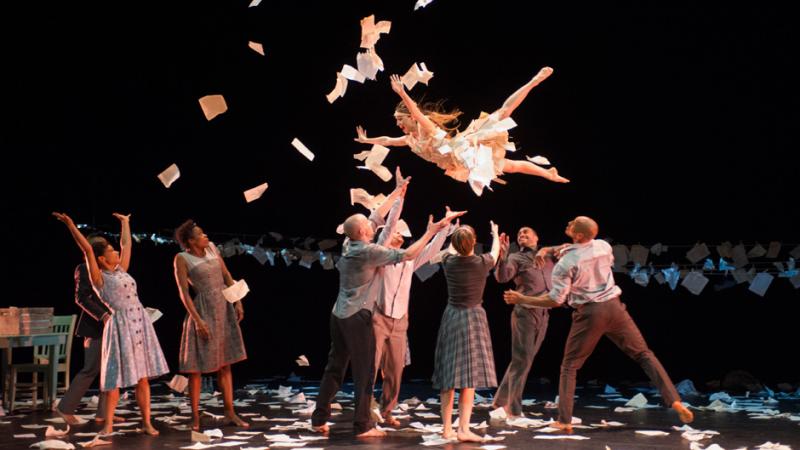 Necessity Again by Cedar Lake Contemporary Ballet
Cedar Lake Contemporary Ballet are a lot like the city they hail from. Like New York, they are bold, zingy, multicultural and they move with an irrepressible energy.
But they are a serious company, accomplished and highly technical, constantly striving to improve their credentials. Collecting the best European choreographic commission to add to their repertoire, Cedar Lake have previously worked with Sidi Larbi Cherkaoui, Hofesh Shechter, Angelin Preljocaj, Didy Veldman and Ohad Naharin to name but a few.
Jiri Kylian's opener, Indigo Rose, sets the precedent of tonight's performance – an American company that does European work. They dance well, brilliantly in fact, with a honed technique that goes above and beyond the average modern dance troupe. Wearing sheeny trousers and mesh tops that are somewhere between 90s market stall chic and Soho club get-up, they duck, sway and punch; uppercut and squat, jumping and traversing to an electro-pulse – the sound of the Big Apple.
A change in tempo and we're into an outstanding solo performance by Ebony Williams accompanied by fluttering strings. Coming together in duet sequences, the partner work is yielding, if somewhat non-emotive. The partnerships are poised and strong, their demeanour statuesque.
A huge white parachute silk cuts the stage in half, billowing like a yacht sail. A saucy shadow play skit births a few giggles, but what's most noticeable is the attention to granular detail in the movement: A slight head movement side to side or small, low, jerky jumps. A discreet kick from the knee or flick of the hands mid-jump, a quick hip thrust, send bursts of energy to the back of the auditorium.
Through Kylian's choreography the dancers have become adept at making shapes, whether with their bodies or in the space between the lines. Arms and knees are positioned at definite angles; posed montage scenes dominate. They stop in unison as if frozen mid-stride as a black and white film plays above their heads. Expressions of anguish, joy, solemnity and a bare breasted lady repeat on screen. (Trailer below)
The second of the three short pieces (there's an interval between each) - Ten Duets On A Theme Of Rescue by Crystal Pite – is much more theatrical in tone. (Trailer below).
There's an urgent sense in the movement which is low, deep and grounded, led by tense strings and exemplified by the dark, dusty lighting. Partners dressed in shirts and trousers teeter and fall, trust and catching is the name of the game. A man hits the floor, then grabs at the space, reaching forwards in slow motion, trying to get away and yet relying on the man keeping him standing. Someone runs on the spot, trying to catch up to an outstretched hand, collapsing with exhaustion when it all gets too much – when the struggle becomes too lonely, even when beside another.
Aside from the action this piece works on an emotive level too – lifting and relying in a metaphorical sense. There is a feeling of exhilaration in the dancers' togetherness, even when it seems desperate. Again, Ebony Williams dances with real soul, a fire that's exiting to see – her long limbs strong and exact, her interpretation poetic.
The last short work of the evening, Jo Stromgren's Necessity, Again is like some sort of academic society's Christmas party. Washing lines pegged with pages ripped from books are hung above the stage, half full water bottles (or half empty, depending on how you look at it) are placed below in a neat line. A voice reads Jacques Derrida before music by Charles Aznavour bursts forth, bringing the joy, the pleasure, the dance to these neatly dressed folk who start to let loose.
The dancers swing from falling asleep to the metaphysics of presence to duets that are lyrical and playful. They move with joy and abandon, having fun and being silly, hips swinging, skirts flinging, like a really fun office party should be, romping amidst scattered paper.
There is an element of absurdism to the piece. In the programme notes Stromgren gives us a clue: "The necessity to formulate everything in words, even the theme of necessity itself, is possibly a disease of our time. This piece is homage to the free space between the words – to the moments when we just want to be emotional and not rational."
The choreography is much more pedestrian than the other pieces but the concept is perhaps harder to understand. I don't quite get the juxtaposition, but it's a great excuse to dance – the physical bursting forth from the metaphysical, escaping the psychoanalytical into the luxuriatingly corporeal.
You know the party's getting late when three shirtless men dance with a girl on the table, her legs splayed and flung over shoulders before she's lifted up to Ave Maria. A boy, overtaken by a dog-humping style of lust, madly twitches his groin until he falls, spent, to the floor. When everyone ends up in their pants, perhaps it's time to call it a night, but not before a girl wearing a dress made out of bits of paper stapled together has a crack at some infomercial-style dancing, with everyone stomping and gallivanting amidst the strewn pages.
What they are doing and why, nobody knows. But they are doing it and doing it well.
They dance well, brilliantly in fact, with a honed technique that goes above and beyond the average modern dance troupe.
Explore topics
Share this article