Voces, Ballet Flamenco Sara Baras, Sadler's Wells |

reviews, news & interviews
Voces, Ballet Flamenco Sara Baras, Sadler's Wells
Voces, Ballet Flamenco Sara Baras, Sadler's Wells
Iconic dancer dominates but doesn't enlighten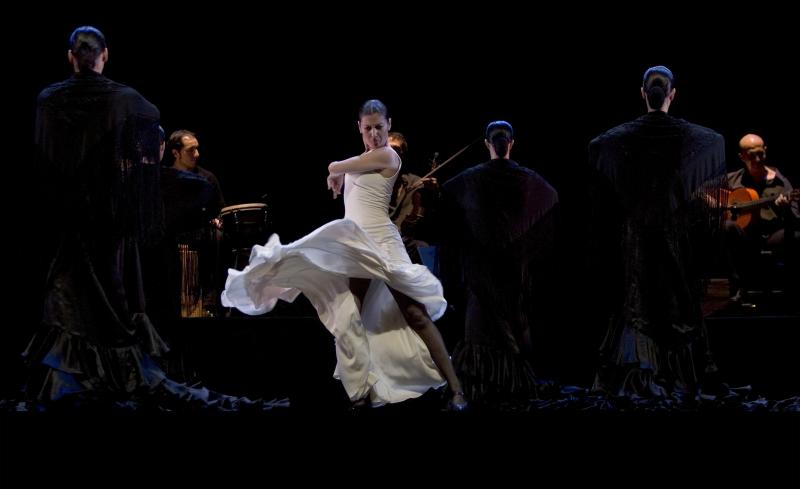 Stage presence: Sara Baras towers over the other dancers in her own show 'Voces' at Sadler's Wells
Claims to embody the spirit of flamenco, or to be born with flamenco in one's blood, abound in the programme of the annual Sadler's Wells flamenco festival. Sara Baras, whose show Voces opened the two week festival on Tuesday, doesn't make such a claim in writing: she doesn't need to.
Her every move on stage radiates the self-possession of a flamenco aristocrat, a confidence so vital it simply bulldozes proscenium and fourth wall to set up a visceral – and vocal – relationship between audience and performer.
Whether this is your cup of sangria or not probably depends on how you respond to that flamenco spirit – the essence of passionate lamentation, the j'accuse of the gypsy soul. I respect it intensely, but I can't get under its skin. Without translations, the poetic sharpness of the songs is blunted; without a sense of the artists and lineages to whom Sara Baras pays tribute in this show, their images remain flat props on stage, not evocations of a living heritage.
This is not a criticism of Baras as a performer: in fact it is precisely her incandescent stage presence that makes one long for an insider perspective on the tradition that shaped her and which gives her an aura almost unmatched in the dance world of European ballet and post-ballet. Those in the audience who felt closer to flamenco than I do clearly enjoyed the show more, calling out in Spanish to Sara from the balcony, and even wandering down to stand near the stage, all the better to gaze adoringly at her.
Of course there are rewards for even the most un-Spanish spectator: Baras and her partner José Serrano have an electric synergy both with each other and with the music, acting almost as percussion instruments themselves with their blistering footwork. Baras (pictured right) also wears wonderful dresses, a particular triumph being one with an ingenious voile overlay that she deploys to imitate the sweeping drama of those traditional flamenco accoutrements, the flounced bata de cola skirt and the fringed manton shawl. But the corollary of her dominant stage presence is thin choreography for her corps de ballet, six dancers whose personalities are effaced and whose talents are underused in a few segments of bland filler and one surprisingly tasteless Carmen pastiche with scarlet dresses and hackneyed sexual violence.
Baras, in the end, is better at communicating Baras than anything else. Go to this show to see a wonderful performer, but look elsewhere in the festival for the most innovative and exciting modern flamenco choreography.
Ballet Flamenco Sara Baras performs Voces at Sadler's Wells February 20. The Sadler's Wells Flamenco Festival runs until 28 February
Baras, in the end, is better at communicating Baras than anything else
rating
Explore topics
Share this article