Blu-ray: Ghost Stories for Christmas, Volume 1 |

reviews, news & interviews
Blu-ray: Ghost Stories for Christmas, Volume 1
Blu-ray: Ghost Stories for Christmas, Volume 1
Low-budget, high-intensity chills, handsomely remastered with plenty of bonus features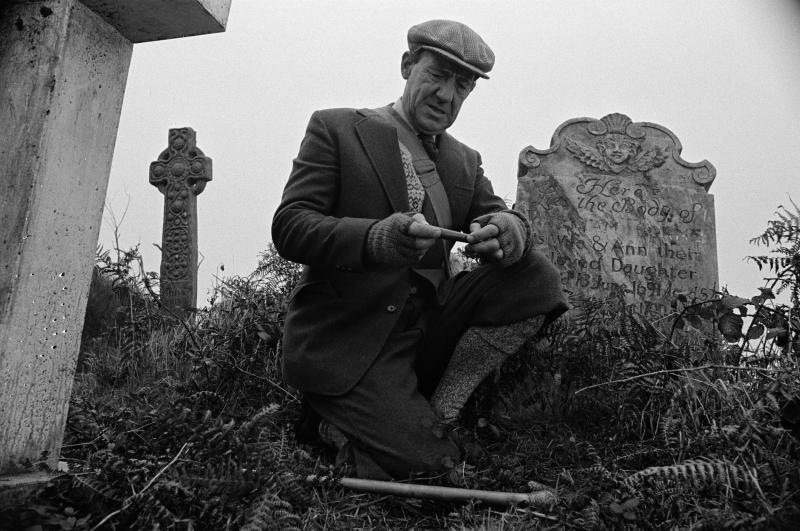 Michael Horden in 'Whistle and I'll Come to You'
The BBC's A Ghost Story for Christmas series first consisted of eight short films broadcast between 1971 and 1978, five of which were adaptations of short stories by MR James.
Shot on 16mm film instead of videotape, most were directed by documentary maker Lawrence Gordon Clark. Itching to move into drama, Clark had persuaded the controller of BBC to let him make an adaptation of James's The Stalls of Barchester Cathedral. And, despite a tiny budget, the 45-minute film is a triumph. The chills are suggested rather than explicitly shown and offset with black humour, Robert Hardy's Archdeacon, just recognisable under some impressive facial foliage, meeting a sticky end after murdering his predecessor. Watch out for the black cat, and for the bony hand which scratches Hardy's face. Clark's framing device is effective, the unsavoury events being investigated 50 years later (in 1932) by Clive Swift's Dr Black, cataloguing the cathedral archives.
Swift's character plays a supporting role in Clark's follow up, 1972's A Warning to the Curious. Here, Mr Paxton (a shifty Peter Vaughan), pitches up in a Suffolk seaside resort in search of a buried Anglo-Saxon crown, with predictably calamitous consequences. It's wonderfully atmospheric; long stretches are dialogue-free, Clark instead making use of György Ligeti's Atmosphères and the sound of roaring wind. Most of the action unfolds in bright daylight, though the sense of dread is ever-present.
Lost Hearts was first shown in 1973, opening with the orphaned 12-year old Stephen (Simon Gipps-Kent) taking up residence in the rural Lincolnshire mansion owned by his distant elderly cousin Mr Abney (a very creepy Joseph O'Connor). Abney is described by his housekeeper as "very partial to children," and Stephen keeps catching sight of two ghostly figures. Abney's evil designs on the boy become clear after a gory reveal which must have shocked late-night viewers back in the day, poor Stephen in hysterics after a particularly scary nocturnal encounter. Susan Richards' housekeeper suggests that the traumatised lad really needs "a nice warm posset". Clark makes wonderful use of a hurdy-gurdy, and there's even a piece by Italian modernist Bruno Maderna on the soundtrack.
All great, though the most famous BBC adaptation of a James story appears on the first of the three discs in this BFI release. Jonathan Miller's pared-back monochrome version of Oh, Whistle, and I'll Come to You, My Lad was first shown in 1968. It's a genuine masterpiece, starring Michael Horden as a fusty, sceptical academic driven insane by supernatural forces. Miller's special effects amount to little more than fluttering bedsheets but they're still terrifying, and Horden's performance is marvellous, particularly as he unravels.
A 2010 remake starring John Hurt is included as an extra; Neil Cross's bold update remains true to the original's spirit but falls flat, despite a convincing turn from Hurt. Other extras include contributions from a lucid Clark and an assortment of commentaries. Neil Brand's audio-only reading of Whistle and I'll Come to You is enjoyable, and there's an entertaining curio in the form of Ghost Stories for Christmas with Christopher Lee, a BBC Scotland series featuring Lee impersonating MR James next to a roaring fire. Image and sound quality across the three discs are excellent, and there's a compendious booklet.