The Beast review - bad cop blues |

reviews, news & interviews
The Beast review - bad cop blues
The Beast review - bad cop blues
Corrupt Korean detectives duel familiarly over a serial killer
Night games: Captain Jung (Lee Sung-min) has some questions for Choon-bae (Jeon Hye-jin)
"They say we all have a beast locked up inside of us," a character observes early in this Korean crime movie. Monsters are certainly chewing at the moral fibre of police captains Jung (Lee Sung-min) and Han (Yoo Jae-myung) as they corruptly pursue promotion.
The
serial killer
they race to capture, like the schoolgirl he's torn to pieces, become incidental to ambition, and the tendrils of vengeance which turn jungle-thick in its wake.
Jung-ho Lee's remake of the French thriller 36th Precinct, which starred Gerard Depardieu and Daniel Auteuil as romantic as well as career rivals, throws elements of Se7en and more local ingredients into his episodically complex yarn. Considering we first see Jung savagely pistol-whipping then mock-executing a gangster in retaliation for the beating of an informant, whatever passes for the book in Korean police work was clearly torched long ago. When a schoolgirl's bug-eaten body washes up in bits in the mudflats of Incheon, and he and his former partner Han become rivals in the subsequent manhunt, both men's moral compasses smash. Prosaic police station scenes show that much of the ensuing carnage comes down to office politics, a perceptive irony soon lost in the mayhem.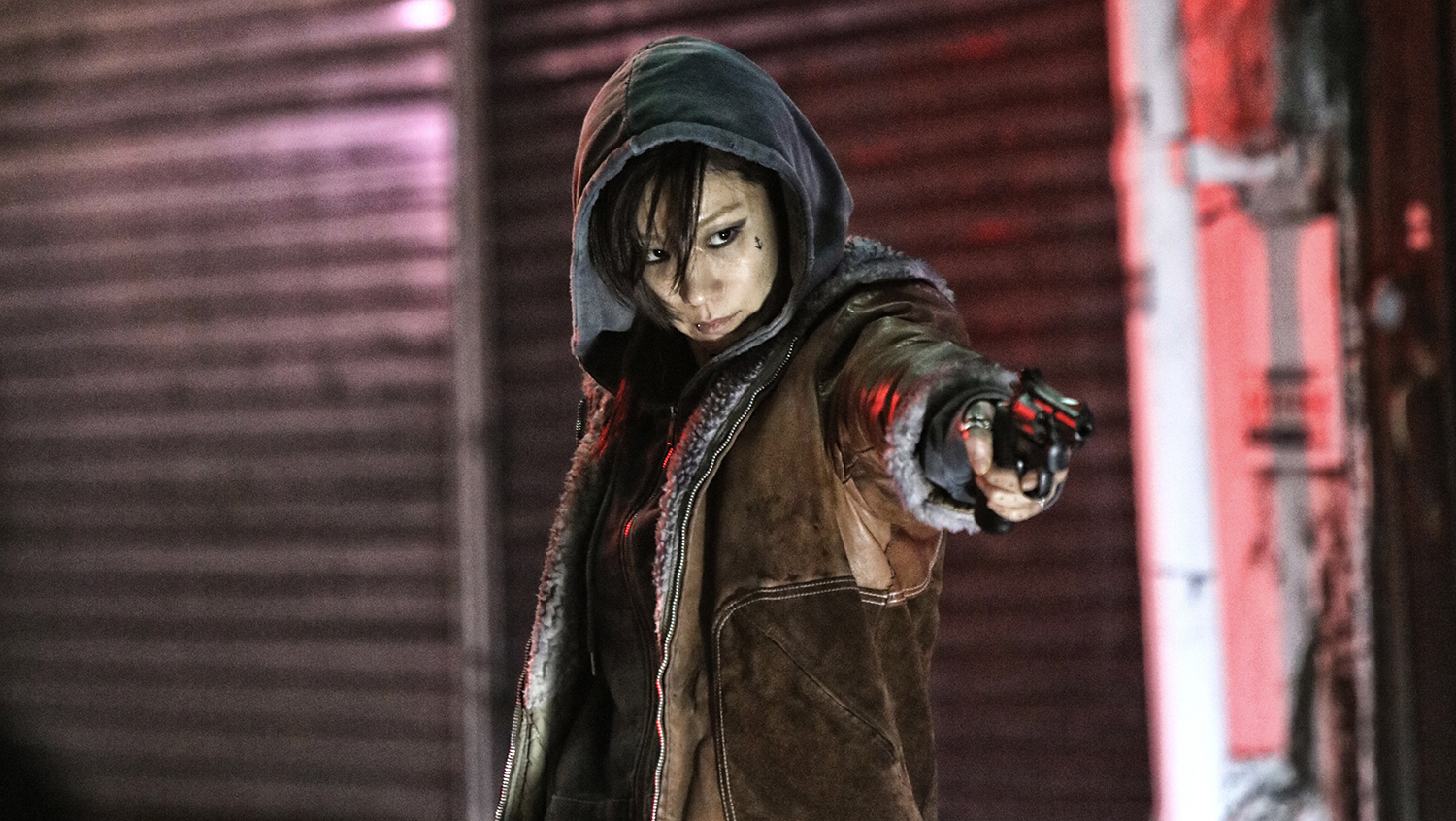 "Be alert and of sound mind/Your enemy the devil prowls around like a roaring lion," warns a homily Jung finds in a pervert priest suspect's pews. Lee Sung-min's charismatic performance as that lion roars through his already precarious life is The Beast's strongest suit. Bulling through his problems, weathered and weary-eyed, his cynical MO is dismantled by events. "There's no end to it," he cries. "No amount of work will amount to anything. Cops were criminals in their past lives. We're paying for our sins."
The women around him are strong but disposable. Choon-bae (Jeon Hye-jin, pictured above) leaves jail to shoot the drug-dealer who put her there, using Jung as her pawn. This makes her a punching bag for him and assorted gangsters, but she also batters Jung, and wilfully authors her own misfortune. Coolly manipulative barroom boss Madame Oh (Kim Ho-jung) has her beautiful face mashed into her bar as an occupational hazard. Jung's doctor wife Jung-yeon (An Si-ha) is another briskly unsentimental character, while seconded cop Yeo Mi-young (Lee Sang-hee) clearly sees her male colleagues' madness. Though vividly played they, like the dismembered girl on the beach, risk becoming collateral damage to serial killer chic.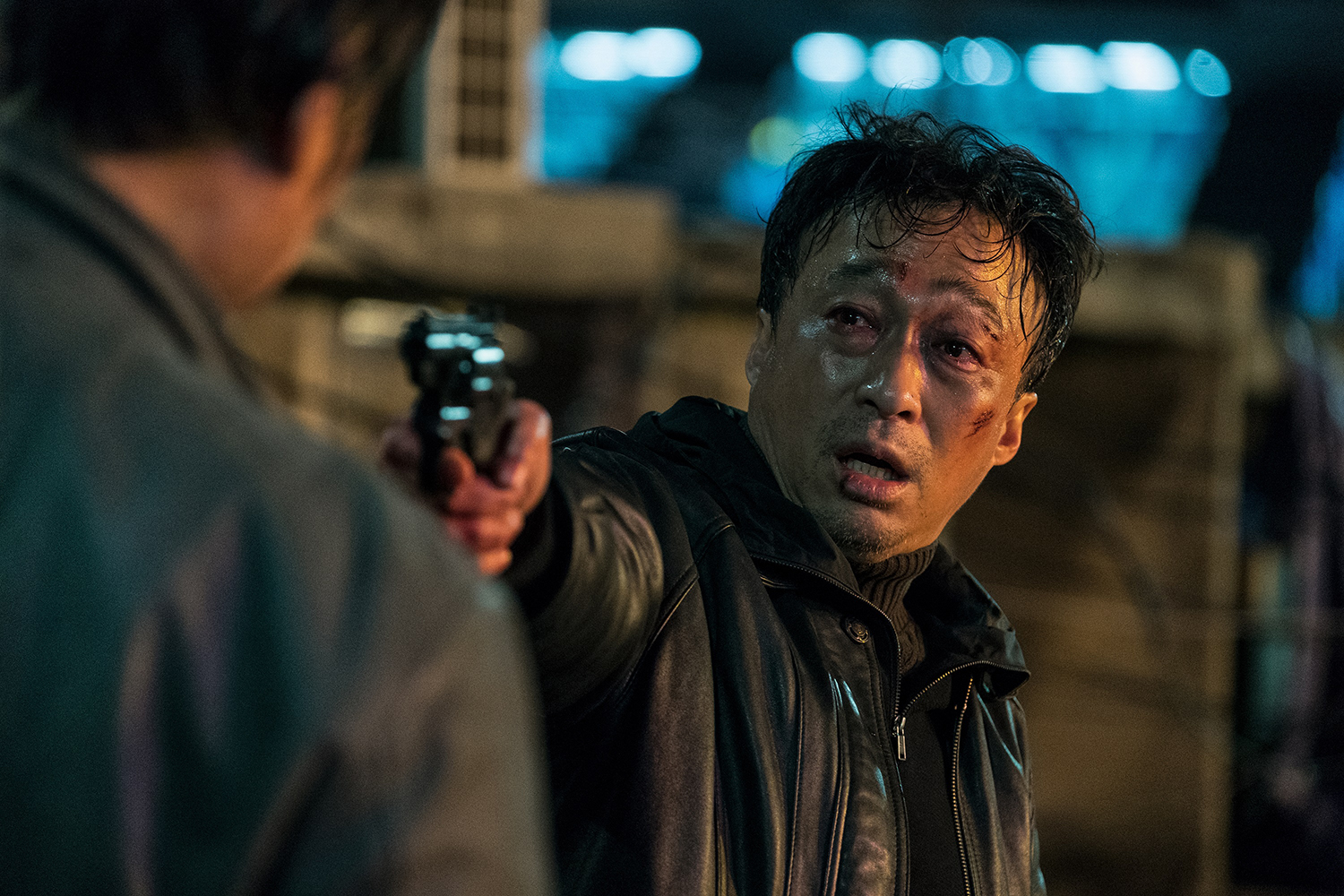 Mass punch-ups, imbecilic police-work and baroque psychopaths with hook-laden wardrobes meanwhile stud a long film tottering with plot. All its threads do eventually tie up, forming a noose around Jung's neck. As his seedy misdeeds spiral sweatily beyond his control, and his face becomes puffier with beatings and moral bruising, a queasy momentum sweeps through The Beast's climax. But though novelistic detail adds to the original French chassis, director Lee sticks with clichés about the closeness between criminals and cops. Jung's burnout can't ignite threadbare ideas.
Much of the ensuing carnage comes down to office politics, a perceptive irony soon lost in the mayhem
rating
Explore topics
Share this article