The Beasts review - a countryside idyll loses its charm |

reviews, news & interviews
The Beasts review - a countryside idyll loses its charm
The Beasts review - a countryside idyll loses its charm
Galician locals showing French interlopers quite how unwelcome they are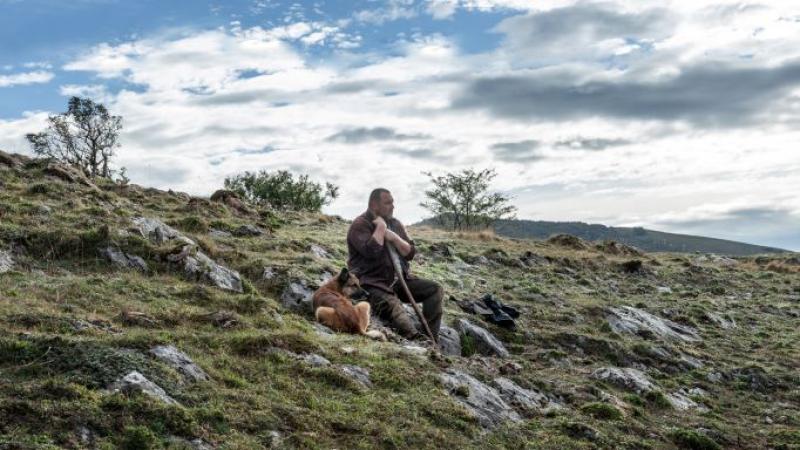 Respite from hatred in the mountains for Antoine (Denis Ménochet) in 'The Beasts'
The Beasts (As Bestas) is all of two hours and 17 minutes long, and yet to look away is never an option. Spanish director Rodrigo Sorogoyen reels the viewer in masterfully as he builds tension and suspense.
A well-educated French couple are living out their rural dream in a valley in Galicia in north-western Spain. But there's a problem: the locals hate everything about them, and the couple's dream turns into one nightmare, and then many more. This is anything but the Spain of sunshine and allegría. Bleakness reigns here under rain and snow.
There are visual imprints that just won't leave my mind, mainly the resentful stares of two brothers, both played superbly by Gallego actors who constantly swear under their breath. The eyes of Xan (Luis Zahera) are full of hatred as he surveys the French couple, and at the husband Antoine Denis (Denis Ménochet) in particular (pictured below, Zahera, left, and Ménochet).
Xan's brother Lorenzo (Diego Anido) became a simpleton following an accident in his youth. The look he gives the French pair is more vacant and placid than his brother's, so it is harder to read. His actions, on the other hand, make little attempt to hide his bitterness and his venomous intent. In fact, he might even be the more sinister brother.
Since it is not in Antoine's character to back down, no kind of rapprochement is about to happen. He starts to record the brothers on his video camera, and the mutual hatred builds and builds. From threats of violence, it is only a short step to real violence.
There are some wonderfully scripted and executed set-pieces, as when Antoine appears for a moment as if he might be trying to take a conciliatory stance by offering the brothers a nightcap. But he only succeeds in ratcheting up the enmity even further.
Equally powerful is a no-holds-barred slanging match between the steely Olga Denis (the excellent Marina Foïs) and her daughter Marie (Marie Colomb, pictured below, right, with Foïs). An especially clever aspect of Sorogoyen's dramaturgy is that he can be elliptical, cut away from scenes, hint at scenes that have happened elsewhere, give deliberate yet always understandable discontinuity.
The Beasts adds to the canons of memorable films that depict rural life in all its drudgery and pain, such as Ermanno Olmi's The Tree of Wooden Clogs (1978), and those emphasising the intolerance of country folk, such as Peter Fleischmann's Hunting Scenes from Bavaria (1969).
And it works on many other levels, too. Unfettered overt xenophobia is there, for example, with Antoine constantly being addressed to his face pejoratively as "Francés" (Frenchy). The marriage of Antoine and Olga and how it, somehow, functions through constant adversity is also well observed. There is a marvellous feel for the landscape and the climate. Olivier Arson's musical score is strongly atmospheric. The Beasts is thought- provoking – and recommended.