Blu-ray: Dragon's Return |

reviews, news & interviews
Blu-ray: Dragon's Return
Blu-ray: Dragon's Return
Taut Slovak fable about prejudice, superstition and mob rule
He's back: Radovan Lukavsky in 'Dragon's Return'
Slovak director Eduard Grečner wrote the first draft of a screenplay for Dragon's Return (Drak sa vracia) in 1956 but didn't have the confidence to direct it, this adaptation of a novella by the Slovak author Dobroslav Chrobák that he finally realised 12 years later.
An elderly but spritely Grečner appears in one of this disc's bonus features and there's a fascinating 2015 interview with him transcribed in Second Run's booklet, Grečner recalling his efforts to convey the author's rich prose in cinematic form. Dragon's Return is indeed visually spectacular, the rocky landscapes and rough-edged village life wonderfully vivid. We first see Dragon (Radovan Lukavsky) making his way down a mountainside back to his home village. A gaunt, cadaverous figure with an eyepatch, Dragon (his real name Martin Lepis) is initially unrecognised by a resident, who then darts ahead in fear to warn his fellow residents. The mood in the bar isn't good; the words "Dragon's back" put the heebie-jeebies up all who hear them, and there's talk of "dark days" coming. Dragon is greeted with silence and cold stares when he walks in, before downing a shot and producing a knife as if he's a character in a Slovak western. What happens seconds later is blackly funny and utterly in keeping with Grečner's desire to wrongfoot us.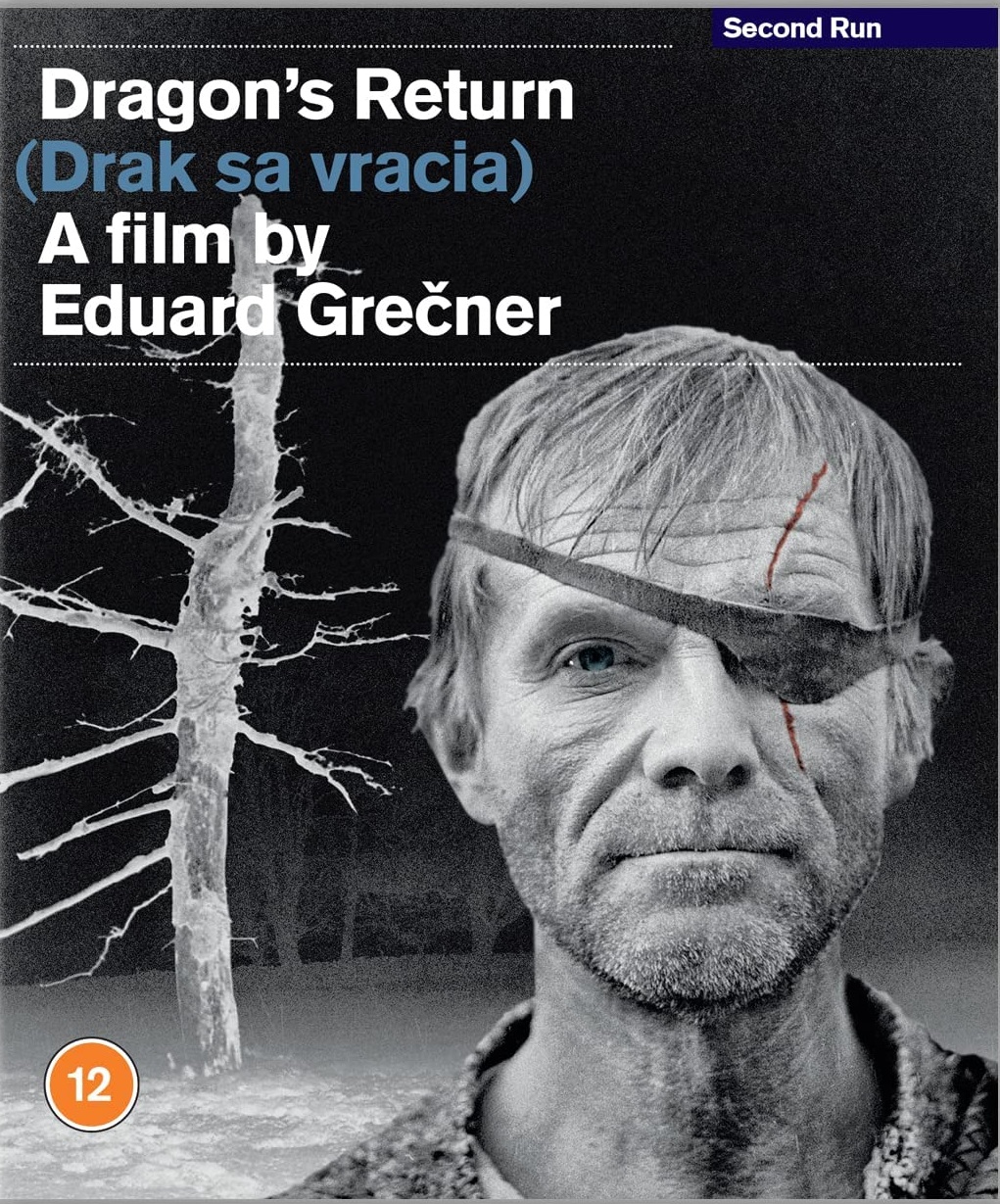 How Dragon has incurred such fear and mistrust is revealed slowly through flashbacks. The younger man is seen in a relationship with Emília Vášáryová's luminous Eva and works as the village potter, his striking, stylised ceramics deliciously anachronistic. Eva later marries the brooding Šimon Jariabek (Gustav Valach), who fears that Dragon has come to claim her when he reappears. The state of the couple's marriage is instantly apparent, the pair barely communicating. Dragon is a natural outsider, inexplicably blamed for a punishing drought and at one stage falsely accused of hoarding grain while the villagers starve. Brutally attacked and blinded in one eye, he departs. Grečner's villagers are superstitious gossips, and the returned Dragon's offer to rescue a herd of cattle isn't taken at face value.
Long stretches of Dragon's Return are dialogue-free, Grečner making wonderful use of Ilja Zeljenka's jagged avant-garde soundtrack. Šimon and Dragon's tense journey to retrieve the lost livestock is frequently terrifying. Though largely set in bright light in the open air, the film's mood is oppressive and claustrophobic, the downbeat ending shocking but fitting. This was Grečner's last film for 25 years; having publicly called for "passive resistance" after the 1968 Soviet invasion, planned projects were abruptly cancelled and he worked instead as a dubbing director. Newly restored by the Slovak Film Institute, this reissue looks and sounds superb, and there's a compendious booklet thrown in.
How Dragon has done incurred such fear and mistrust is revealed slowly through flashbacks
rating
Share this article