Blu-ray: The Glass Key/The Blue Dahlia |

reviews, news & interviews
Blu-ray: The Glass Key/The Blue Dahlia
Blu-ray: The Glass Key/The Blue Dahlia
Two film noirs showcase the impeccable coolness of Alan Ladd and Veronica Lake
Friday, 23 September 2016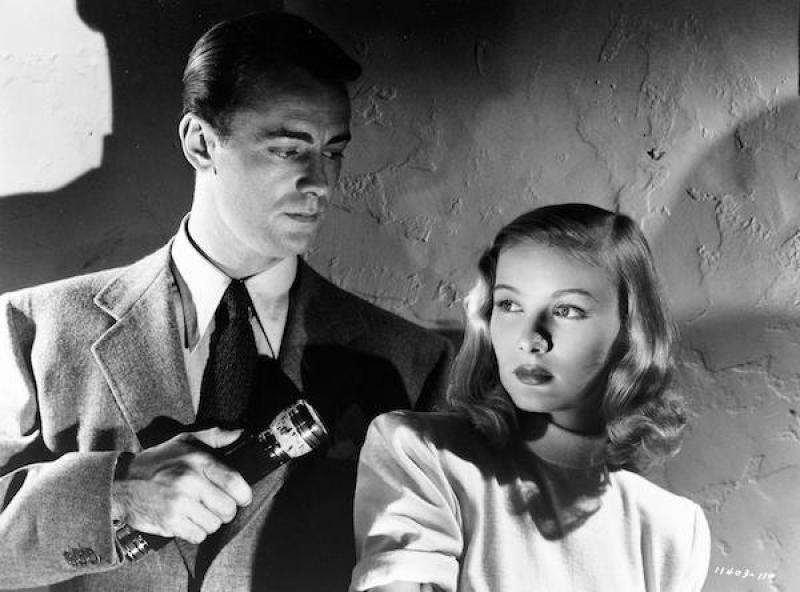 Defying the dark: Alan Ladd lights Veronica Lake in a 'Blue Dahlia' publicity still
In popular accounts of Hollywood history, Humphrey Bogart and Lauren Bacall, the insolent real-life first couple of Warner Bros film noirs, have traditionally overshadowed Alan Ladd and Veronica Lake. Paramount's fallen angels were quieter onscreen than Bogart and Bacall, but their visual harmony as slender, diminutive blond(e)s – he hard and unsentimental, she silky and insouciant – made for noir's coollest romantic partnership.
Arrow Academy has now rereleased The Glass Key (1942) and The Blue Dahia (1946), the middle pair of the four thrillers that teamed Ladd and Lake, on separate Blu-ray discs packaged in spiffily designed cases featuring neon-themed graphics.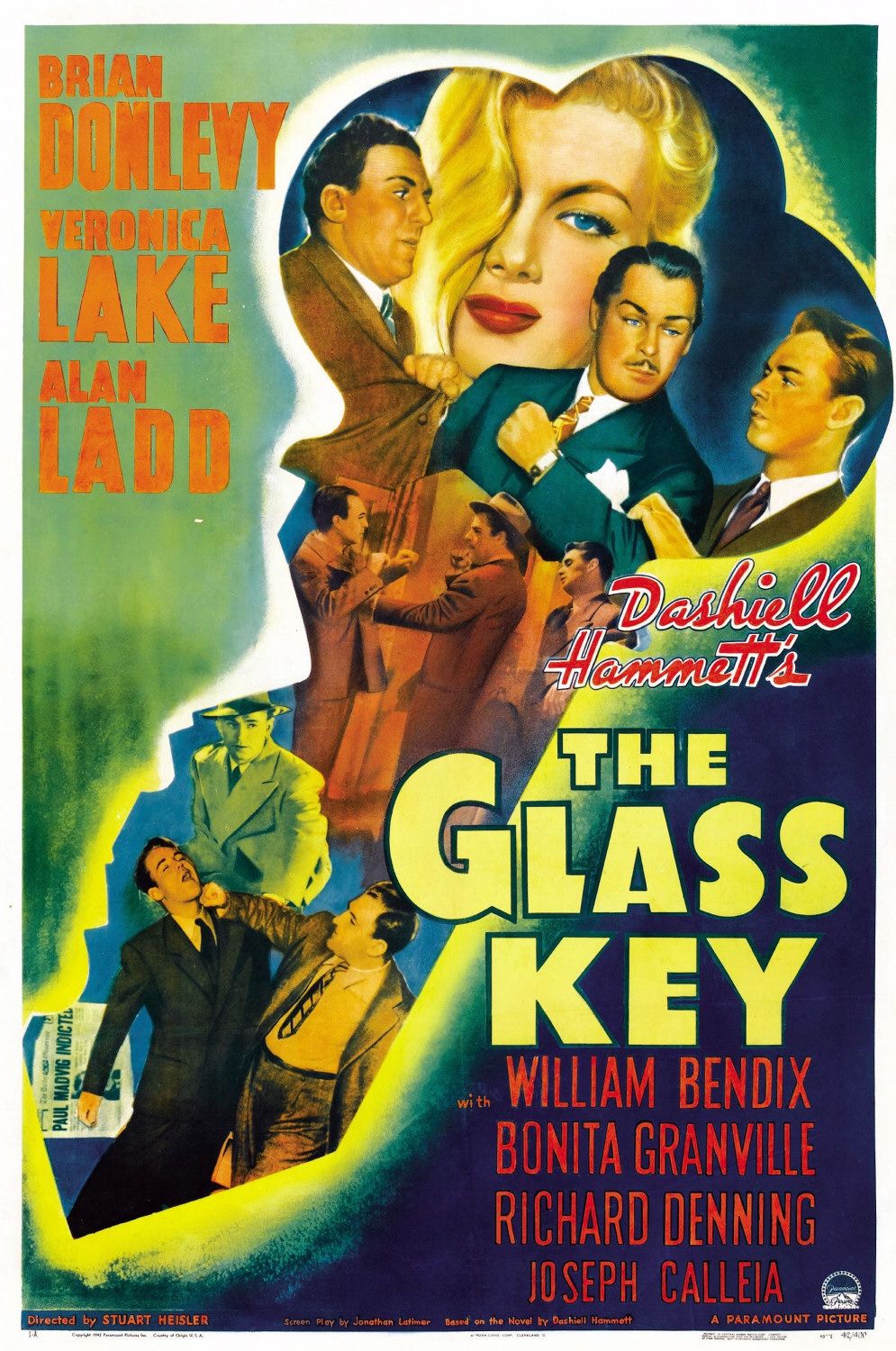 Adapted from a Dashiell Hammett novel that had been woodenly filmed in 1935, The Glass Key stars Ladd as Ed Beaumont, the loyal fixer of the crooked politician Paul Madvig (Brian Donlevy), who backs a reform candidate for a gubernatorial position so he can win his daughter, Janet (Lake). Unfortunately for Madvig, Janet and Beaumont fall in lust at first. Then he's implicated in the murder of her wastrel brother. Taxed with defeating the powerful racketeer (Joseph Calleia) turning the screw on Madvig, Beaumont takes a sadistic homoerotic beating from his uncouth heavy (William Bendix).
Though director Stuart Heisler doesn't paint as poisonous a picture of political corruption as All the King's Men (1949) or The Big Heat (1953), the masochistic, amoral Beaumont – who's prepared to shop Janet to clear Madvig's name – registers as one of the most psychologically complex of early noir protagonists.
Famously sustained by an alcoholic binge, Raymond Chandler wrote The Blue Dahlia and earned an Oscar nomination for his efforts. Dour ex-Naval flyer Johnny Morrison (Ladd) returns from the Pacific to find his wife Helen (Doris Dowling) is sleeping with Eddie Harwood (the excellent Howard da Silva), an East Coast gangster who has relocated to Hollywood.
The film recognizes the plight of World War II vets suffering PTSD
Discovering that she was drunk behind the wheel when their small son was killed in a car crash, Johnny heads off into the night – and is rescued from a downpour by Harwood's estranged wife, Joyce (Lake), who picks him up in her car, just like that. Helen meanwhile picks up Johnny's brain-damaged former crewman Buzz (Bendix). Next morning, her cleaner finds her dead. The audience knows Johnny has an alibi, but the cops don't.
A whodunit atmospherically directed by George Marshall, The Blue Dahlia is recognisably Chandlerian: Harwood, Joyce, the weaselly old hotel detective (Will Wright), and a stony police captain (Tom Powers) all have equivalents in his novels. Helen's murder recalls pivotal events in The Big Sleep and The Long Goodbye; Buzz's amnesiacal black-outs were prompted by Chandler's. More important, the film recognizes the plight of World War Two vets suffering PTSD, disorientation, and alienation.
Chandler wasn't being snide, meanwhile, about the wives' implied promiscuity. Helen is guilt-ridden and self-destructive. Joyce, disappointed in love, isn't going to wallow in misery; she simply likes the cut of Johnny's jib. And Ladd and Lake only had to sit next to each other in a car ploughing through fake rain against back-projected scenery to make beautiful music.
The discs' extras include the contemporary radio dramatisations: Ladd and Lake voiced The Blue Dahlia; Ladd, Marjorie Reynolds, and Gene Kelly voiced The Glass Key.
They only had to sit next to each other in a car plowing through fake rain to make beautiful music
rating
Share this article