Blu-ray: Intimate Lighting |

reviews, news & interviews
Blu-ray: Intimate Lighting
Blu-ray: Intimate Lighting
A very bearable slightness of being pervades Ivan Passer's Czech feature debut
Down in one: that mysterious eggnog
From the way that Czech director Ivan Passer remembers the genesis of this, his 1965 debut feature, in the 2006 interview that comes with this Second Run rerelease, Intimate Lighting happened practically by accident. A scriptwriter friend had put an idea forward to Prague's Barrandov Studios, the acceptance of which a few months later came as a surprise to all, and resulted in Passer, better known during the period of the Czech New Wave as a screenwriter (notably as a collaborator of Milos Forman), agreeing to direct.
It seems a somehow appropriate beginning for a film in which, famously, nothing very much happens, but where the texture of life, its location in a particular place and time, filters through gloriously. The story centres on the return of a professional musician, cellist Petr (Zdeněk Bezušek), to the place of his birth, to play as a soloist in a concert organised by a childhood friend, Bambas (Karel Blažek). He's due to play the Dvorak concerto, but we only gather that from the opening scene of the local amateur orchestra rehearsing chaotically, from which Passer cuts beautifully to Petr's arrival at the station, accompanied by glamorous city-girl Stepa (Věra Křesadlová, Forman's second wife, pictured below with Zdeněk Bezušek).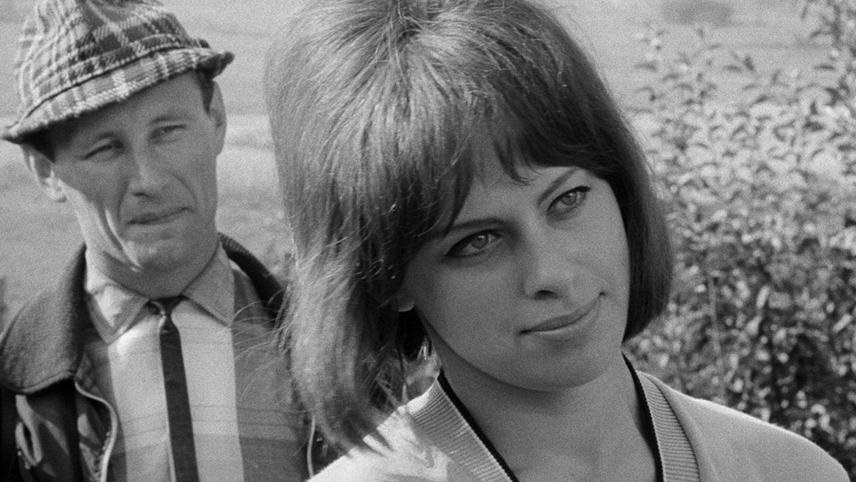 The actual musical performances we do witness are very different: one has violist Bambas and his violinist father-in-law joining the local funeral band (rewards for which come in a very earthly form), the other sees them joined by the village chemist for Mozart quartets (the result is hilariously, but lovingly bad: pictured below). There's an unforgettable meal sequence involving a sort of pass-the-chicken-leg gastronomic fiasco, and a final moment (main picture) in which the drink doesn't flow as expected.
Which can't be said of the key scene between Petr and Bambas, a boozy overnighter in which the two friends contemplate how their lives have passed, and changed – in particular, for the latter, as he accommodates his responsibilities of family (the children are joyful), local position (Blažek's character is the proud owner of a car, though it seems to bemuse him as much as anything else), and home (in the literal sense: he is building the house himself, each new addition an elaborate give-and-take exercise in obtaining materials).
The humour here is characteristic of that great Czech writer Bohumil Hrabal: included as an extra on this release, Passer's 1964 short film, A Boring Afternoon, was an Hrabal adaptation, perfect in its sense of the inconsequential intonations and small dramas of tavern life. The writer's sense of the colloquial eccentricities of life is surely there too in Intimate Lighting's funeral scene, and another matchless, wordless sequence in which the women of the village – their aged faces speaking silent volumes – pass by Stepa, who seems to have arrived from another world (Křesadlová was a rock singer in real ife).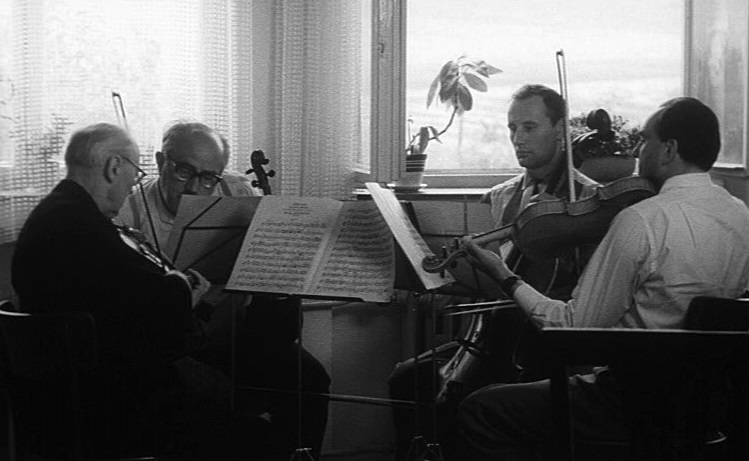 Passer remembers the process of casting such non-professionals as both frightening and exciting, his story about convincing Blažek to play the melancholic Bambas particularly memorable (there's a poignant postscript, too). The line between fiction and documentary is fine, to which critic Trevor Johnston alludes in a fascinating booklet essay that quotes from a later memoir by Forman: "You cannot really capture everyday life by documenting it, you have to recreate it." Shooting on location had the advantage of escaping studio interference, as well as working as much as possible with natural light, which helps to give the images their intentional lack of polish. That effect is particularly noticeable in this 4K restoration (mono soundtrack retained, of course) that was presented at the 2016 Karlovy Vary festival, and receives its first international Blu-ray release here.
We are left to ponder how it was that Intimate Lighting was so resoundingly banned after the Prague Spring, especially when Passer remembers the immediate reaction from the Barrandov Studios head on its first screening, "This might be the most boring film ever made." Although it was made with no commercial and only "mild" political pressure, as Passer remembers, the Party was put out not when it was challenged, but when it was simply ignored. The details and truth of life seep through far more memorably here than any dogma ever could.
Passer remembers the immediate reaction from the Barrandov Studios head, 'This might be the most boring film ever made'
rating
Explore topics
Share this article