Blu-Ray: Laughter in Paradise, The Green Man |

reviews, news & interviews
Blu-Ray: Laughter in Paradise, The Green Man
Blu-Ray: Laughter in Paradise, The Green Man
Alastair Sim redeems a pair of patchy non-Ealing comedies
Will you marry me?: Guy Middleton and Audrey Hepburn in 'Laughter in Paradise'.
Laughter in Paradise (1951) and The Green Man (1955) have plenty of incidental pleasures, even if neither film is quite the classic you hope it will be. Both have starring roles for Alastair Sim and his protégé George Cole – Sim's lugubrious appearance and deadpan delivery being the best reasons for investigating this pair of Studio Canal reissues.
Mario Zampi's Laughter in Paradise casts Sim as one of the beneficiaries named in the will of practical joker Henry Russell (Hugh Griffith), the catch being that each of the four relatives has to undertake a task at odds with their character. Strait-laced ex-army officer Deniston (Sim) has a week to get arrested and serve 28 days in prison. Russell's snobbish sister (Fay Compton) must find work as a housekeeper, and his nephew (George Cole) is instructed to hold up the bank where he works with a toy gun.
Simon Russell, played by Guy Middleton, here looking like Terry-Thomas's twin, has to marry the first single woman he speaks to. In this instance it's actually a scene-stealing Audrey Hepburn in a very early screen appearance, though she's inexplicably passed over. Deniston's secret life as a pseudonymous author of bodice-ripping fiction provides a few giggles, and there's sterling support from Joyce Grenfell and John Laurie. A shame that Stanley Black's relentlessly jaunty music underscores every gag so heavily.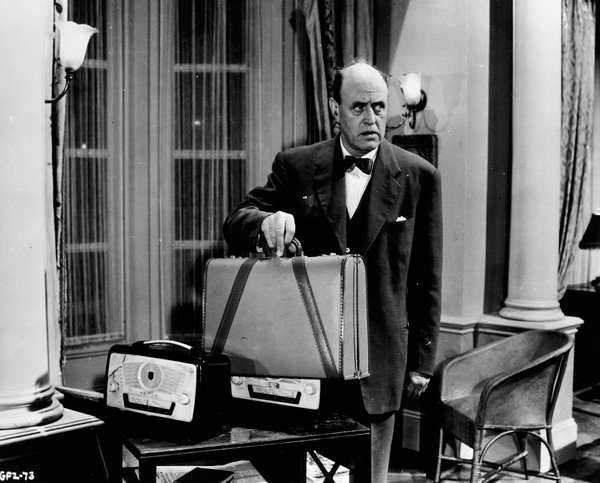 The Green Man, adapted by producers and screenwriters Frank Launder and Sidney Gilliat from their popular stage play, starts promisingly with a Sim voiceover, his hitman Hawkins (pictured, right) taking us through the highlights of his career as a hired killer.
The prologue's assorted deaths are blackly comic, but thereafter the film never scales the heights of The Ladykillers or Kind Hearts and Coronets. Hawkins's plot to assassinate the repellent Sir Gregory Upshott (Raymond Huntley) falls foul of Cole, here playing a fresh-faced vacuum cleaner sales rep.
The casual misogyny hasn't aged well; we're meant to laugh at Hawkins attempting to murder his fiancée, and Upshott's shabby treatment of the typist he's lured to the titular hotel isn't fun to watch. But we get a vivid sense of the seediness and shabbiness of provincial seaside life. The food is horrific – anyone for chop toad, brown Windsor soup, or galantine of chicken?
A luminous Jill Adams unwittingly becomes Cole's partner in the race to find the hidden bomb, though I wanted to know more about her stuffy newsreader fiancé, who's seen having a breakdown as he reads one of his poems live on air in a tantalisingly undeveloped subplot. Terry-Thomas enlivens proceedings when he eventually appears, and there's a frenetic coda.
Extras include Stephen Fry's big-hearted appreciations of both films, and stills galleries. The Green Man disc includes an excellent piece from cultural historian Matthew Sweet, who outlines Launder and Gilliat's long partnership and unpicks the film's complicated production history. Image and sound quality on both discs is excellent.
Anyone for chop toad, brown Windsor soup, or galantine of chicken?
rating
Share this article