Funny Face |

reviews, news & interviews
Funny Face
Funny Face
Reissue for Stanley Donen's luminous but sexist musical, starring Audrey Hepburn and Fred Astaire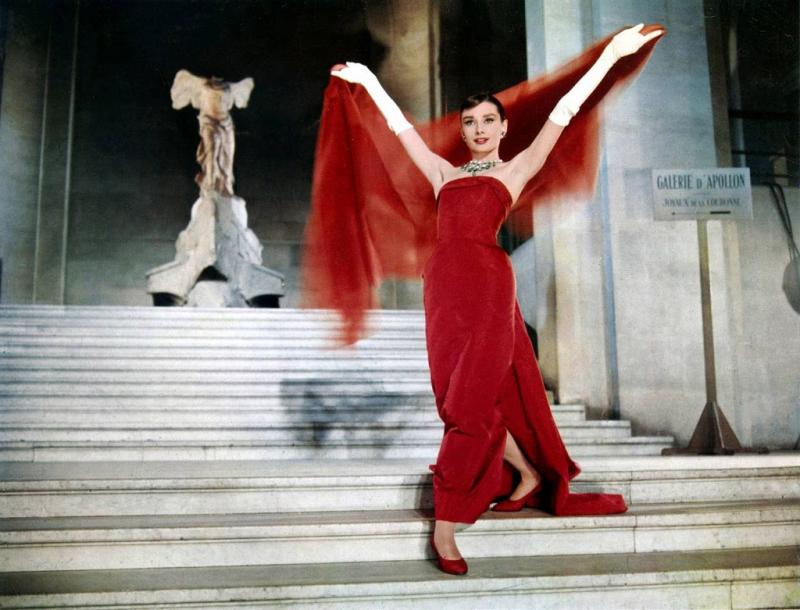 How a lady should look and behave, apparently: Audrey Hepburn swaps her books for frocks in 'Funny Face'
For those who haven't seen it, the funny face of the title belongs to Audrey Hepburn. As preposterous as that seems for someone so iconically gorgeous and although when others fail to notice her beauty it seems insane, Hepburn was famously insecure, so when her character Jo Stockton says, "I have no illusions about my looks, I think my face is funny" it doesn't sound insincere.
The ravishing, Technicolor-ed Funny Face sees an independent woman turned into a bride, an intellectual transformed into an obedient beauty. Hepburn plays Jo, an employee of a "sinister" Greenwich Village bookstore specialising in philosophical literature. When the staff of the fictional Quality fashion magazine crash into the shop under the formidable stewardship of editor Maggie Prescott (Kay Thompson, pictured in red below right, who's excellent in her only major film role) they turn Jo's life upside down, shaking her free of her rebellious spirit and emptying her head of her funny ideas.
They're there because they want an intellectual backdrop for a shoot and spot Jo's fashion model potential when photographer Dick Avery (Fred Astaire) develops the negatives and identifies her as a fresh, unconventional beauty. She's subjected to a quite unwanted whirlwind of attention as she becomes the face of Quality and is flown to Paris to meet designer Paul Duval (Robert Flemyng), who's creating a whole collection for her. Jo allows herself to be bullied into this as, once in Paris, she's keen to track down her philosopher hero Professor Emile Flostre (Michel Auclair) and has also developed a crush on Dick.
Funny Face takes four songs (and Astaire) from the 1927 Broadway musical of the same name but the plot is based on another Broadway musical, screenwriter Leonard Gershe's Wedding Bells. Jo's experience is intended to be viewed as a fairytale as she's transformed from dowdy duckling into a magnificent swan. Furthermore the movie wholly subscribes to the Paris of myth, with its reputation for romance - and to be fair it's rarely looked so beautiful, even in the drizzle. Stanley Donen brings some of his Singin' in the Rain flair, George and Ira Gershwin are behind many of the memorable songs and the crack team also includes costumes from Edith Head and Hubert de Givenchy and a title sequence designed by renowned fashion and portrait photographer Richard Avedon.
Hepburn is passionate and radiant throughout, smart and personable even as she's undermined, first as the "creature in the bookshop", and later as the "cutie with more than beauty", and - unlike the later and similarly themed My Fair Lady where most of her vocals were dubbed, much to her chagrin - she sings the songs here herself. Her vocal performance might be a little unpolished but it's marked by an endearing earnestness. She's also fabulously limber and uninhibited in the dance sequences (Hepburn trained as a ballerina and it shows) and gets to let rip with an expressive solo dance, performed in a bohemian club, in a sparky show of independence.
For all its style, energy and quick wit Funny Face is terribly dated in terms of its male-female relations which does impair enjoyment. Jo is told, "If you can cook as good as you look..." and - not only is there little romantic spark between Hepburn and the much older Astaire - he constantly behaves in a way that's patronising and patriarchal. After her intellectual hero Professor Flostre is exposed as a creep, Dick (by name and nature) describes his romantic rival as, "about as interested in your intellect as I am".
It might seem unfair to judge a 50s film by modern standards but appraising a reissue involves assessing how well it stands up and Funny Face specifically attacks female intellectualism, favouring conventional femininity ("Think Pink!" is one of its most memorable numbers) and romance with a father figure - and so is bound to rankle more than other films of the era. Furthermore, the satire of the fashion industry is never more than affectionate whereas intellectualism is dismantled as the absurd, dismal posturing of insincere (French) sleazebags.
When Jo bests Dick intellectually with her passionate, eloquent description of the concept of empathy - something he has no comprehension of - he puts her back in her place by kissing her, leading to her dancing around in a giddy tizz. Some balance is provided by the presence of a woman as uncompromising and influential as Maggie (she's based on Diana Vreeland of Harper's Bazaar), although she is shown putting down the intelligence of other women and prides herself on turning them into sartorial sheep - she introduces pink as the latest craze despite having contempt for the colour: "Me? I wouldn't be caught dead".
Funny Face is aesthetically immaculate and dazzles and diverts for at least part of its runtime, not least thanks to Hepburn's charismatic performance, but its gender politics are so jarringly old-fashioned that it made me think of the satirical words of Harry Enfield: "Women know your limits - in thought be plain and simple and let your natural sweetness shine through".
Overleaf: watch the trailer for Funny Face
Intellectualism is dismantled as the absurd, dismal posturing of insincere (French) sleazebags
rating
Explore topics
Share this article