Blu-ray: Polytechnique |

reviews, news & interviews
Blu-ray: Polytechnique
Blu-ray: Polytechnique
Denis Villeneuve's depiction of the 1989 femicide in Montreal gives no quarter
Tuesday, 22 December 2020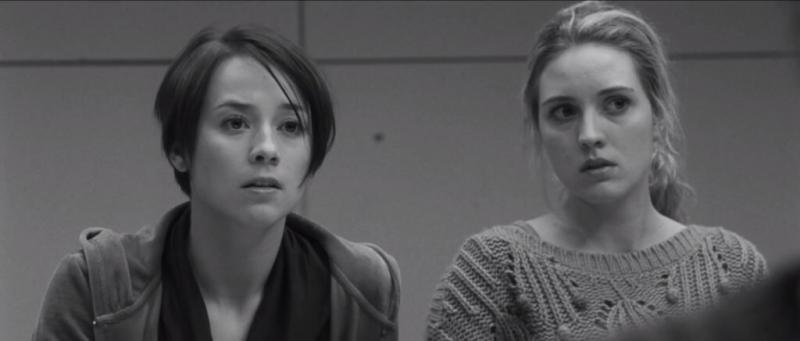 Facing the killer: Karine Vanasse and Evelyne Brochu in 'Polytechnique'
The French Canadian director Denis Villeneuve is best known for mainstream films like Sicario, Arrival, and Blade Runner 2049, stylishly expressive in their harnessing of alienating terrains, notably deserts and plains.
Their claustrophobic equivalent in
Polytechnique
(2009), the eerily quiet 77-minute indie Villeneuve made before his 2010 breakthrough
Incendies
, is a college campus and its environs during a blizzard – the brutalist architecture and freezing temperature redolent of the feelings of the lone shooter who matter-of-factly fires his semi-automatic rifle at women in a classroom, a photocopying room, and a refectory.
Initiated by actress and co-producer Karine Vanasse, Villeneuve's film unflinchingly and meticulously re-creates the killings of 14 women and injuring of 10 women and four men by 25-year-old Marc Lépine at the engineering school École Polytechnique in Montreal on December 6, 1989. Though the three protagonists – the unnamed killer (Maxim Gaudette) and the engineering students Valérie (Vanasse) and Jean-François (Sébastien Huberdeau) – are fictitious, they are steeped in reality. Villeneuve and co-writer Jacques Davidts' incorcorporated Lepine's irrationally misogynistic suicide note more or less verbatim in the killer's bleak inner monologue. Valérie radiates the defiance of Nathalie Provost, who survived the wounds she sustained in the room where Lepine shot dead six of the nine women remaining there after he'd ordered the male students and instructors to leave.
Like Elephant, Gus Van Sant's film about the Columbine massacre, Polytechnique is unnervingly beautiful. Far from meaninglessly aestheticizing the violence, however, Pierre Gill's stark black and white cinematography and Benoît Charest's melancholy music lay bare its horror.
The pore-revealing, quotidian intimacy the camera establishes with Valérie, Jean-François (bravest and most guilt-ridden of the males in the school), and the killer magnifies their humanness and poses an unanswerable question – how is such an atrocity possible?
Lépine apparently targeted female engineers because he hated feminists. He believed they took advantage of centuries of male achievement to steal jobs that belonged to men. Villeneuve conveys the absurdity of this notion by showing Valérie attending an interview for an internship with a condescending older man who tells her women usually study civil engineering rather than mechanical engineering because it's an easier option that allows them time to raise families.
The heated debates on sexual politics stoked by Lépine's femicidal slaughter are probed more fully in the 52-minute documentary Polytechnique - What Remains of 6 December? (2019), directed by Judith Plamondon and narrated by Vanasse. It's included in the BFI Blu-ray along with the French- and English-language versions of Polytechnique and a booklet of essays that includes critic Jessica Kiang's superb analysis and contextualization of the movie.
The camera poses an unanswerable question – how is such an atrocity possible?
rating
Explore topics
Share this article