The Cabin in the Woods |

reviews, news & interviews
The Cabin in the Woods
The Cabin in the Woods
Terrific Whedon-scripted meta-horror combines heavyweight actors and fresh meat
If you go down to the woods today, you're sure of a big surprise: Fran Kranz in 'The Cabin in the Woods'
Like an adrenalin injection straight to the heart of a flagging horror genre, The Cabin in the Woods is fresh, funny and teeming with deliciously nasty surprises which - have no fear - will not be revealed to you here. Although it's helmed by first-time director Drew Goddard (the Cloverfield scribe and co-producer of Lost and Alias), for many the key name attached to The Cabin in the Woods will be Joss Whedon, the film's co-writer and producer.
Whedon is the creator of
Buffy the Vampire Slayer
(on which Goddard also worked as a writer),
Firefly
and the lesser but still impressively ambitious
Dollhouse
. Whedon's distinctive stamp is all over
Cabin,
from the wonderful wisecracks and playful genre bending, to the geeky nous.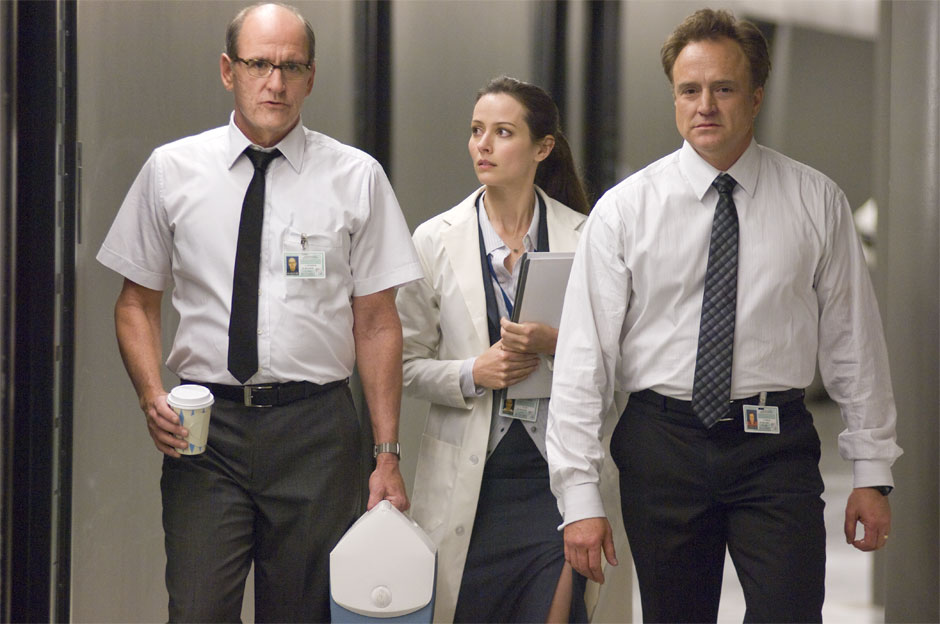 In a set-up familiar from The Texas Chain Saw Massacre et al, five fit and feisty young things, including Thor's Chris Hemsworth, opt to spend the weekend at a woodland retreat. When they arrive it's to find they're staying in the cabin from hell or - more precisely - the cabin from The Evil Dead. Their supposed sanctuary's ominous appearance is far from the only oddity: there's a two-way mirror linking a pair of bedrooms, a basement crammed with creepy antiquities and even more startlingly – for the audience's eyes only - the appearance of a force-field. What's more, from the outset we're in the company of two mysterious men, Sitterson and Hadley (Richard Jenkins and Bradley Whitford, pictured above right with Amy Acker), who observe proceedings from an undisclosed location. I'll go no further with the plot but, suffice to say, as an experience it's akin to riding the most hi-tech and hair-raising of rollercoasters: violent, breathlessly fast and prone to sudden but surely executed twists and flips.
Wes Craven proved with the similarly postmodern Scream that to break horror's rules you've got to know and love 'em. As a comparable reinvigoration The Cabin in the Woods is bigger, bolder and makes Scream and its sequels (including the recent Scre4m) look disproportionately dated. Although it's consistently inventive and confounding, a familiarity with the genre will undoubtedly enhance your enjoyment as there are references aplenty. Along with numerous slashers and the Evil Dead series, there's "J-Horror", Hellraiser and gleeful nods to the duo's previous work, both through casting (peripheral players such as Amy Acker and Tom Lenk are reassuring Whedon / Goddard regulars) and in overarching ideas - Season Four of Buffy the Vampire Slayer springs to mind as an example.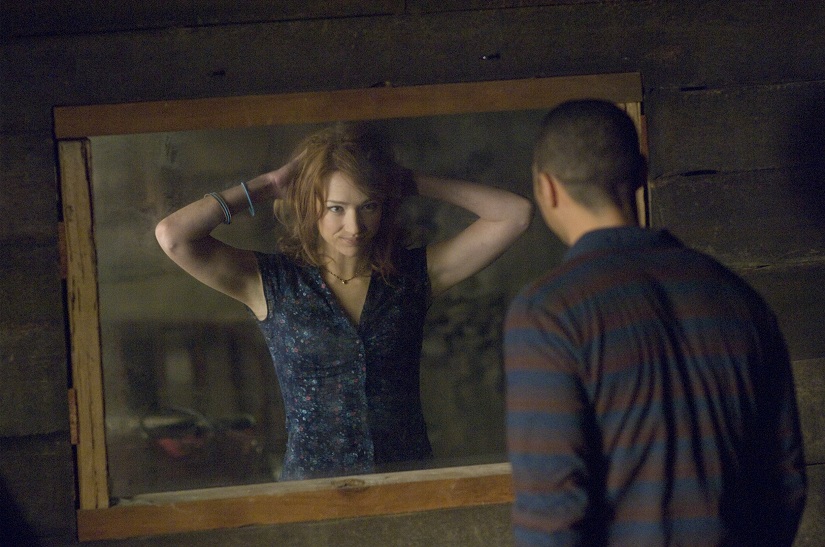 As Dana (whom horror aficionados will quickly recognise as the movie's "final girl") Kristen Connolly (pictured left) is endearingly plucky, and there's a tremendously enjoyable performance from Fran Kranz, playing stoner geek Marty, who - having worked with Whedon before on Dollhouse - is an ideal mouthpiece for his unique brand of quippiness. But top acting honours here simply must go to Bradley Whitford as the hilarious, scheming Hadley. How wonderful it is to see one of The West Wing's finest back in a starring role; it's a stroke of casting genius and he's evidently having a ball. His partner in crime Sitterson - the Oscar-nominated Richard Jenkins - ever so slightly falls into the backdrop (with Whitford hogging all the best lines) but he's a more than welcome presence here.
Unafraid to bite the hands that feed it, Cabin combines commentary on our frenzied, macabre consumption of horror with lashings of levity and plenty of authentic scares for traditionalists. With this film Whedon and Goddard have brought unabashed smarts and acting heavyweights to the horror genre, pulling off their ingenious fusion with aplomb. This sassy, exhilarating monster mash will provide riotous entertainment for all but the faint-hearted.
The Cabin in the Woods is in cinemas from Friday
Follow @EmmaSimmonds on Twitter
Watch the trailer for The Cabin in the Woods
To break the horror genre's rules you've got to know and love 'em
rating
Share this article