Cat Person review - the dynamics of dating and bad sex |

reviews, news & interviews
Cat Person review - the dynamics of dating and bad sex
Cat Person review - the dynamics of dating and bad sex
Susanna Fogel's adaptation of the viral New Yorker short story goes over the top
Thursday, 26 October 2023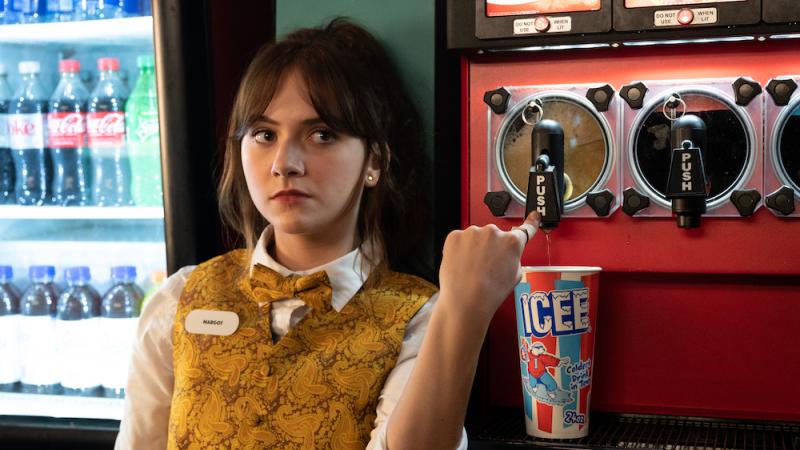 Imaginary crush: Margot (Emilia Jones) at the concession stand
Margot (Emilia Jones; Coda) has made a terrible mistake. She's landed up in bed with Robert (Nicholas Braun; cousin Greg in Succession) and realises the sex is going to be excruciatingly bad.
How to tell him that she's changed her mind? Can she leave before it's too late? Or is it easier to get it over with, otherwise he might turn nasty?
Maybe, as a last resort, she can make herself get turned on by his gratitude. "Look how much he wants us," she tells her better self, who watches, cringing, from a corner of the room.
Director Susanna Fogel (Booksmart; The Flight Attendant), and screenwriter Michelle Ashford (Masters of Sex) handle this scene wittily and brilliantly. If only the rest of the film were as successful (though Jones and Braun are excellent). For some of it, they stick faithfully to Kristen Roupenian's subtle, clever short story of the same name that was published in The New Yorker in 2017 and went viral – though, in an odd postscript, a piece in Slate by Alexis Nowicki revealed that Roupenian had drawn details of Robert and Margot's relationship from Nowicki's life.
But the story seemed to encapsulate, at the height of the #MeToo era, the differences between the ways men and women communicate and the dynamics of modern dating and sex. Readers' interpretations were sharply divided. Was this sex consensual or not? Many women identified with Margot. But was Roupenian being unfair on Robert?
Suddenly, in the second half of the film, probably hoping for a male audience, we're in a different genre altogether, a kind of jarring, tacked-on sub-horror movie gone berserk in which Robert is allowed his say (Isabella Rossellini also features in an ill-conceived cameo as Margot's anthropology professor). The film opens with Margaret Atwood's quote: "Men are afraid that women will laugh at them. Women are afraid that men will kill them," and this is perhaps taken too literally.
The basics are the same as the story: girl meets boy, boy turns out to be disappointing, girl dumps boy. Texting is, of course, the main mode of communication and of misinterpretation. Margot is a student aged 20; we don't find out what Robert (Nicholas Braun, pictured above with Emilia Jones as Margot) does until the end of the movie. Surely she would have asked? Perhaps she's aware of an underlying class tension. She's more highbrow than him. They meet over the concession stand in the art-house cinema – he orders Red Vines and popcorn – where she works in the evening.
Roupenian describes Margot flirting with him more or less out of boredom: "she could have drummed up an imaginary crush about him if he'd sat across from her during a dull class". (Imaginary is a key word here.) Only he's not a student, he's older. Just how much older she doesn't find out until later.
He's tall, which is good, and seems funny and clever in his texts, though Margot's friend and college roommate Taylor (Geraldine Viswanathan, pictured below with Margot) advises caution. She's a staunch feminist, a moderator on a subreddit forum called the Vagenda, though she's mainly all talk. Her username is bitchperfect. Some of her advice – "Let at least one text go unanswered and never double text" – sounds rather traditional, as does the vibe of much of the movie.
When Margot goes home for the vacation – her mother (Hope Davis) tells her that a certain amount of "discomfort" is to be expected in a relationship – their romantic texting becomes obsessive. But when she's about to return to campus Robert mysteriously withdraws. Margot, discomforted at the change in the dynamic (the fact that her old boyfriend back home has decided he's asexual doesn't help her self-esteem), agrees right away when he finally asks her to a movie. This turns out to be Star Wars, which Robert has seen countless times. He's a nerdy superfan. Not a good sign.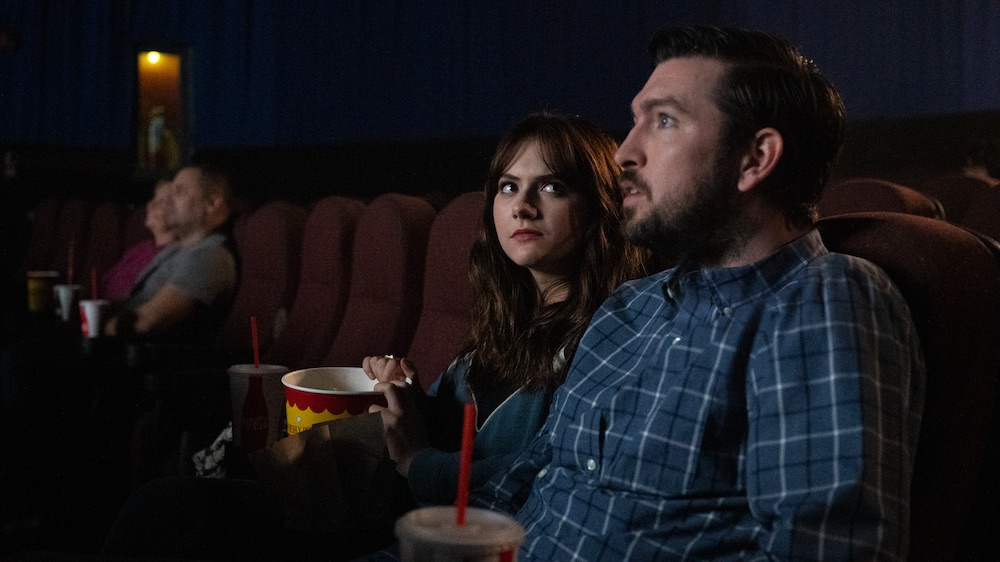 After the skin-crawlingly awful sex ("Good girl," comments Robert when it's over) Margot insists on going back to her dorm. Soon the texts start flooding in. She and Taylor discuss endlessly how to tell him she's not interested. Taylor is all for a swift ghosting; Margot feels she has to say more; they did have sex, after all.
In the end Taylor takes matters into her own hands, and he gets the message. It's over. Except, of course, it isn't, and after he sees her in a bar with some friends he sends a string of increasingly angry, drunken texts, finally calling her a whore. In the film, the word fills the screen, very effectively. And that's where Roupenian's story ends.
In the movie, there's more, which is understandable, but it's unclear why it has to be quite so violently over-the-top, though Fogel has said she was inspired by Jordan Peele's Get Out and wanted to apply it to dating. As Margot is prone to fantasising about worst-case scenarios, it's difficult to make the adjustment. You find yourself wondering, though not with any great urgency, if this conflagration is real or in her head. Lee Hazlewood's unsettling tones provide a suitable soundtrack to the inconclusive ending.