Driving Madeleine review - a Paris taxi ride reveals a harrowing life story |

reviews, news & interviews
Driving Madeleine review - a Paris taxi ride reveals a harrowing life story
Driving Madeleine review - a Paris taxi ride reveals a harrowing life story
Christian Carion directs 95-year-old Line Renaud and Dany Boon in a heart-warming tear-jerker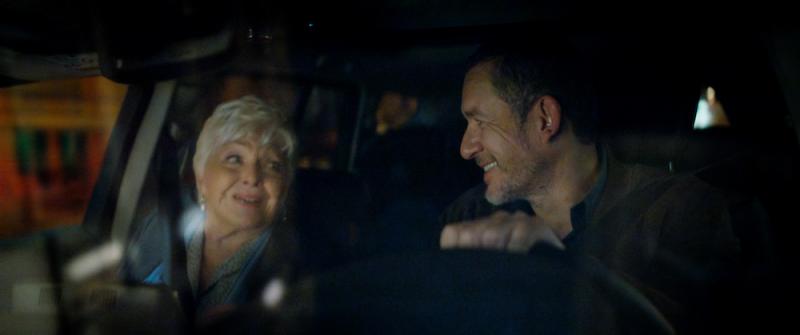 Taxi-cab intimacy: Line Renaud and Dany Boon
Charles (French comedian Dany Boon), a jaded taxi driver in Paris, is stressed out. He owes money, the points on his license are mounting up, he barely has time to see his wife and daughter. When he gets a booking for a far-flung ride involving an old lady, he's not enthusiastic even though the pay's good. All joie de vivre has left him.
Directed by Christian Carion, Driving Madeleine is a life-affirming, charming film with a dark undercurrent, though it's somewhat formulaic and the flashbacks are not entirely successful in tone.
But it's always good to see the streets of Paris – and interestingly, the driving scenes, which make up most of the film, were shot in a studio. So rather than making his actors sit in endless Paris traffic jams, Carion used remarkably realistic new technology featuring tall, high-definition LED screens which surround the cab and project the previously filmed street scenes.
Madeleine Keller, the 92-year-old in question, is played by French national icon Line Renaud, who's now 95 and looks far younger. She's an extraordinary life force with an infectious laugh. Renaud, who's a singer and AIDS activist as well as a movie star, and Boon, who is also a director, have worked together before (Bienvenue chez les Ch'tis, where she plays his mother, La Ch'tite Famille and La Maison du Bonheur) and are close friends, both from northern France, and their chemistry, natural and unforced, works well.
At first, Charles is grumpy and uninterested in the fact that Madeleine is leaving her apartment for the last time. She had a fall and doctors say she has to go into a care home, so her journey there with Charles is her last glimpse of freedom. She insists on a detour to look at her old neighbourhood, Vincennes, and soon she's reminiscing about her first kiss.
Memories flood in but the flashbacks, slightly fuzzy and sentimental, with Etta James and Dinah Washington as accompaniment, seem disconnected from the gritty Madeleine we see today. She was 16 and Matt was an American GI in the liberation of Paris in 1944; we see them dancing, with Alice Isaaz playing the young Madeleine (pictured above). But three months later Matt is gone, back to his family in America, leaving Madeleine pregnant.
She's devoted to her son, Mathieu (Hadriel Roure) and marries smoulderingly handsome Ray (Jérémie Laheurte) when Mathieu is seven. He reminds her of Matt and seems a good bet at first, but as a step-dad not so much – Roure's performance as a sad, frightened child who wants to protect his mother is impressive - and as Charles and Madeleine drive along, it becomes clear that her past life is quite a shocker.
Ray is violent, possessive and cruel. Madeleine tells Charles that in the Fifties, abusive men had all the rights. You needed your husband's permission to get a job or to open a bank account. Domestic violence was not grounds for divorce. But Madeleine is not prepared to become a victim, and when Ray hits Mathieu, he crosses a line. Her revenge is remarkably drastic and a long prison sentence awaits.
By now Charles's grumpiness is gone. He's all ears. This old lady is something else – she's a kind of feminist heroine. I don't like the sound of the Fifties, he says, and she tells him it wasn't all bad, everyone drove Vespas and there was jazz on every street corner.
He laughs for the first time as he shares stories about his love for his wife, Karine, and how he won her over by snapping her with his father's Agfamatic when they were both 16. Madeleine listens intently – her son, it turns out, became a photographer. He raises no objections when they have to make a pit stop for Madeleine to use the loo in a Chinese restaurant – "At my age, it's hard to control". Never mind the furious honking from other drivers, forced to wait while his taxi blocks the street. They're a couple of naughty kids at heart, it seems.
During a slap-up dinner – by now they're satisfyingly late for the care home, whose manager rings Charles to find out where they are – Charles reveals that he's never been out of France even though he drives three times round the circumference of the earth every year. "Pitiful, isn't it?" he says. Madeleine smiles. She has something up her sleeve. By the time they reach the care home, she's sitting beside him in the passenger seat. She's brought Charles back to life, but the denouement is, inevitably, a tear-jerker.