DVD: Animal Farm
DVD: Animal Farm
The 1954 animated feature caught the bleakness of Orwell's allegory
Tuesday, 04 November 2014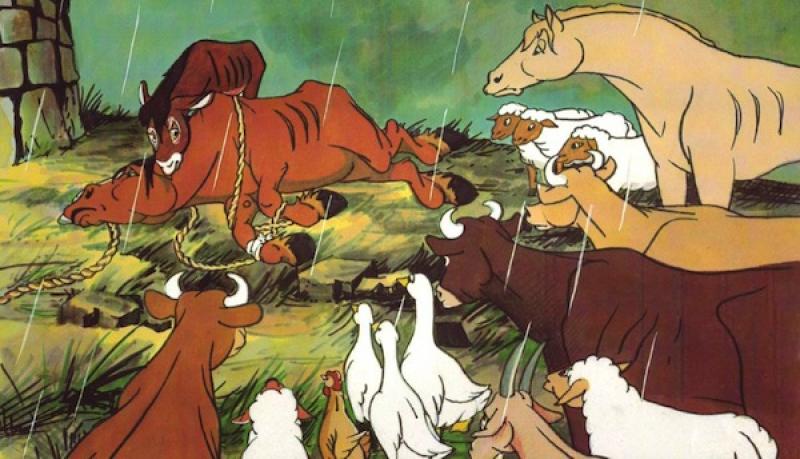 Worker's end: the next stop for Boxer is the glue factory
John Halas and Joy Batchelor's Animal Farm, adapted from George Orwell's 1945 allegorical novel about the emergence of Stalinism, was Britain's first animated feature film. Clearly influenced by Walt Disney's early 1940s classics, the husband and wife team (he was from Budapest, she from Watford) necessarily avoided sentimentalism but were unafraid to milk pathos in depicting the plight of Orwell's oppressed proletarian beasts.
The ultimate victim of the tyrannical porker Napoleon (pictured below) is the workhorse Boxer, who slaves devotedly to build a windmill for the agrarian collective and is wounded in a battle with the two-footed farmers enraged by Animal Farm's trade success. His almost Sisyphean toil in lugging rocks uphill in terrible weather is heroic; his removal to a glue factory while still breathing epitomizes Uncle Joe's contempt for humanity. The donkey Benjamin, Boxer's friend, becomes the film's conscience and leads the resistance that overthrows the pig Politburo in an upbeat ending that departed controversially from Orwell's pessimistic conclusion.
It was mandated, probably over Halas and Bachelor's wishes, by the American producer Louis de Rochemont, who financed the anti-Soviet propaganda film with CIA money. Paradoxically, he allowed Halas and Batchelor to model the visionary pig Old Major, closer to Marx than Lenin though supposedly an amalgam of both, on Winston Churchill, who wrote a letter of complaint to Halas.
Orwell, who had died in 1950, would have objected to the imposed ending but might have appreciated the film's lowering landscapes, the dread conveyed by expressionistic shots, and the fidelity to his anthropomorphism (one cute duckling aside). Less impressive are the evicted farmer Jones and the human rabble that takes arms against the animals; they anticipate the crudely drawn thugs of Disney's 101 Dalmatians (1961) and The Aristocats (1970).
For its 60th anniversary, Animal Farm has been restored in High Definition and issued on Blu-ray and DVD following its bow at the London Film Festival. The extras (most of which appeared on a 2010 DVD) include Brian Sibley's commentary; an invaluable archival interview with Halas; and a 1994 featurette for children wittily presented by Tony Robinson and drawing on interviews with Maurice Denham, the film's sole voice talent, and two members of the animation crew. There's also a comparison between storyboards and completed scenes. The package would have been better still had it included some of Halas and Batchelor's wartime propaganda shorts for the Ministry of Information.
The upbeat ending departed controversially from Orwell's pessimistic conclusion
rating
Share this article