DVD: Forty Guns |

reviews, news & interviews
DVD: Forty Guns
DVD: Forty Guns
Barbara Stanwyck cracks her whip in Sam Fuller's Tombstone power-struggle rethink
Behold the Queen: Barbara Stanwyck holds court to (from left) John Ericson (prisoner), Barry Sullivan, Dean Jagger (right)
Marlene Dietrich and Joan Crawford camped it up superbly as 1950s Western matriarchs in Rancho Notorious and Johnny Guitar respectively. Yet they were outflanked by the steelier Barbara Stanwyck, an actress passionate about the genre. She carved a niche for herself as a fierce, cynical frontierswoman of property in The Furies, Cattle Queen of Montana, The Maverick Queen, and Forty Guns, though love or justice typically compromised the feminist slant of these films, which led Stanwyck eventually to her 1965-69 Western series The Big Valley.
Forty Guns wasn't as thematically rich as Run of the Arrow, Samuel Fuller's other 1957 oater, but it was an important bridge between the traditional Fordian Western and the amoral, violent spaghetti Westerns of the 1960s.
Stanwyck's imperious Jessica Drummond is a self-made rancher and "high-riding woman with a whip" (as a song lionizes her), whose empire in Cochise County, Arizona, is protected by her 40-strong army of mercenaries. Fuller is less concerned with this fragmenting bodyguard than the professional gunmen, Griff (Barry Sullivan, Stanwyck's Maverick Queen co-star) and Wes Bonnell (Gene Barry), who arrive with their callow younger brother Chico (Robert Dix) in Tombstone in 1881 – the Wyatt Earp clan in all but name. (Stanwyck and Sullivan pictured above.)
Griff has been sent by the Attorney General to arrest a robber in Jessica's entourage. Her own younger brother (John Ericson), a trigger-happy sociopath, tests Griff's resolve to continue cleaning up the West without resorting to his old practice of killing. Wes falls in love with a gunsmith (Eve Brent) whose ogling of him prompts him to masturbate the rifle stock she's sizing for him – one of Fuller's vulgar touches. Griff and Jessica fall in love more decorously after she's dragged by her horse during a tornado (Stanwyck, 49, did her own stunts). In contrast to the taciturn Sullivan, Dean Jagger is nervily garrulous as the corrupt sheriff so devoted to Jessica he's broken laws on her behalf for years. His tragedy, presaging the end of Jessica's reign, is affecting.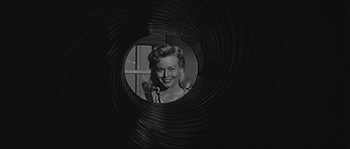 Photographed in black-and-white widescreen by Joseph F Biroc, Forty Guns teems with visual surprises: a dolly shot that goes on forever; a shot of the pretty gunsmith's face seen at the end of a gun barrel (pictured above and quoted by Jean-Luc Godard in Breathless); weird angles; and slow dissolves from Jessica's face which celebrate Stanwyck as an ageing icon. Nothing is more shocking, however, than Fuller's de-codifying of the classic Western shootout at the climax.
The dual format disc's extras include an insightful but distractingly directed video interview with critic Jean-Louis Letrat and an audio track consisting of Fuller's lively 1969 talk at the National Film Theatre.