DVD: The Invisible Woman |

reviews, news & interviews
DVD: The Invisible Woman
DVD: The Invisible Woman
Felicity Jones shines as Nelly Ternan, who paid a terrible price for loving Charles Dickens
Boz and beloved: Ralph Fiennes as Charles Dickens and Felicity Jones as Nelly Ternan
One of Charles Dickens's shortcomings as a novelist was his inability to breathe authentic emotional life into young women characters (Bella Wilfer and Estella possibly excepted). The likes of Dora Spenlow, Lizzie Hexam, Esther Summerson, Ada Clare, Pet Meagles, and the "Littles" – Em'ly, Dorrit, and Nell – are scarcely three-dimensional. A rebel like Tattycoram has to be tamed. Dickens favoured long-suffering child-women who gratefully accept domestic servitude.
Or, in the case of Nelly Ternan, his mistress, romantic and sexual servitude. In one of several excruciating scenes in Ralph Fiennes's The Invisible Woman, Dickens (Fiennes) installs Nelly (Felicity Jones) in a Slough love nest and tells her he'll visit her when his work and family commitments allow. She cannot, of course, appear with him in public. Once vivacious and gregarious, she has been effaced and saddened by their relationship.
Abi Morgan's adaptation of Claire Tomlin's Ternan biography doesn't vilify Dickens. Fiennes captures his enthusiasm, his kindness, and his concern for the sick and destitute. When a teenage prostitute propositions him, he says he'll only pay her to go home to her mother. He is selfish only in his private life.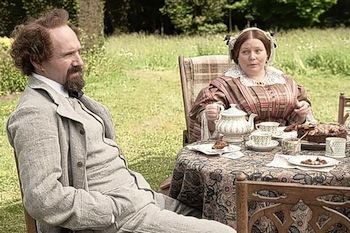 Nelly recalls their affair in flashback after Dickens's death. Married to a schoolteacher who knows little of her past, she has taken to walking the Margate sands in a near-neurasthenic haze resulting from years of self-suppression. William Benham (John Kavanagh), a kindly vicar and Dickens devotee, senses the truth and coaxes her to relive her experiences as a form of therapy. The real Benham was Nelly's confidant and learned from her, during or after 1876, that she "loathed the very thought of this intimacy" with Dickens.
Guilt feeds her anguish. On her nineteenth birthday in 1858, a bracelet the 46-year-old Dickens has bought her is delivered to Catherine Dickens (Joanna Scanlan, pictured above right with Fiennes). He forces the plain, stout Catherine, his wife of 22 years and the mother of their 10 children, to bring the gift to the slender blonde girl who's replacing her. Nelly is not above Victorian moral hypocrisy, however. She snubs the warm welcome of Caroline Graves (Michelle Fairley) when she learns she lives in sin with Wilkie Collins (Tom Hollander).
Whereas Fiennes's direction of Coriolanus was bludgeoning, his rendering of The Invisible Woman is sinister and discomfiting – Rob Hardy's chiaroscuro cinematographer has a faintly sickly pallor. If Fiennes and Kristin Scott Thomas (as Fanny Ternan, Nelly's well-meaning but manipulative mother) are impressive, Jones and Scanlan are towering. Enduring reverence for the great man probably cost each actress the stack of awards she richly deserved.
The DVD's extras include cast and crew interviews.
Nelly walks the Margate sands in a near-neurasthenic haze resulting from years of self-suppression
rating
Share this article