DVD: Mr Turner |

reviews, news & interviews
DVD: Mr Turner
DVD: Mr Turner
Superlative performances in Mike Leigh's ravishingly filmed hyper-biopic
The fabulous Royal Academy 'varnishing' scene
Nothing pinpoints the Oscars' absurdity more than the absences of Mike Leigh's masterpiece as Best Film candidate, of Timothy Spall from the Best Actor list - New York and London critics as well as Cannes made some amends – and even of Marion Bailey, Leigh's partner, from the nominations for Best Supporting Actress.
Spall fulfils the promise of his King Lear moment in
Secrets and Lies
as the artist described by Leigh as a "complex, curmudgeonly, convoluted character".
Tenacious Dickensian dialogue – surely not all improvised, Leigh-style? – allows Spall to shine or appal in love, bereavement, literacy (those mythological similes!), business (the fun operator at the 1832 Royal Academy "varnishing"), musical performance (the Tom Waits version of Dido's Lament), love of ambivalent nature and interest in science, and of course as genius at work. In the superb half-hour documentary extra, containing the pith of the full interviews which appear on the bonus disc alongside mostly inessential extra material, Spall tells us how, over two and a half years of art lessons from artist Tom Wright, he showed some aptitude and ended up "as good as he [Turner] was aged nine".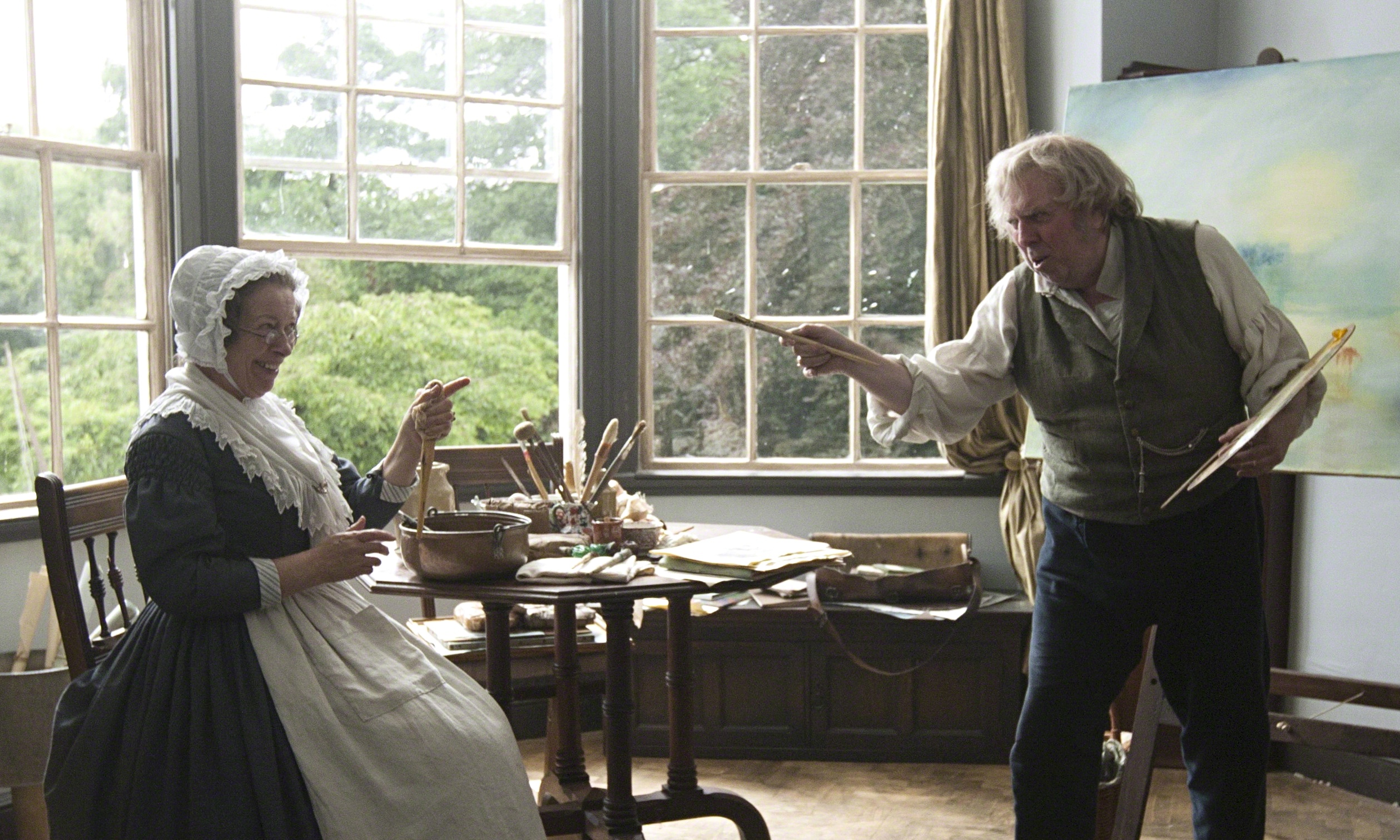 The wide-screen canvases peak in evocation of The Fighting Temeraire. On DVD you'll relish especially the intimacy of Turner's relationships with his fellow artists, with his strange, psoriasis-ridden housekeeper (Dorothy Atkison) and with Bailey's Mrs Sophia Cobb of Margate (Bailey and Spall pictured above): the love scene in which Spall's Turner compares her to Aphrodite has an extra real-life frisson given Bailey's connection to Leigh.
There are consummate appearances from Joshua McGuire as young Ruskin – inauthentic, perhaps, but making for good comedy drama; Lesley Manville as a delightful Scots scientist; and Paul Jesson, touchingly real as "daddy" Turner, barber and wig-maker turned artist's factotum. That JMW's earlier years can all be suggested in dialogue, with no need for cumbersome flashbacks from the last two decades or so of the artist's life, is part of the genius. The form comes from the ritornellos of Turner's Margate excursions and their result. Production designer Susie Davies creates a work of art from what's known of the RA show, while Gary Yershon's strange score with its keening high oboe is sparingly and effectively used. Film of the year? Film of the decade? Out of all that I've seen, no question.
That the artist's earlier years can all be suggested in dialogue, with no need for cumbersome flashbacks, is part of the genius
rating
Share this article