DVD: Roberto Rossellini - The War Trilogy |

reviews, news & interviews
DVD: Roberto Rossellini - The War Trilogy
DVD: Roberto Rossellini - The War Trilogy
Bombed cities are as much the protagonists as fine actors reliving the war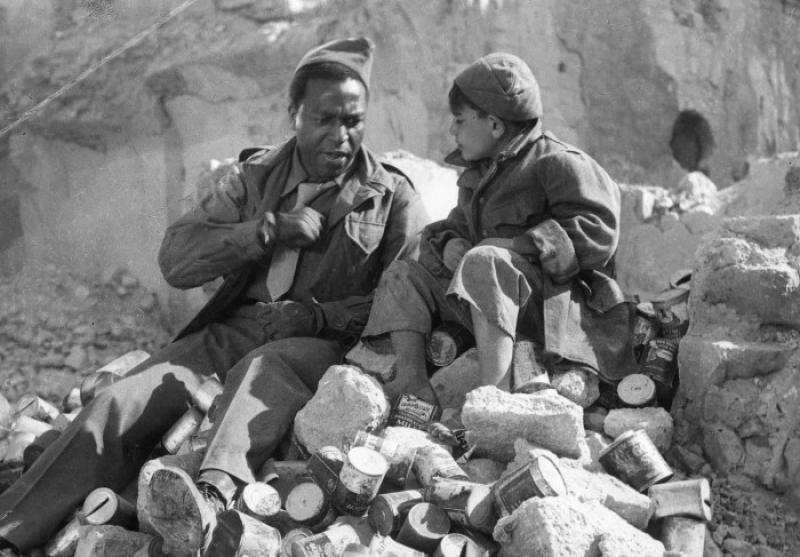 Dots M Johnson and Alfonsino in the Naples sequence of 'Paisa'
Filming in bombed locations around Italy and Germany, the immediate evocation of wartime and post-war moral zeros, ordinary Italian locals and American GIs playing themselves alongside professional actors: all these assets would be enough to make Rossellini's gritty films made between 1945 and 1948 essential to the history of cinema. But cinema as vibrant life itself breathes in the pace and in most of the performances.
You'll probably be familiar with Anna Magnani's passionate mother and lover and Aldo Fabrizi's heartbreaking Father Pietro in Roma citta apertà (Rome, Open City). These were comic stars who turned tragic in a drama that doesn't stint on brutal torture and sudden death (final scene pictured below). But there are revelations, too, in the more experimental format of Paisà, while Germany Year Zero, however melodramatic at times, is as unstintingly horrific about ordinary life among Berlin's broken, depraved inhabitants as so-called neo-realism could get.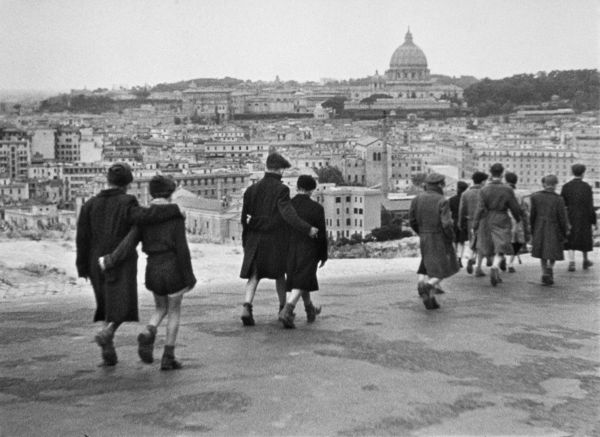 Paisà is the odd one out, intermittently brilliant and always evocative as it follows the allies from Sicily to the Po valley with six stories. The backdrop of shattered Naples fascinates as a drunk black GI meets a street orphan: Dots M Johnson's sentimental, angry Joe is beautifully offset by real urchin Alfonsino's Pasquale, tough only on the outside (the final look as Joe walks away from the boy's cave dwelling says it all). Other highlights are a harrowing run through near-deserted Florence by a British nurse and an Italian trying to get to his family (Renzo Avanzo, a genuine partisan), the mixed blessings of monastic life – the monks as played by their real counterparts are convinced that the Jewish and Protestant American chaplains need redeeming – and evocative scenes among the marshes of the Po valley where war remains a reality.
There is no transcendence, only humanity in heroic deaths and brief encounters going beyond the language barriers. The Italian habit of studio dubbing sometimes works against total suspension of disbelief: it doesn't happen from the German-French team who worked on the last film, nor in the first of the two Passions from Magnani, all guns blazing as Cocteau's deserted lover on the phone in The Human Voice and a holy fool of a peasant girl in The Miracle (script by Fellini), which are much more than mere extras.
Another companion-piece is a loosely edited but rich Italian documentary following Vito Annachiarico, who played the naughty boy in Roma citta apertà, around his neighbourhood 60 years after the film was made. Perhaps Tag Gallagher is better read among the excellent essays in the typically fine BFI booklets than heard narrating a cheaply-made but sharply montaged half-hour insight into the three films, the third extra in the package. The 2013 Italian restorations are a treat, though many of the street scenes remain unnaturally dark.
Available in a BFI Blu-Ray boxed set or as three separate DVDs