DVD: RoGoPaG |

reviews, news & interviews
DVD: RoGoPaG
DVD: RoGoPaG
Pasolini short is the stand-out contribution in this 1960s collaboration
Sunday, 02 September 2012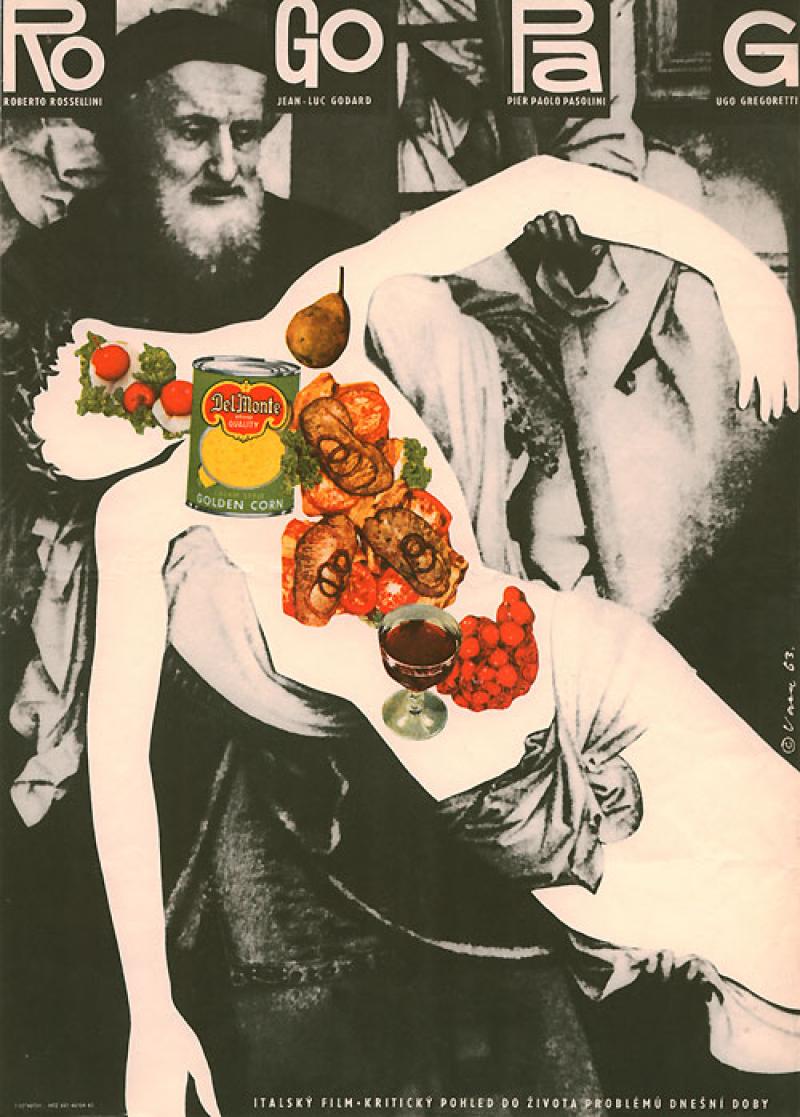 'RoGoPaG': a patchy portmanteau
Even though their names are bound together in the portmanteau title, the directors of the four short films that make up RoGoPaG - Rossellini, Godard, Pasolini and Gregoretti - don't go for any sort of narrative tie-ins. The only thing that links the films are the Sixties themes: nuclear annihilation, the shifting role of women and the rise of consumer capitalism.
The largely unsatisfying results would only recommend themselves to the dedicated arthouse fan or movie historian were it not for Pasolini's inspired contribution,
La Ricotta
.
The generosity of vision in Pasolini's La Ricotta puts the other three contributions to shame
This segment, which includes a striptease by the Virgin Mary, landed the Italian director a four-month jail sentence for offending the state religion. Of the four short films, it's the only one that warrants our undivided attention, even though little really happens. A film director played by Orson Welles presides over a crucifixion scene, while around him his cast and crew fool about, dance and eat. One extra, Stracci, too poor to buy his own meal, steals several huge slabs of ricotta, wolfs them down and, during the filming of the crucifixion scene in which he hangs from a cross, dies from indigestion.
As with so many Pasolini films it's part comedy, part tragedy, part social critique. And much of the joy of the movie is found in Pasolini's audacious changes of tone and tack, in which he careers unceremoniously from Benny Hill-style running around to ravishing reconstructions of Baroque paintings to neorealist simplicities. The generosity of vision here puts the other three contributions to shame.
That said, Godard's offering, Il Nuovo mondo, is nicely counterintuitive and in part brilliant. A nuclear bomb is detonated over Paris and the reaction on the ground is not panic but an eerie normalcy. Daily life grinds on. The only sign of the fallout? Mass pill-popping. A clever scenario ruined by Godard's chronic inability to relay how real people behave in real life, especially when it comes to relationships.
Bookending the series are two more prosaic contributions. Roberto Rossellini's Illibatezza, a misogynistic and unrealistic little tale of an air hostess who pretends to be a whore in order to calm the advances of an older man, is detailed but dull. And Ugo Gregoretti's Il Pollo ruspante, charting the demise of a family driven to madness by materialism, suffers from an overly didactic spirit.
Watch the trailer to RoGoPaG