Socialisme |

reviews, news & interviews
Socialisme
Socialisme
Though grouchy and brooding, his new film deserves to win Godard young fans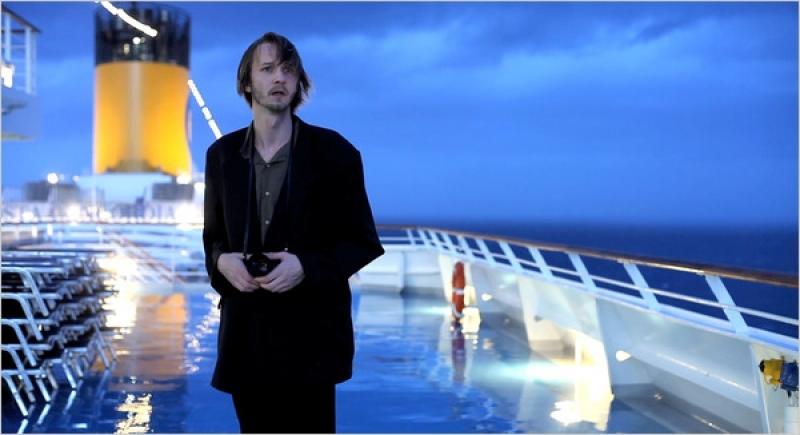 Film Socialisme: 'achingly beautiful HD video footage of the blue of the sky and shimmering waves'
Jean-Luc Godard has lived in self-exile for most of his film-making life, a now 80-year-old enfant terrible. After the seismic ruptures to film grammar in his self-aware, playful Sixties work, he largely abandoned narrative and popularity at the start of the Seventies.
But his enduring idealism came through in a rare recent interview when, dismissing his more conventional and beloved
nouvelle vague
peers Truffaut and Chabrol, he sighed: "This was not the cinema we had dreamt of." I haven't seen much by him since 1967's
Weekend
, for which I now suspect I should hang my head.
Film Socialisme
shows Godard is cinema's last revolutionary, still willing it to wake to its potential.
Replacing narrative this time are three sections, centring on an ocean liner, a rural French petrol station and great, allusive chunks of old film. Themes include Palestine, the 20th century and its Holocausts, Jews, Hitler and Hollywood. The whole film sometimes seems a mournful, furious farewell to the conflicts and desires that defined Godard's post-war generation of film rebels.
Patti Smith is among the oddball, maverick intellectuals Godard smuggles on to the liner. His alertness to the 21st century is first shown in achingly beautiful HD video footage of the blue of the sky and shimmering waves. The flapping of shipboard flags escalates into overwhelming noise resembling a wind-ruined mobile phone line, intercut with bad phone-camera footage so overloaded it sounds like thrash-metal, and the ghostly fuzz of people glimpsed on CCTV. Though Godard isn't online, partner Ann-Marie Mieville is, finding footage of kittens doing funny stuff so he can riff on YouTube. The jarring breaks in sound and vision he jabs our attention with put our unconsidered internet experience on the big screen. You may find it aggravating at first, but this is how we happily experience large chunks of our day. Godard gives it enough scale and cunningly edited import to be grasped, turning it into cinema and giving it dignity, even as he ruthlessly interrogates it. The liner's voyage is meanwhile studded with gnomic philosophical observations, as the passengers on its Mediterranean cruise drift in limbo between North Africa and Southern Europe, spilling out at destinations like refugees. It's a 21st-century ship of fools, avoiding condescension because Godard's happy to play the clown himself.
The most pleasant surprise is how funny all this is. The second section at a rustic French garage again has an intense sense of place, Godard making you feel the languid pace in the midday heat as cars buzz off-screen. But the family who live there, including a young boy in a red CCCP T-shirt who barks, "Make fun of Balzac - I kill you!" could have wandered in from the primary-coloured, playful scenarios of agitprop and slapstick in Godard's late 1960s films.
The final section revisits Battleship Potemkin's Odessa Steps sequence and John Ford Westerns. If a few seconds' footage of a concentration camp corpse amidst images of Hitler and Stalin verges on the gratuitous, Godard's dogged insistence on his generation's obsessions is forgivable, in a film with the spectacle and sensual pleasure of cinema when it was young. A century in, we speak its language more fluently than we think, and I soon stopped missing the moorings of plot or dialogue (with typical impishness, Godard has written his own subtitles in "Navajo" English, brilliantly compacting Balzac, Beckett and co. into contradictory, wise epigrams: "Blackbox Hollywood…tomb of the prophets"; "bring back duration"; "loss reality flagrant"; "ideas divide dreams bring closer"…).
Godard still loves cinema as much as when he first fell for it, sitting wide-eyed every day in the Fifites Paris cinématèque next to his then-friend Truffaut. That's obvious from Film Socialisme's sheer beauty. "Think hard what you fight for might obtain it" goes one subtitle. This stubborn rebel is still fighting, though his old friends and enemies have all vanished with the years. Though it's sometimes grouchy and brooding, Film Socialisme deserves to win him new, young fans. Let it wash over you, and see what cinema can be.
Watch the trailer to Film Socialisme
You may find it aggravating at first, but this is how we happily experience large chunks of our day
Explore topics
Share this article