Last Year in Marienbad |

reviews, news & interviews
Last Year in Marienbad
Last Year in Marienbad
New print of classic work of post-modernism for summer bafflement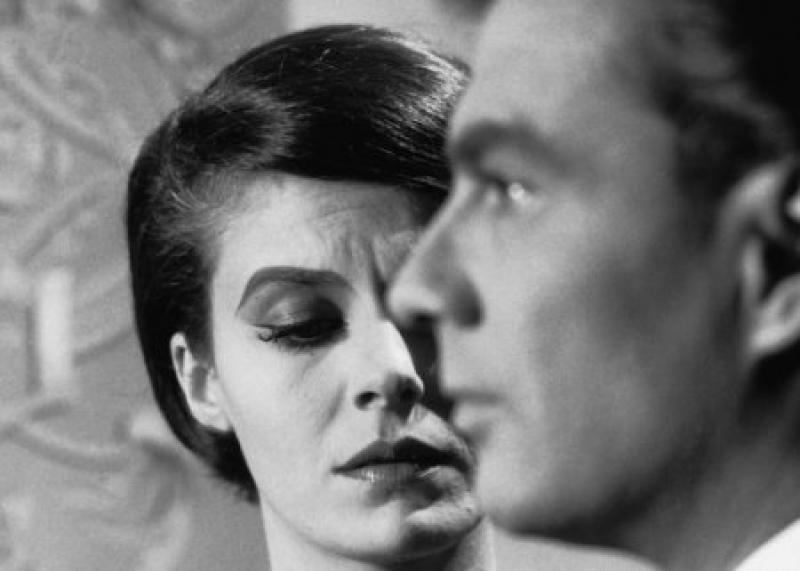 Delphine Seyrig and Giorgio Albertazzi: Something dreadful between them might or might not have happened last year...
It is resonantly famous, picking up plaudits from the off, with one Sight & Sound commentator claiming in 1962 that it was the "greatest film ever made", for which he'd been waiting "during the last 30 years". That now seems slightly hysterical, as it evidently isn't the greatest film ever made, and wasn't then.
In it, nothing happens, many times, as opposed to Beckett's
Godot
- first seen eight years before - often vilified for tedium and in which at least, as critic Vivian Mercier pointed out, "nothing happens, twice". Beckett was a funny Irish poet-playwright. Robbe-Grillet (the writers shared a Paris publisher) was a modish Structuralist novelist and, to quote, perhaps scandalously, from Wikipedia, "methodical, geometric and often repetitive descriptions of objects replace (though often reveal) the psychology and interiority of the character".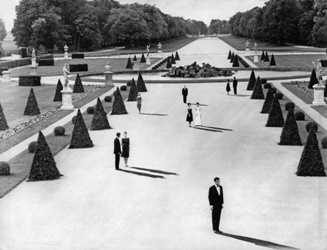 That is a precise description of Last Year in Marienbad. Yet a proviso is that psychology and character interiority have given way to surface and enigma: there is no revelation. The film is full of corridors, chandeliers, cupolas, curtains - and a killing (of the woman Seyrig plays). Or possibly not. Characters in a graspable sense there aren't: Seyrig apparently plays "A", married, possibly, to "M" (Sacha Pitoëff), and is definitely pursued by "X" (Giorgio Albertazzi), but we don't ever know whether, as he claims, "A" has had carnal relations with him the year before and, if so, whether these were forced upon her, consented to or imagined by Albertazzi. Or the director. Or Robbe-Grillet.
The "last year" of the title might be harbouring some dreadful sexual transgression from which all the film's fragmented anxiety emanates; equally, it might be that writer and director, fleeing 1950s froth and the new France of Monsieur Hulot, simply wanted to play, in their own obscurantist way. Marienbad certainly looks back at nothing and presages much (Godard and Greenaway not least of all). Watching it, I had a feeling that if the film, or more to the point the script, were turned upside down, shaken and chucked against a wall, it might start to make sense. Call that clutching at straws.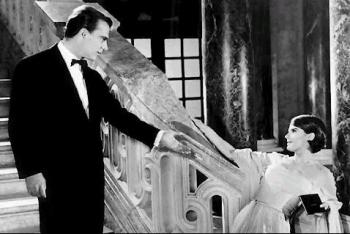 My companion, a film-maker, revealed afterwards that the opening tracking shot of the Marienbad hotel's gilded, ornate, labyrinthine interior had, at 10 minutes long, the effect not of drawing her in but propelling her towards NFT1's exit and the BFI's opluent bar. She also found the obvious gender trope - lone female preyed upon by possibly perverted male - at the film's centre, in so far as it has one, dated and dodgy. (There are two columns in the August 2011 Sight & Sound on the film's sado-masochistic tenor.) My main gripe with it is that it's so very written. The voiceover is eloquent, baroque, roiling in its verbal extravagance, but oppressive: it relegates what fleeting dialogue there is to oblivion. We experience the film, thrumming with a mildly inappropriate organ soundtrack (why not a string quartet?), with topological intensity but are not allowed to care, or engage with it. It is somewhat exhausting.

Marienbad was considered a great harbinger of the French New Wave, though Resnais (still alive: b 1922) never considered himself part of it. (He also went on to make a viscerally brilliant David Mercer-scripted film in 1977, as left field as Marienbad, called Providence, as well as rather implausibly to adapt Alan Ayckbourn.) That it emerged more from literature - the remote, distancing fields of the New Novel, a term in 1961 still to be coined - than cinema is perhaps a pernickety, even irritating point to make; but Last Year in Marienbad still feels stuck in its own self-regarding, Post-Modernist aspic.

The "last year" of the title might be harbouring some dreadful sexual transgression; equally, it might be that writer and director simply wanted to play
Explore topics
Share this article