DVD: The Titfield Thunderbolt |

reviews, news & interviews
DVD: The Titfield Thunderbolt
DVD: The Titfield Thunderbolt
Ealing Studios' branch-line comedy, a tribute to communal independence, turns sixty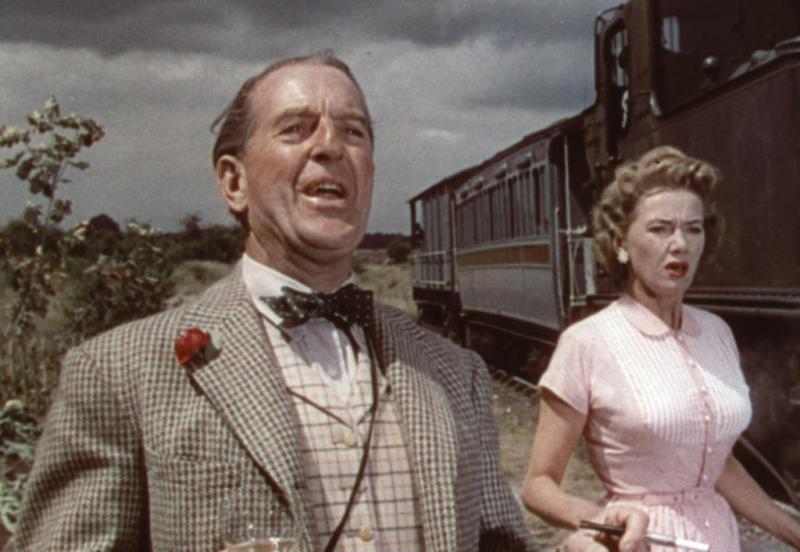 All down the line: Stanley Holloway and Gabrielle Brune in 'The Titfield Thunderbolt'
Like the Will Hay classic Oh! Mr. Porter and the droll BBC miniseries Love on a Branch Line, Charles Crichton's 1953 Ealing comedy, the first shot in Technicolor, celebrates the English love of rural railways run by unworldly eccentrics in whose hands ancient locomotives are objects of love, and sometimes dangerous weapons. A slight but ineffably charming pipedream, it was both nostalgic for pre-war village life and prophetic of the Beeching railway cuts that slashed branch lines in the mid-1960s, ending a way of life.
When a greedy bus company threatens the fictional Titfield line with closure, vicar George Relph and squire John Gregson coax bibulous moneybags Stanley Holloway to finance a plan for the village to operate it: Relph serving as engine driver, Gregson (who'd endorse vintage cars in Genevieve the same year) as guard. The wonderful Hugh Griffith is a poacher turned reluctant fireman, Naunton Wayne the skeptical town clerk, and Sid James the morose driver of a steamroller that does battle with the working loco.
After the latter is sabotaged (via expert model work) by the bus owners, it's replaced by the Thunderbolt – the 1838 0-4-2 veteran Lion, which was making its third screen appearance and is now retired in the Museum of Liverpool. In the film's most audacious sequence, another loco, stolen by Holloway and Griffith, careers across fields and down a street.
Crichton got some teeth punched out standing up for a colleague
Screenwriter T.E.B. Clarke, whose Ealing hit Passport to Pimlico had similarly championed the spirit of communal independence, was inspired to write The Titfield Thunderbolt by Wales's narrow-gauge Talyllyn Ralyway, which in 1951 became the first to be preserved. He drew on a book by L.T.C. Rolt, who had managed Talyllyn's volunteers; they included Thomas the Tank Engine author the Rev. W. Awdry, presumably the inspiration for the Relph character.
Among the supplements to the 60th anniversary DVD, for which the movie has been handsomely restored, one is spectacular: its cinematographer Douglas Slocombe, who turns 100 on 10 February, narrates his gorgeous 16mm home movie of reconnaissance and production footage from the Somerset locations. He also tells, on audio, an eye-opening anecdote about Crichton getting some teeth punched out standing up for a colleague. Other surviving crew members share their memories in a making-of featurette, and there's a nice video piece on the Lion's history.
Watch an excerpt from the documentary featuring Douglas Slocombe's production footage
It was both nostalgic for pre-war village life and prophetic of the Beeching railway cuts
rating
Share this article