DVD/Blu-ray: Ash Is Purest White |

reviews, news & interviews
DVD/Blu-ray: Ash Is Purest White
DVD/Blu-ray: Ash Is Purest White
Love in a gangster milieu, set against the changes of the Chinese century
Moment of decision: Zhao Tao plays the lead in 'Ash Is Purest White'
Chinese director Jia Zhangke has made a masterful career from following the changes that his native land has undergone in the 21st century, catching the speed of its transition from old ideological order to the relentless dynamism of subsequent economic development – and, most importantly, the human consequences of
the process. Fitting then that the action of his latest film,
Ash Is Purest White
, which premiered
at Cannes
last year, unfolds in three episodes set between 2001 and 2018. It's a boldly drawn, sumptuously shot canvas that takes in the scale of the country, while catching the directions of society through its two lead protagonists, captivatingly played by Zhao Tao and Liao Fan. Zhao is, of course, the director's wife and career-long muse – elements from her earlier roles for him are reprised here – and her performance, with its striking
fatale
froideur
that nevertheless conceals more than that suggests, is as powerful as anything she has done to date.
Ash Is Purest White is set in China's jianghu criminal underworld, that loosely clan-based structure that revolves, we learn early on, around concepts such as loyalty and righteousness – both factors, whether adhered to or broken, resound through the story (it certainly reflects tropes of Hong Kong gangster movies, too). The film opens in 2001 Datong, a depressed mining town in northern Shanxi province, where Liao plays local crime boss Bin, who's dynamically partnered by Zhao's character Qiao, her power and poise a definite exception in this otherwise male-dominated world. They run various kind of entertainment facilities, all of a certain shabbiness – there's a lovely early disco scene where Village People tracks get the dancefloor heaving – but turf warfare encroaches on Bin's position, culminating in a decisive scene of captivatingly staged violence.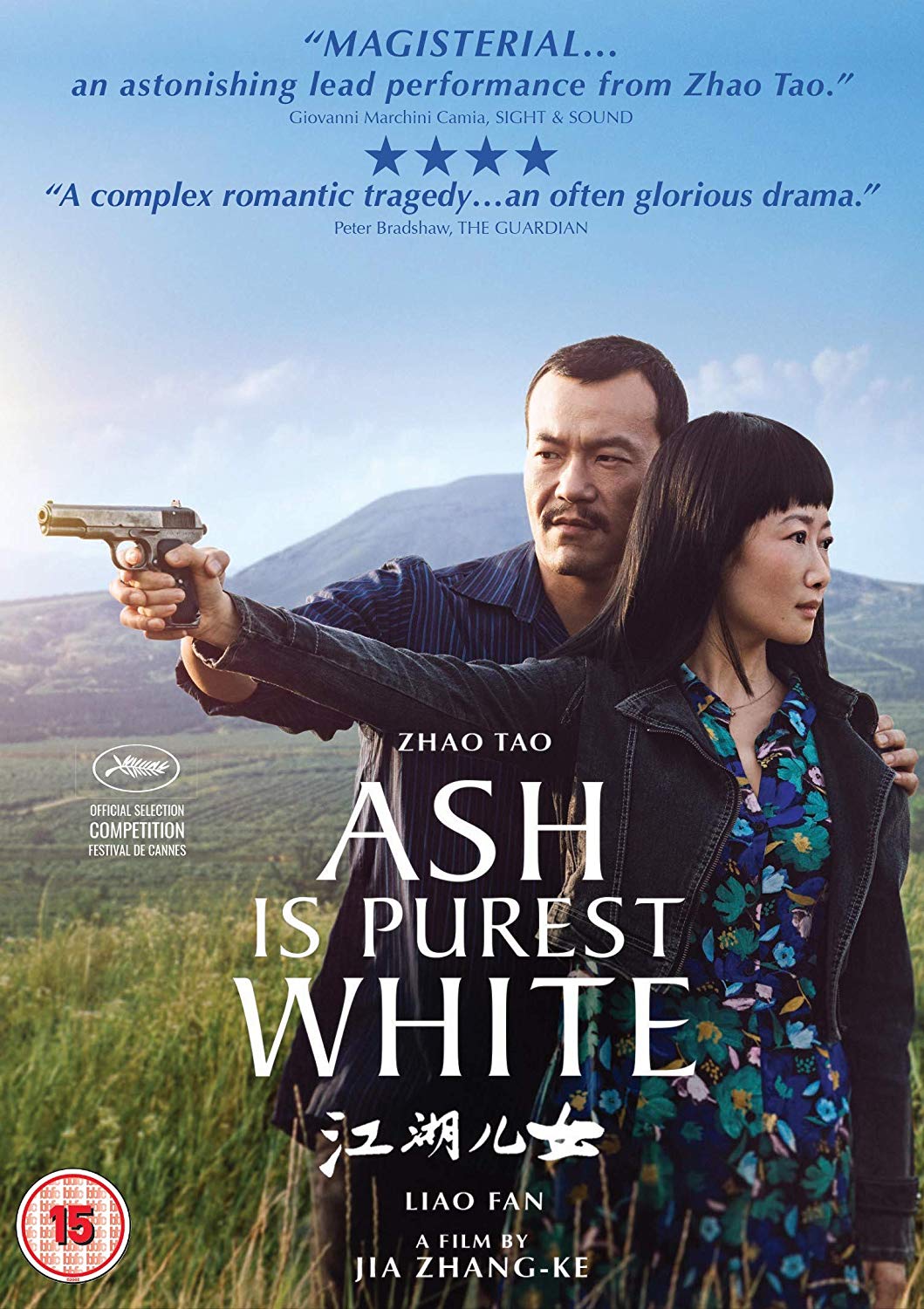 When Qiao takes that rap, she goes down for five years. By the time she's out of prison, the world has moved on – yesterday's petty criminals are fronting respectable-looking corporations – and so, ignoring his past loyalties, has Bin. With the action moving to the Three Gorges, a location itself also set for drastic change with the damming of the Yangtze, Qiao adapts to new circumstances in her own ways, with scenes that reveal Jia's acute awareness of social issues in the uneasy "New China" world that he depicts. (Cheated herself, Qiao quickly learns to cheat, one such ploy being to approach prosperous-looking men at family occasions with the words, "I'm her elder sister, she's had a miscarriage", certain that before long she will hit on one who feels guilty about a mistress.)
But the wider dynamic here involves Qiao's attempts to place herself anew in this changing world, one in which skill of impersonation may be more effective than any actual conviction. The fact that Jia sticks with trains to give a sense of the scale of her journey is a nice touch grounded in realism, though he's not averse to including elements of fantasy. Finally, and perhaps unexpectedly for this narrative, he brings the film's closing scenes back to the world in which the film began, the difference of circumstances highlighting what has changed, for an allusive, melancholy coda.
There are moments when it has the feel of a fable, with Jia's richly filmic style evident throughout, backed up by some tremendous cinematography, including use of different cameras and stylised colouring to reflect the different periods, from French DP Eric Gautier. Despite our sense of the wider sweep of history, this is an unusual love story that remains intimate to the end, its title alluding to the purity of volcanic ash as coming from its having, like love, burned at the highest temperature. The redolent sadness of Ash Is Purest White is that in this world of transition, such love brings little or no happiness and, while the loyalty and righteousness of the jianghu spirit offers consolation, it's of a scant kind. Jia's attainment of such a perspective on the world that has surrounded him through life is both highly accomplished and finally moving.
Below: watch the trailer for Ash Is Purest White
It's a boldly drawn, sumptuously shot canvas that literally takes in the scale of the country itself
rating
Share this article