DVD/Blu-ray: The Holly and the Ivy |

reviews, news & interviews
DVD/Blu-ray: The Holly and the Ivy
DVD/Blu-ray: The Holly and the Ivy
A repressed middle-class clan gathers for Christmas in rarely seen British gem
Tuesday, 10 December 2019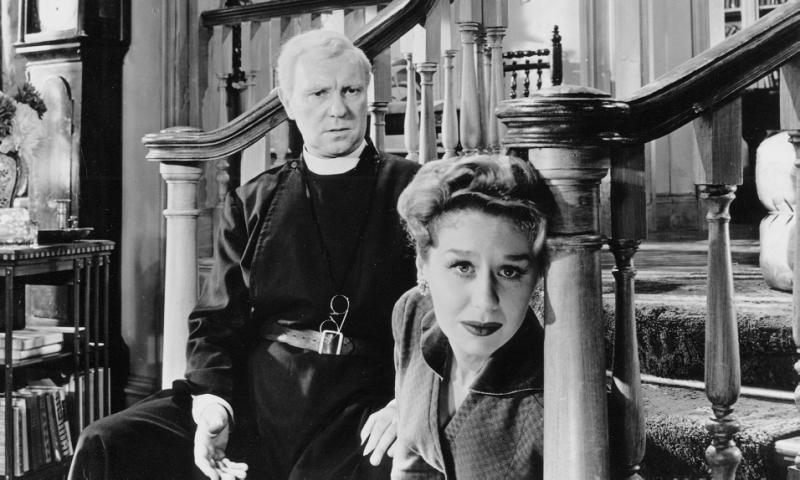 Not so merry: Ralph Richardson and Margaret Leighton in 'The Holly and the Ivy'
British cinema has done so badly by Christmas that the revival of a film that parses the nature of the festival while mining its potential for sparking family strife is cause for celebration.
Long neglected,
The Holly and the Ivy
(1952) has been handsomely restored by StudioCanal and deserves to become a seasonal staple alongside
Scrooge
(1951),
Comfort and Joy
(1984), and the BBC adaptation of Alan Ayckbourn's
Season's Greetings
(1986), which is currently available on YouTube only.
The Holly and the Ivy was adapted by Anatole de Grunwald from Wynyard Brown's West End hit. Set on Christmas Eve and Christmas morning, it centres on the parsonage where 30-ish Jenny Gregory (Celia Johnson) keeps house for her recently widowed father Martin (Ralph Richardson), the active but far from hale vicar of their rural Norfolk town. Jenny's supposedly secret boyfriend David (John Gregson), a Scottish engineer, badgers her to accompany him as his wife to South America where his dream job awaits him, but she won't abandon Martin (an echo of the relationship between the Bette Davis and Monty Woolley characters in the 1942 Warner Bros Christmas classic The Man Who Came to Dinner).
Martin and Jenny are joined for the holiday by Jenny's aunts – grand-mannered widow Lydia (Margaret Halstan, who reprised the role on TV in 1955) and God-fearing spinster Bridget (Maureen Delaney) – and by her brother Michael (Denholm Elliott), a bored national serviceman, and their sister Margaret (Margaret Leighton), a jaded fashion journalist flirting with alcoholism. The cooked goose also beckons bachelor cousin Richard (Hugh Williams), a laconic clubman who looks out for Margaret in London. Michael, whom Martin is urging against his wishes to attend university after demob, and Margaret, who has a skeleton in her closet, resent the homecoming because they fear their father's faith will make him judge them adversely. As the story unfurls in a brief but pressurised 83 minutes, Jenny, Margaret, and Michael – but especially the women – must decide whether to move on with their lives or fold. Suffice to say, they have not reckoned with their father's broadmindedness and capacity for empathy.
Pioneering television director George More O'Ferrall opened up the play by incorporating scenes in London and Martin's church and stock footage of a Norfolk-bound train. More important, his ambitious blocking and Edward Scaife's unanchored cinematography make The Holly and the Ivy seem less like a filmed play than a compelling precursor of the great television dramas shot in the electronic studios of the 1960s and 1970s.
The performances are superbly restrained: Leighton is revelatory as the worldliest and saddest of the Gregorys. Holdovers from the West End production, Halstan (a formidable Shakespearean actress) and Delaney (an Abbey Theatre veteran) enrich the film's subtle meditations on nostalgia for what is irrecoverable, the transitoriness of youth, and the deep spiritual value to families of maintaining Yuletide customs, hanging and appreciating decorations among them; Delaney's presence as an easily mollified scold enhances the sense of unspoken belonging-ness in the annual gatherings of the middle-class Anglo-Irish clan. Interviews with film scholars Melanie Williams and Mark Connelly included on the disc provide valuable social and regional context for this mature and genuinely affecting Christmas movie.
It is a compelling precursor of the great television dramas shot in electronic studios in the 1960s and 1970s
rating
Explore topics
Share this article