DVD/Blu-ray: A Kid for Two Farthings |

reviews, news & interviews
DVD/Blu-ray: A Kid for Two Farthings
DVD/Blu-ray: A Kid for Two Farthings
Whimsical East End fairy tale, redeemed by handsome visuals
Tuesday, 03 September 2019
'I want to buy a unicorn!' Jonathan Ashmore as Joe
Seeing post-war London in vibrant colour is a delicious surprise, and the opening seconds of A Kid for Two Farthings follow a pigeon flying east from Trafalgar Square, eventually settling on a pub sign in Petticoat Lane. The location footage in Carol Reed's first colour film, from 1955, is eye-popping, his cast mixing seamlessly with everyday market folk. Matthew Coniam's booklet notes to this handsome BFI reissue reveal that a fake camera crew was deployed to distract from the real shooting. Reed mixes reality with nicely stylised studio sets: look out for the miniature tube train trundling along in the background of one scene, and note that St Paul's is always nicely framed at the end of the street.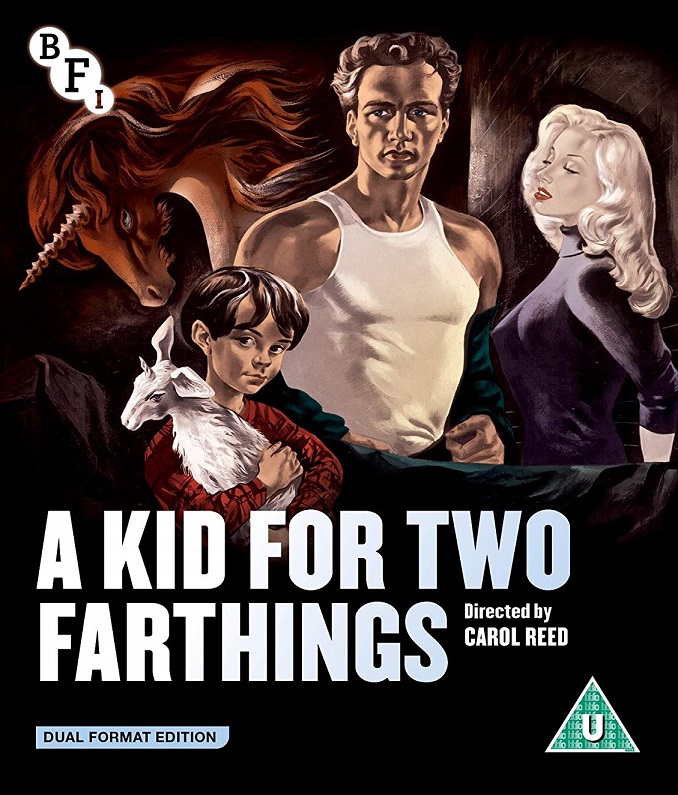 So far, so brilliant, though Wolf Mankowitz's screenplay, adapted from his novel, is a clunker. Think magic-realist Eastenders, with a young boy buying a one-horned goat thinking it's a wish-granting unicorn. Jonathan Ashworth's Joe sports an improbably unblemished complexion and speaks with the poshest of accents. He's living with mum Joanna (Celia Johnson) in rooms above the shop owned by David Kossov's wise old Jewish tailor. Everyone here wants something, whether it's a new steam press or an absent father to return home. Sonia (a Monroe-esque Diana Dors, pictured below) is waiting for hunky boyfriend Joe Robinson to propose, prompting him to become embroiled with a dodgy wrestling promoter and agree to fight Primo Carnera's slippery, aptly-monikered Python.
The pleasures are mostly incidental, Reed marshalling a superb supporting cast. Irene Handl crops up, along with The Ladykillers' Danny Green. Sid James's spiv attempts to offload engagement rings on Sam Heppner's Joe, prompting Vera Day's acid-tongued Mimi to describe one gemstone as "as big as a gallstone", a welcome dose of barbed humour in a film whose sheer niceness quickly becomes suffocating. The wrestling scenes are very well staged. Young Joe desperately hopes that the enchanted goat will work its magic, though the film's slow pace means that there's a lot of padding before the bittersweet coda.
The BFI's superb extras of related material up the star rating and make this a mandatory purchase: there's a fascinating series of documentary shorts showing London street markets, from 1903 to 1959, and three shorts chronicling London's post-war rebuilding and bulldozing. Plus a smattering of historical boxing and wrestling footage and entertaining interviews with Vera Day and the late Sam Heppner. Image quality is excellent, Reed's studio interiors suffused with a warm glow.
Reed mixes reality with some nicely stylised studio sets
rating
Share this article