Haunted Mansion review - corporate craft |

reviews, news & interviews
Haunted Mansion review - corporate craft
Haunted Mansion review - corporate craft
Committed, racially aware talent almost compensates for hard sell in kids' horror comedy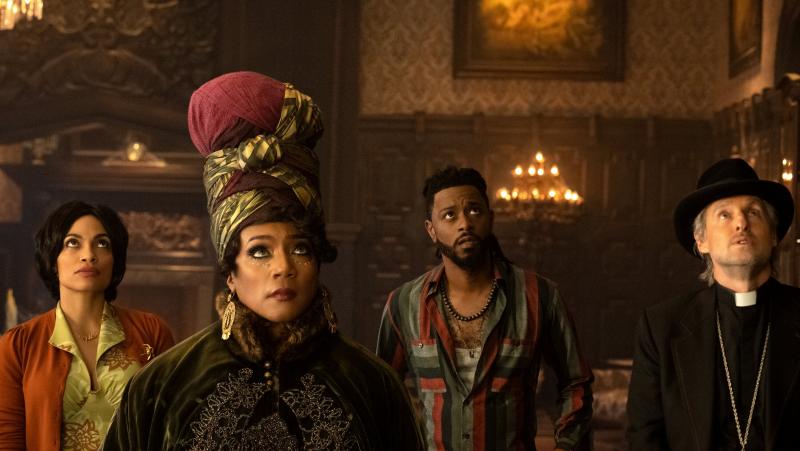 Ghost story: Gabbie (Rosario Dawson), Harriet (Tiffany Haddish), Ben (LaKeith Stanfield) and Father Kent (Owen Wilson)
A Disney theme park ride adaptation remake is a challenging place to make your mark, and the dumping of Guillermo del Toro for promising real, supposedly child-freaking scares dampens hopes further. Replacement director Justin Simien (Dear White People) at least professes himself a fan of the titular attraction, and with screenwriter Katie Dippold (Parks and Recreation, Paul Feig's female Ghostbusters) slips humanity into the corporate shilling.
Simien personalises and improves on the original 2003 Eddie Murphy vehicle via casting and character detail. Protagonist Ben (LaKeith Stanfield) is a black astrophysicist reduced to a bitter, alcoholic New Orleans tour guide by trauma, with a handy sideline in psychic science. Stanfield, Oscar-nominated for Judas and the Black Messiah and star of Boots Riley's Sorry To Bother You, shares Simien's penchant for serious if sardonic examinations of black American experience. He makes a soulfully upright and attractive yet misanthropically insular lead, his grief and, Simien suggests, isolation as a black scientist building a protective wall which needs breaching.
Haunted Gracey Manor's luckless buyer Gabbie (Rosario Dawson) and her 9-year-old son Travis (Chase W. Dillon) are also grounded in grief. Streetwise, semi-competent psychic Harriet (Tiffany Haddish, pictured above), failed exorcist Father Kent (Owen Wilson) and anti-social academic Bruce Davis (Danny DeVito) pleasurably mine familiar comic personas, Haddish raising the hippest smiles.
Jamie Lee Curtis's crystal ball-captured Gypsy spirit Madame Leota, pictured below, is the most substantial, happy cameo – blink and you'll really miss Winona Ryder (bringing Beetlejuice comic horror vibes) and DeVito's Taxi co-star Marilu Henner. Jared Leto is meanwhile buried in CGI as beheaded ghost Alistair Crump, the ruthless killer intent on trapping his thousandth soul in Gracey Manor, and so freeing himself.
Harriet may wonder at "all these freaky different-looking people in the same place", but this is a convincing, comfortable gang to spend time with, given sufficient emotional substance by Dippold's script. Craft almost covers for a comedy horror which, defeating del Toro's full-blown desires, will scare only the youngest kids, and merely simmers with laughs. Digitally enhanced practical effects are meanwhile very Eighties, all dry ice and ectoplasmic apparitions.
Simien diligently chips away at the Disneyland Manor's racial design flaws, making Gracey a Creole of colour from a brief 19th century respite when black New Orleanians could get rich, and burying the Southern plantation connotations. Simien also immerses his opening and closing scenes in second-line funeral processions and vivid bayou dancing, and merges Disney product placement and cultural statement in Travis's T'Challa and Storm toys.
There is a concrete sense of Hollywood progress in such details, an evolution gaining unstoppable momentum. Haunted Mansion meanwhile trades cash for credibility in blatant Burger King and PayPal placements, and can't buy a thrill in its bland progress to Disneyland coffer-filling. Good, honest work by talented professionals makes a corporately corrupted, deliberately mediocre film perfectly watchable.