theartsdesk in New Orleans: How the City Got its Groove Back |

reviews, news & interviews
theartsdesk in New Orleans: How the City Got its Groove Back
theartsdesk in New Orleans: How the City Got its Groove Back
Six years after Katrina, taking the temperature of a musical city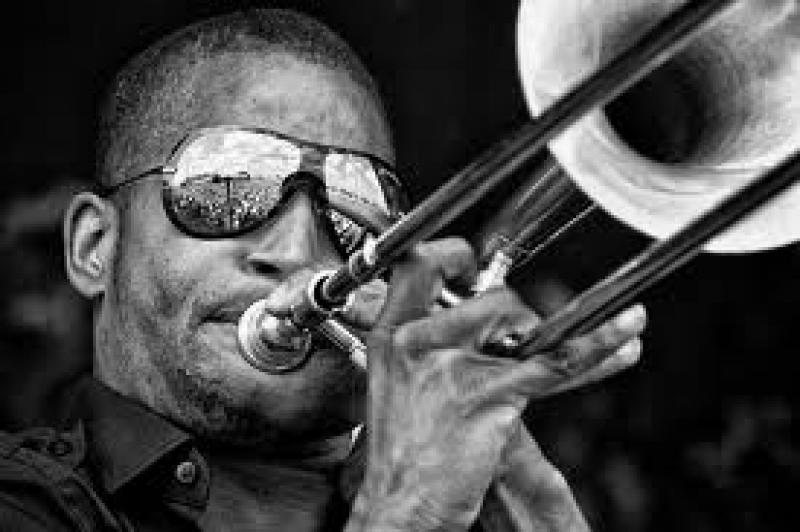 Trombone Shorty: The man from Treme
New Orleans, that most musical city, is back, back, back, everyone told me. The tourist board said that visitor numbers are over eight million again, back to levels before "The Storm" as they refer to the devastation of Hurricane Katrina here.
The hippest
new TV series Treme
is a gritty epic set in the Big Easy, created by David Simon of
The Wire
fame, and the city's music has been riding high in the pop charts by the unlikely means of Bertie Wooster (or Hugh Laurie as he is in real life, also, apparently the best-paid actor on American TV as the grumpy medic in
House
). And there's an inaugural Bluesfest London starting this week featuring some of New Orleans's finest.
Bluesfest visitors include veteran pianist Dr John, "the night-tripper", and brass whizz Trombone Shorty, 25, who was born in Treme. Treme (pronounced Tre-may) is a district of New Orleans, close to the French Quarter, so actually quite high up compared to the Lower Ninth, which was close to where the levee broke and where parts of it still look like a war zone.
Musicians from Treme, like Trombone Shorty, born Troy Andrews (pictured right), complain that the area, while not flooded, has changed completely simply because the landlords "were price-gouging, charging extortionate rents, so that musicians couldn't come back unless they owned – it's altered the character of the place." The city may have changed, but the clubs and bars are teeming with energy again and there seem to be world-class bands almost everywhere you look. The triumph of the spirit after the disaster is hugely impressive and moving.
If the north of the States has an essentially Puritan culture, New Orleans represents an opposing pole in American culture which was almost wiped out. Colonised by the French and the Spanish (and speaking French as the first language until the First World War), there's a strong Catholic undertow. It's the sort of Catholicism that accepts we are sinners and can wipe the slate clean every Sunday, as opposed to the delaying-gratification ethos of the Puritans.
That all was, of course, mixed with the West African culture of the slaves. As Trombone Shorty put it to me, "In Congo Square, the slaves would gather once a week on a Sunday, the only time they would have fun, and play their drums and they had their rituals from Africa." Later, "At the end of the 19th century they started to mix that with the European instruments, the tuba and the horns. They created jazz right there. Because of that I'm able to do what I'm doing."
Shorty, who got his nickname because he started playing the trombone aged four and the name stuck, was born in Treme a few blocks from Congo Square, the Ground Zero of jazz, now part of Louis Armstrong Park. Armstrong is "a saint to us, he's still alive", says Shorty.
Hugh Laurie has an interesting take on New Orleans: he has said that whereas in California, where he lives, they fear decay and death, in New Orleans they accept it, even celebrate it. Consider the lush, overgrown, baroque cemeteries like Lafayette where graves are real statements. Many musicians like Shorty (who also appears in several episodes of Treme) began as "second-liners": the musicians who play in parades and especially the famous funerals. "You go to the funeral playing a dirge, real slow and sad. But afterwards we up the tempo, and everyone dances, happy for the time that person was here on earth. We love to party here, but we accept that everything has an end."
The sensual delight in music is equalled by a love of food – often in the same place. I can recommend the ideal way to start a Monday morning – at the Jazz Brunch in an atmospheric courtyard in the French Quarter called the Court of Two Sisters on Royal Street listening to a top brass band and chomping on a shrimp omelette and hash browns and contemplating much of the rest of the world clocking into their jobs.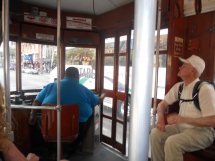 My first evening was spent tracking down Joanne Clevenger, who has been in New Orleans since the Sixties and now runs the Upperline Restaurant, where they also have art exhibits; she has some wonderful photos of musicians on the wall. To get there from the French Quarter you jump on the St Charles streetcar and simply tell the conductor where you are having dinner. Actually, he forgot – no matter, he flagged down a streetcar going the other way (pictured left) and I jumped on that instead.
Joanne started work in New Orleans in the Sixties in clubs when there was segregation, although she says it wasn't quite as terrible as in other places. She knew many of the great musicians, notably Professor Longhair, a man whom Trombone Shorty calls "a special person, a genius… He practically invented a whole new way of playing the piano". Joanne, showing a photograph of him, said something curious, that he was "not at all practical, but very effective". He was terrible with record companies, management and all that, but someone who is finally being acknowledged as one of the greats (Hugh Laurie attempts a radical reworking of his classic "Tipitina", a song he claimed in a documentary to listen to nearly every day).
Watch "Go to the Mardi Gras" by Professor Longhair
Joanne was full of tips such as the best antiquarian bookstores: Arcadian (Louisiana History) on Orleans Avenue, Dauphine Street Books (for jazz history) and Faulkner House (Southern literature) in Pirate's Alley. Among what Joanne loves about New Orleans is the scents, notably sweet olive trees in the Cathedral garden, vetivert at Hové Parfumier, coffee roasting on Magazine, night-blooming jasmine, gardenias and honeysuckle. Then the Archbishop (one of two in New Orleans – this was the Catholic one) turned up and she got distracted. I flagged the streetcar on the way home and on alighting the entire car burst into applause. This happened any time anyone got on that night – which turned into my first streetcar party.
My other memorable New Orleans food/music experience (it's hard to find bad food in the city) was at Arnaud's on Bienville Street in the French Quarter, mainly to catch the Gumbo Trio (pictured right), who play 1920s-style jazz, but also to try their seafood gumbo and shrimp creole. The barman, Chris Hannah, mixed me one of his inventions - the St Joseph, named after a feast day - and carefully poured assorted measures of Cynar, Averna, Aperol, Pedro Jimenez sherry, orange peel and ice. Kicks like a mule but great for the digestion.
That afternoon I went on a Gray Line tour to Laura's Plantation – they have recreated the delicate colours of the plantation house (they were all painted white later when the Anglo Northerners came – all that colour was sinful). You can see the cramped slave quarters. They had the rules of the slaves for Louisiana pinned up, the Code Noire, which they claimed was less oppressive than the rules for slaves elsewhere.
I met up with Trombone Shorty and dropped into the studio where he is finishing his new album, like his most recent one Backatown a mix of funk, ballads and jazz. "It's a gumbo," he says, using that culinary term. "The thing about New Orleans is that everyone plays with each other, so you get to play different styles." While Shorty was laying down a vocal in the upstairs studio for an hour, I was jamming on a Wurlitzer doing Professor Longhair-style bass lines with his 17-year-old nephew, a fan of new hip-hop heroes Odd Future, a rapper called Joshua or CKoolKeys, playing slack rhythms on drums. The song was called "Face Time" (Joshua told me that was the local slang for oral sex) and in another parallel universe is a giant hit. The project, by the way, we're going to call "Code Noire".
Listen to Trombone Shorty
In the evenings and way past midnight till the early hours, there's music everywhere. Bourbon Street is for the frat boys and conventioneers (with dodgy clubs like Hustler, and hookers prowling). There's a scene in Treme where a musician hides the fact that he's taken a gig on Bourbon Street. Cooler and where you get a mix of locals and visitors are the bars along Frenchmen Street – like Snug Harbour, Bar Negril, the Blue Nile or DBAs. Funk, reggae, jazz, brass bands, it's all there, and astonishingly high quality. You can smoke in most of them, too. They may be better musicians and singers than Hugh Laurie - indeed he would admit that himself – even if they won't be getting major deals with large advances.
My last night was spent with another New Orleans institution, recommended by Shorty – the Rebirth Brass Band founded by "Tuba Phil" Frazier 25 years ago at the Maple Leaf Bar on Oak Street in the Carrollton neighborhood of Uptown New Orleans (another streetcar ride) with their signature groove of fast, brash, blazing horns in two lines, anchored by a fat tuba beat and the street rhythms they heard growing up in Treme. It was loud and joyful, a hurricane of sound. Rebirth? The city seems to have almost done so. Go if you can.
The Rebirth Brass Band play in the French Quarter
Bluesfest London runs from Monday to next Sunday 3 July. As well as Trombone Shorty, highlights include: George Fame: The "Yeh, Yeh" man was the coolest white guy in 1960s swinging London, and still packs a bouncy punch; Dr John: The Night-tripper playing New Orleans gumbo piano; BB King: The legend, now 86, on yet another farewell tour; Booker T: More than "Green Onions" and Test Match theme music, one of the all-time great session guys at Stax; Liza Minnelli: Could be either wonderfully gorgeous camp or a car crash, but either way, who'd want to miss it?
Peter Culshaw stayed at the Sheraton, Canal Street, New Orleans