Killing Them Softly |

reviews, news & interviews
Killing Them Softly
Killing Them Softly
Brad Pitt cleans up an almighty mess in Andrew Dominik's high-calibre crime ensemble
Friday, 21 September 2012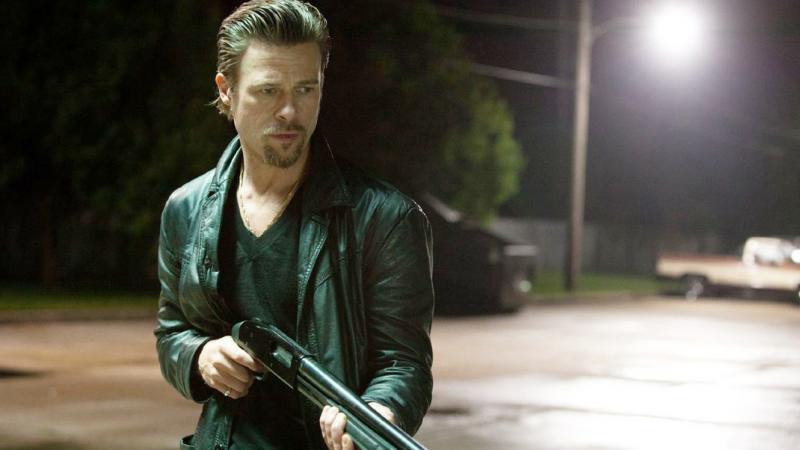 Another one bites the dust? In 'Killing Them Softly' Brad Pitt is a man you do not want to tangle with
Quentin Tarantino's Pulp Fiction saw Harvey Keitel play Winston "The Wolf" Wolfe, a snappily attired, coolly menacing clean-up guy, brought in to mop up blood and brains and save Jules and Vincent's bacon. In Andrew Dominik's Killing Them Softly Brad Pitt play a more obviously lethal kind of fixer - an enforcer brought in to realign a criminal faction in disarray.
The film takes its name from a piece of dialogue uttered by Pitt: "I like to kill them softly - from a distance." Dominik turns the machinations of the criminal element into a blackly comic microcosm of American society – a critique of an unravelled economy, keeping the story bare and the action unfailingly brutal.
Killing Them Softly is the New Zealander Dominik's follow-up to the critically lauded but commercially disastrous The Assassination of Jesse James by the Coward Robert Ford and is an adaptation of the novel Cogan's Trade by the underrated George V. Higgins. Set and shot in New Orleans, it tells the story of two bottom-of-the-barrel hoods Russell and Frankie (Ben Mendelsohn and Scoot McNairy, pictured below right) who hold-up a mob-protected poker game on the instruction of Johnny "Squirrel" Amato (Vincent Curatola).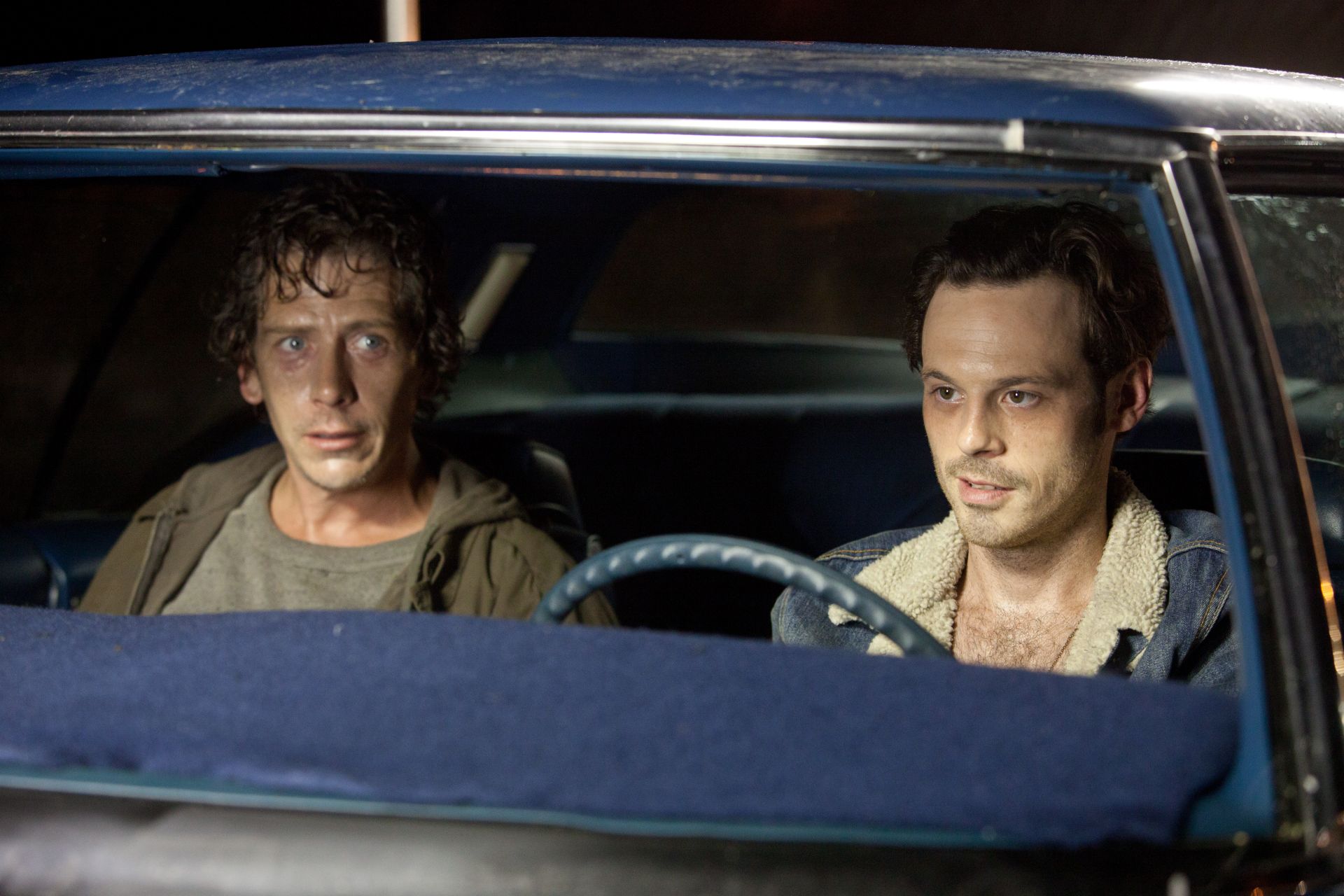 The intention is to frame the game's organiser, Markie Trattman (Ray Liotta), who is known to have robbed one of his own games in the past. The actions of these seemingly insignificant men throw the underworld into chaos as the high-stakes games grind to a halt. Richard Jenkins plays "Driver", a lawyer and go-between for the unrevealed top dogs. He recruits a local enforcer, Jackie Cogan (Pitt), to hunt down the perpetrators and restore (unlawful) order. Cogan in turn brings in his own man, Mickey (James Gandolfini, pictured below left) to assist him with the task.
Dominik makes films which have a clear relationship with reality – both Chopper (2000) and The Assassination of Jesse James… (2007) were based on true stories and, while you might not be able to say the same about his third feature, it positions its story in our world. Killing Them Softly deals in real politics, making a thunderous commentary about the miserably selfish state of modern America. Though Dominik and Tarantino share a love of crooks, westerns and quirky criminal banter, Dominik makes it as clear that his characters are of our world, just as Tarantino makes it clear that his aren't.
Killing Them Softly is impeccably cast from its guttersnipes to its suits: Pitt delivers his characteristic cool, with shades of Tyler Durden and Aldo Raine; Gandolfini revisits the darkest side of Tony Soprano, or is Mickey closer to Virgil from True Romance? Since everyone else is doing what they do best (and what we've seen them do many times before), the real pleasures here are the performances of two relative newcomers: Mendelsohn was memorably chilling in Animal Kingdom and goes to the other end of the criminal spectrum here; and the similarly versatile McNairy shows us a different side from his more romantic roles in Monsters and In Search of a Midnight Kiss.
Although it's sleekly shot, Dominik directs with a furious flair. He wants you to feel every blow, every bullet, wants to make you squirm or laugh nervously at every line of rough-house dialogue and recoil at every ominous sound; as Cogan steps out to claim a victim and tosses back the door the whole car shudders. Characters are followed right through to their mortuary slab toe tag.
This is America under a microscope, defined by the dirt under its nails: mucky, murky, murderous. It may be crude (likening those who brought the world economy to its knees to criminals, and Pitt's near-sociopathic enforcer to the government response) but Killing Them Softly is largely satisfying. The opening heist for instance is horribly tense and poor Ray Liotta (usually a man who can take care of himself onscreen) has two memorable sequences during which he's subjected to excruciatingly slow and noisy punishment.
Though set during the Bush administration's dying hours, referencing the recession rescue plan, Killing Them Softly is book-ended by Obama's speeches promising change. Here Dominik's message couldn't be clearer: whoever the man in The White House is, as Jackie Cogan puts it, "In America you're on your own." It's a message deliberately hammered home with a mallet, delivered alongside thrills as slick as Pitt's barnet.
BRAD PITT'S BIG MOMENTS
Allied. Doomed but entertaining attempt to revive 1940s Hollywood

Fury. David Ayer and Brad Pitt take the war film by the scruff of the neck
Inglorious Basterds. Pitt is gloriously absurd in Tarantino WW2 alternative history
Moneyball. How Billy Beane created a revolution in Major League baseball
The Big Short. Pitt's on the money as director Adam McKay successfully makes a drama out of a crisis
The Counsellor. Ridley Scott ensemble thriller is nasty, brutish and short or mysterious, upsetting and alluring
The Tree of Life. Terrence Malick's elliptical epic leads us through time, space and one family's story

PLUS ONE TURKEY
World War Z. It's World War with a Zee as Brad Pitt battles the undead and a zombie script
Watch the trailer for Killing Them Softly
This is America under a microscope, defined by the dirt under its nails
rating
Share this article