Kingsman: The Secret Service |

reviews, news & interviews
Kingsman: The Secret Service
Kingsman: The Secret Service
Action-packed James Bond pastiche by Matthew Vaughn
Thursday, 29 January 2015
Colin Firth is clearly having fun as a spy in his first action role
Imitation is the sincerest form of flattery, the saying goes – and Kingsman: The Secret Service is a cracking part-homage, part-pastiche of the James Bond franchise (and other British spy movies) done with knowing comedy, élan and obvious affection.
It's based on
The Secret Service
comic book created by Dave Gibbons and Mark Millar, and is directed by Matthew Vaughn (
Kick-Ass
,
X-Men First Class
), and here he reunites with Jane Goldman, who also provided scripts for his previous works.
It's about a British spy organisation staffed mostly by Savile Row-suited toffs, including the impeccably mannered Harry Hart (Colin Firth, superb and clearly having a ball in his first action role) who recruits the young son of an ex-colleague for whose death in a 1997 Middle East conflict he feels responsible. When we first see Eggsy (the very appealing film newcomer Taron Egerton pictured below) he's rough at the edges and on the cusp of criminality in his London council estate, where he lives with his mum (Samantha Womack) and her violent boyfriend.
The first part of the movie deals with Eggsy's induction and training, where – stereotypes alert – he's constantly pranked by the chinless wonders the Kingsmen usually recruit; of course they turn out to be callow bedwetters when the chips are down while Eggsy shows he has the right stuff. This section is a nerd's wet dream as Eggsy enters an ultra-secret underground world entered through a false door in a Savile Row tailor's shop, filled with gizmos and weaponry that James Bond could only dream of using in his day job – a deathly signet ring, shoes with a killer blade, a bulletproof umbrella – overseen by dry-as-a-bone Mark Strong as the techie overlord Merlin, the equivalent of Bond's Q.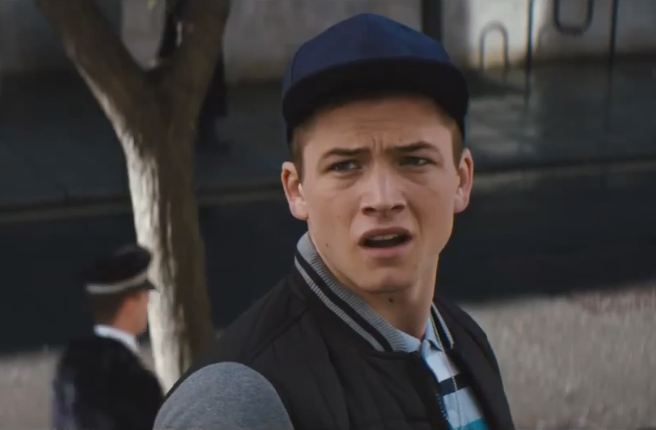 As the film progresses, we're introduced to the madman billionaire businessman Richmond Valentine (Samuel L Jackson, complete with foghorn delivery and comedy lisp), whose megalomaniacal vision is to control the world's population through an innovative use of mobile phones, aided and abetted by his evil kung-fu-kicking assistant Gazelle (Sofia Boutella) who has CGI Oscar Pistorius-style lower limbs with ultra-sharp blades that she uses to great effect in several bloody action sequences.
Harry and Eggsy have to stop Valentine's dastardly plan but not before we've been treated to a blitz of explosions, shoot-outs, thrilling stunts and finally the younger man's dashing rescue of a Scandinavian princess who has been taken hostage at Valentine's lair; she promises Eggsy bum sex if he manages to pull it off. Er, saving the world, that is.
Vaughn directs some thrillingly audacious set-pieces but Kingsman's relentless, over-the-top violence does get a little wearing at times and a couple of misfires – the way working-class people are depicted (of course the thugs are Millwall supporters, what else?) and the bad-taste anal-sex scene – may temper your enjoyment of the film (it certainly did mine).
But for film buffs there are any number of finely crafted in-jokes (not least casting Michael Caine as the spy group's ultra suave chief, a neat inversion of his Harry Palmer role) and for the most part Kingsman is silly, cartoonish fun that has its tongue firmly and delightfully in its cheek.
Matthew Vaughn directs some thrillingly audacious set-pieces
rating
Explore topics
Share this article