Listed: Forget the Force |

reviews, news & interviews
Listed: Forget the Force
Listed: Forget the Force
Star Wars wasn't the only groundbreaking film of 1977. We identify some others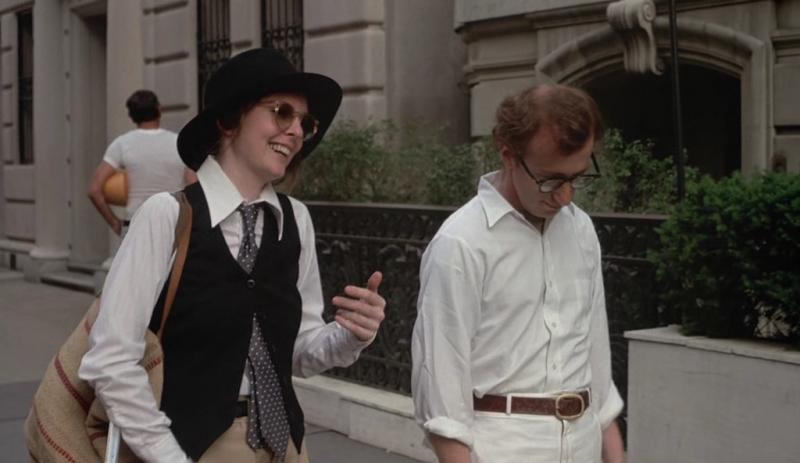 So Woody, I really think you should have a lightsaber for this scene. And can I ditch the hat for some buns?
Next week the seventh episode of George Lucas's famed space saga will be released on a wave of hype and eager anticipation. Star Wars: The Force Awakens no longer has Lucas at the helm, the man with the Jar Jar Binks way with words having passed his company to Disney and the creative mantle to others, in the first instance JJ Abrams. We can expect homage and nostalgia accompanied by a frisson of fresh faces and new tricks. It ought to be a blast.
But for whom, exactly? Star Wars was a groundbreaking phenomenon in 1977, helping to introduce the blockbuster movie, the marketing monster and merchandising mania. It also ushered in a world where box office has become dominated by a young male demographic. Those most eagerly anticipating The Force Awakens are probably a mixture of the '77 generation whose lives were changed by Luke, Han, Chewbacca et al, and their 2015 equivalents, teens and sci-fi fans who can't wait to see how the Millennium Falcon moves in the computer age.
Theartsdesk would like to add a little perspective. The Seventies was a terrific decade for cinema, and '77 was much more than the year of Star Wars. So in a galaxy not so far, far away, our writers recall the films from that year that had a more significant impact, for them.
Annie Hall (Woody Allen)
Whether it's the great joke about cheating on your metaphysics final, the closing voiceover about eggs, the pre-pubescent student who confesses during class to being "into leather", or Christopher Walken blithely announcing while at the wheel of a car his desire to drive into the oncoming traffic – we all have our favourite moments from Annie Hall. The blissful and era-defining film cemented America's love affair with Diane Keaton in the title role, as it won four Academy Awards, for best film, actress (Keaton), writing and direction. Allen followed it with its companion piece of sorts, Manhattan, but Annie Hall remains the more resonant film, not least because of the unsurpassably lovely dynamic between Keaton's winningly ditzy fashionista and Allen as the Jewish shlub, who wins her affections while remarking, after one of Annie's disastrous attempts at parking, that they will be able to "walk to the curb from here". I can still hear Keaton's spoken mantra, "la-di-da, la-di-da, la la", as if it were yesterday. Matt Wolf
Close Encounters of the Third Kind (Steven Spielberg)
Steven Spielberg tells the story of how, while he was filming Close Encounters of the Third Kind, his friend George Lucas visited the set, bemoaning the quality of his own sci-fi movie, which was also in the works. So convinced was he that his film would fail that Lucas challenged Spielberg to "trade" 2.5 points of each other's box office profits. Spielberg agreed. Lucas lost, or won, depending on how you look at it.

Star Wars made a whole lot more money than Close Encounters, won more Oscars, became the phenomenon of 1977. But Spielberg's is the film that crawls under your skin and dares to be profound.
The director had already alerted audiences to his filmmaking skills with Jaws, two years earlier, so we were on a high even before the opening crescendo of sound that literally lifted us into his new adventure. It's striking just how efficient and dynamic the storytelling is, how it doesn't beat about the bush, revealing UFOs almost immediately, albeit saving the mother ship for its glorious climax. In between, Spielberg adroitly spins his story strands, between scientists and ordinary people, the focus being the magnetic pull of Everyman hero Roy Neary (Richard Dreyfuss) towards the alien visitors.
Roy's mantra, "This means something. This is important", could refer to the fact that Close Encounters is a rare film in which both humans (led by nouvelle vague director Francois Truffaut – how cool was that) and aliens are benign. That Neary reaches his destiny with the aid of a mashed potato mountain is pure Spielberg, as is the sense of wonderment, which would reach its zenith with ET. Demetrios Matheou
Saturday Night Fever (John Badham)
If ever there was a film that defined a musical age, it's Saturday Night Fever, with its terrific disco soundtrack. The film kickstarted John Travolta's career and revitalised that of the Bee Gees, whose soundtrack remains one of the best-selling of all time.
John Travolta is 19-year-old Tony Manero, who lives in Brooklyn with his squabbling Italian-American family and does a dead-end job. He lives for the weekend, when he struts his stuff at the local disco, where he's "Valentino from the waist up and Elvis from the waist down". There are two women in his life: his friend Annette (Donna Pescow), who secretly loves Tony and whom he dumps as his dance partner in favour of the haughty Stephanie (Karen Lynn Gorney). Stephanie represents escape for Tony as she works in an office in Manhattan, and the film's moral centre is Tony's growing realisation – after treating both despicably – that women can be friends and confidants rather than just sex objects.
There's darkness in the film, but certain images stay in the memory, not least the terrific extended opening sequence of Tony strutting down the street over "Stayin' Alive", his careful preparations for an evening at the disco, and that fabulous white suit with the skin-tight trousers. Veronica Lee
Eraserhead (David Lynch)
No-one could have predicted that the New American Cinema of the 1970s would have produced so many classics from the likes of Allen, Altman, Coppola, Rafelson, Scorsese and Spielberg. And no one – not even devotees of Tod Browning, Buñuel and Cocteau ­– could have predicted that a folksy artist and short film-maker from Montana would dream up (or dream) a sulphuric black and white surrealist masterpiece about a dolt (Jack Nance as Henry Spencer) dwelling in a post-industrial necropolis, who's shocked to discover he's fathered a howling mutant with a reptile's face and no skin.
As when hearing "Anarchy in the UK" for the first time in 1976, the only possible response to Eraserhead was, "What the hell is this? What the fuck is this?" And does that puffy-cheeked blonde chanteuse – potentially a great-granddaughter of the Elephant Man, the subject of Lynch's follow-up feature – actually live in the radiator?
Yards of tumbling ectoplasm and the removal of Henry's severed head to a factory for its conversion to pencil erasers merely compounded the film's myriad mysteries. We now know that it was influenced by Gogol, Kafka, the birth of Lynch's daughter Jennifer with club feet, and the squalor he observed in Philadelphia when studying art there in the mid-to-late 1960s. However, it is not a film to be explained, only experienced as a tormenting psycho-sexual nightmare. Lynch's more accessible (or palatable) Blue Velvet, Twin Peaks series and Mulholland Drive have eclipsed Eraserhead in the popular culture, but it remains unimpeachable as the Great Disorienter of 1977-78. Graham Fuller
The Last Wave (Peter Weir)
The successor to the much-acclaimed Picnic at Hanging Rock, Peter Weir's The Last Wave found the director venturing yet further into the mystic. Superficially the tale of a Sydney lawyer, David Burton, hired to defend a group of Aborigines accused of murder, the film develops into an increasingly sinister exploration of timeless myth overshadowed by an overwhelming sense of predestined doom.
Against a backdrop of persistent storms and oppressive rain, with the Sydney skyline often viewed through wet windscreens and slapping wipers, Burton (an earnest Richard Chamberlain) becomes increasingly obsessed with the murder case. The cause of death remains unspecified, the accused stay tight-lipped, and Burton becomes plagued by disturbing dreams, in which he is visited by one of the accused, Chris (David Gulpilil). In what the Aborigines call the Dreamtime, Chris appears to him soaking wet and holding out some kind of sacred rock.
Though the received wisdom in present-day Sydney is that the old rites and beliefs of the tribal Aboriginals are long vanished, Burton feels otherwise, and is gradually made aware of his personal connection to the ancient spirits of the Great Southern Land. More alarmingly, what he learns is that Armageddon is approaching in the form of a cataclysmic tsunami.
Weir's achievement (helped by a cracking screenplay which he co-authored) was to manage the potentially improbable transition between everyday urban reality and a hallucinatory parallel timeframe with almost insolent skill, at the same time evoking both guilt and sorrow for the destruction of the country's indigenous heritage. With its threatening message of climate calamity, it's a film that also feels urgently contemporary. Adam Sweeting
A Bridge Too Far (Richard Attenborough)
A Bridge Too Far began bombarding the viewer into submission in the opening credits. Carrying the notion of an all-star cast to jaw-dropping extremes, it would be quicker to the list the actors who weren't called up for Richard Attenborough's three-hour epic (Steve McQueen and Audrey Hepburn turned him down). For the generation that missed out on Hollywood's golden age, this was the closest the cynical Seventies came to Biblical epic.
The film was a double rarity: it was adapted not from fiction, but from a door-stopping history by Cornelius Ryan, published three years earlier; and after so many war films that told of victory, this chronicled disaster – namely, the failure of the Allies' Operation Market Garden to breach three bridges over the Rhine in Holland. "I like to think of this as one of those American western films," said Edward Fox's gung-ho super-toff General Horrocks. It was much more nuanced than goodies vs baddies. It now looks like a period piece, the period being not 1944 but 1974, when America got bogged down in Vietnam – before Hollywood had plucked up the courage to sell that story to the public. Attenborough, ahead of the game, used the huge canvas to make a magnificent, moving film about the limitations of heroism. Jasper Rees
So convinced was he that his film would fail that Lucas challenged Spielberg to 'trade' 2.5 points of each other's box office profits
Explore topics
Share this article