Minari review - a Korean family searches for the American dream |

reviews, news & interviews
Minari review - a Korean family searches for the American dream
Minari review - a Korean family searches for the American dream
Lee Isaac Chung's uplifting, autobiographical fourth feature is a winner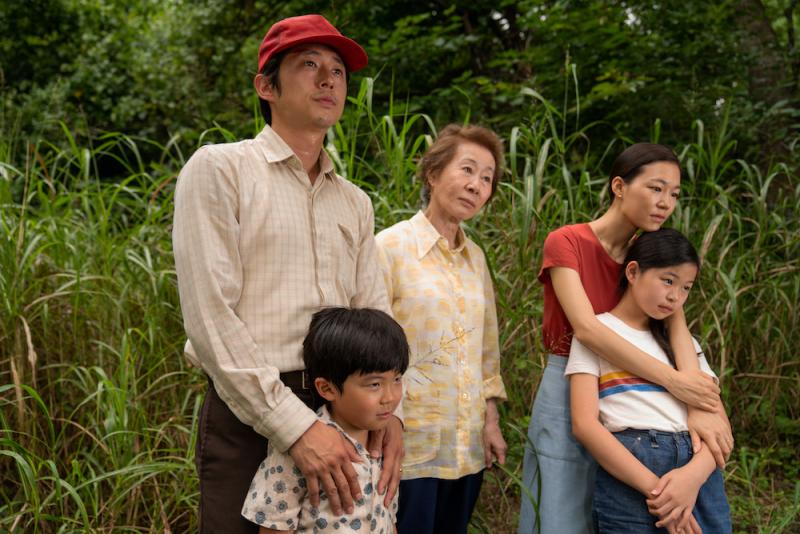 Working the land: Jacob (Steven Yeun), David (Alan Kim), Soonja (Youn Yuh-Jung), Monica (Yeri Han), Anne (Noel Kate Cho)
"David, don't run," is the refrain that runs through the first scenes of Lee Isaac Chung's affecting, autobiographical Minari, acclaimed at Sundance, winner of a Golden Globe for best foreign language film (it's mainly in Korean) and nominated for several Academy Awards.
David, played by wonderful
seven-year-old
newcomer Alan Kim, has a heart problem that causes his parents, especially his mother Monica (Yeri Han) to worry about him constantly.
They have plenty of other worries too. Jacob Yi (Steven Yeun; Sorry to Bother You, Burning, Okja, The Walking Dead) has brought his family from South Korea via California to a trailer in Arkansas, which is given the resonance of a William Eggleston photograph by Lachlan Milne's beautiful cinematography. In some ways the film is like a series of tableaux. You sometimes wish for more detail, more connection between the scenes, but there's still something wonderfully positive and uplifting about the whole.
The trailer comes with acres of land that Jacob plans to farm; he's desperate for a fresh start and wants to move on from their job of sexing chicks – they've been at it for 10 years already - in commercial hatcheries. Monica was a slow worker in California but Arkansas is apparently less demanding, and she increases her speed by practising at home with boxes of the little birds. Yes, this surreal specialisation, which involves inspecting chicks' genitals, is an actual job, which Chung's own parents worked at, though it's now on the decline.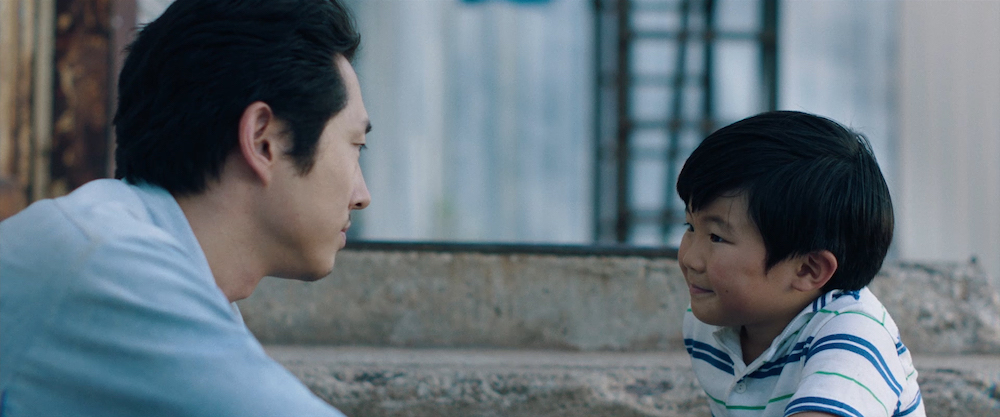 But this is the Eighties, and Jacob (pictured above with David) hopes to make a living by producing Korean vegetables for the thousands of Korean immigrants in the surrounding Midwestern cities (the story is based on Chung's memories of his childhood, spent on a small farm in Arkansas). Monica has no faith in his American dream. She thinks they'd have been wiser to stay in California and pay off their debts there, and that this hillbilly place is too far away from a hospital for David.
"It just gets worse and worse. This is not what you promised," she sighs as he shows her the dingy trailer. This doesn't say much for marital communication, but David and his sensible sister Anne (Noel Kate Cho, another impressive newcomer; her character could be a liitle more fleshed-out) are happy enough - it's a house on wheels, there's plenty of space outside. David whoops encouragingly when his father finds water for a well.
But the marriage gets rockier. The fellow who farmed the land before them went flat broke and you wonder if Jacob can do any better, though a helper arrives in the form of an eccentric evangelical (Will Patton) who's prone to speaking in tongues when the spirit moves him and is keen to do exorcisms. Monica, convinced that it will all end badly, is often rigid and tearful with fury. The kids write, "Don't fight," on paper darts and throw them at their parents.
Monica wants to start up a Korean church (there's a large picture of Jesus and his flock on the trailer wall and she often tells David to pray) but her hatchery co-worker explains that the Koreans in Arkansas left the cities of a reason: to escape Korean church. So the family goes to the local one instead, and although racism seems likely, it doesn't materialise. Chung manages to avoid the expected. "Why is your face so flat?" a boy asks David. "It's not," he replies, and the two become friends.
Minari is full of charm, but never cloyingly so. Although obedient and responsible, Anne sighs, in a sarcastic echo of her mother, "It just gets better and better," when David cuts his knee open and can't go with her to the church picnic. He stays behind with his grandma Soonja (the brilliant Youn Yuh-Jung, pictured above; The Housemaid; Sense8) who Monica brings over from Korea – on arrival she hands over big bags of chilli powder and anchovies, reducing her daughter to tears of joy - to lessen her loneliness and provide childcare in this rural outpost.
At first David isn't keen on this newcomer. He has to share a room with her and she doesn't seem like a real grandma – she doesn't bake cookies, she smells funny, she removes the $100 bill that Monica put in the church offering-plate. She swears and gambles and she teases him when he wets the bed, telling him that his penis is broken. "It's not called a penis, it's a ding-dong," he retorts furiously. Later he retaliates by pissing into a cup and giving it to her to drink. His parents want to beat him but she takes his side. "Who cares if I drank a little pee? It was fun."
When the well runs dry, Jacob uses the domestic water supply for the crops. Soon there's no water in the trailer but David and Soonja, who tells him he's the strongest boy she's ever seen, haul water from the creek where she's planted "wonderful, wonderful minari" with seeds from Korea. Minari, or water celery, is a vegetable, a medicinal garnish that will take root and grow anywhere – a metaphor for the immigrant experience. Maybe it's the minari, maybe it's his grandmother's support, but David's able to run by the end, even though it takes a catastrophe to bring his parents closer together.
Minari is streaming on Minari.film and Altitude from 2 April