Nymphomaniac |

reviews, news & interviews
Nymphomaniac
Nymphomaniac
Lars von Trier's two-part opus about female sex addiction won't leave audiences sated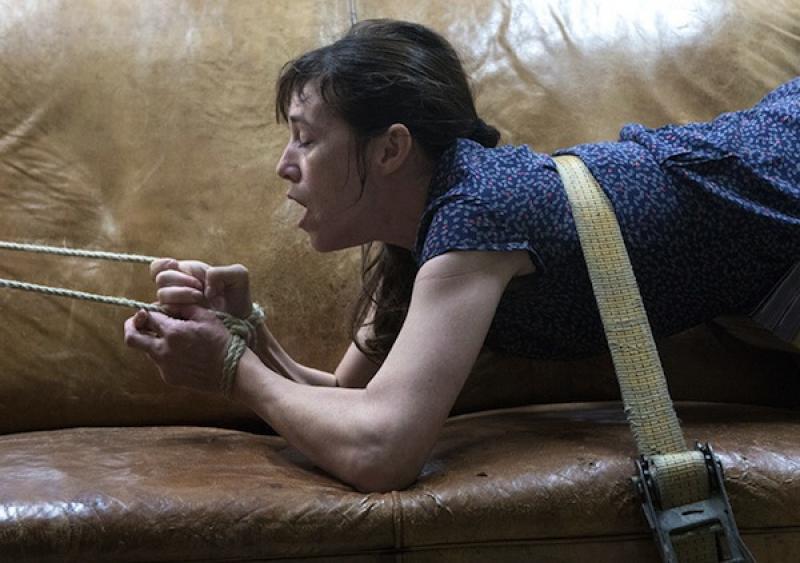 Bound for glory: Joe (Charlotte Gainsbourg) seeks out an orgasmic thrashing in 'Nymphomaniac'
Over many months, the release of stills and teaser trailers from Nymphomania, as well as the poster showing the faces of its stars (presumably) faking orgasms, have maximized press speculation on the nature of Lars von Trier's hardcore-laced saga about the life of a female sex addict.
Would it be a garden of delights, earthly and unearthly? Would it be to 21st century global culture what the unexpurgated Lady Chatterley's Lover was to British society in 1960? Would it be yet another film made by the provoking Dane, in the misogynistic spirit of Breaking the Waves, Dancer in the Dark, Dogville, and Antichrist, that visits punishment on its protagonist for being female?
Although Nymphomaniac expectedly fulfills the latter brief – while conflictedly celebrating women's sexual freedom – it neither shocks nor offers erotic transport. Its strongest suit is its gradual metamorphosis from a post-modern sex satire, seemingly influenced by 18th century literature, into a tragedy. Its fatal error is the lack of empathy it elicits for the sexually voracious Joe, played by Stacy Martin from the age of 15 to 31, and from 31 to 50 by Charlotte Gainsbourg.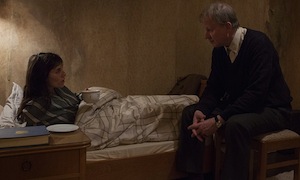 Their performances – augmented by those of "porn doubles" in the appropriate places – are far from weak. First-time actress Martin wittily manages Joe's transitions: from the pigtailed waif who tremulously requests that biker Jerôme (Shia LaBeouf) de-virginize her, to a commuter-train slut, to an insatiable sensualist and the cuckolder of her husband – the oily Jerôme transformed into a junior executive. As she was in Antichrist, Gainsbourg is brave and uncannily intimate as the Joe who loses her capacity to come and visits a sadistic professional flagellator (Jamie Bell) to restore it, and who subsequently works for a high-level extortionist (Willem Dafoe). Her scenes with Bell verge on the DeSadean, von Trier indulging himself with shots of striped and bleeding buttocks.
The film's moral issues aside, its main problem is that, tonally, it's all over the place. Von Trier errs in counterpointing the sex and violence with lofty flights into the cerebral, which undercuts the scenes in which Gainsbourg's Joe is at her rawest. The reigning ascetic is Seligman (Stellan Skarsgård, pictured with Gainsbourg above), who in the eerie opening sequence finds the mature Joe lying in an alleyway having taken a beating. He takes her back to his flat to succor her with tea and sympathy. Describing himself as asexual, this middle-aged virgin and bookworm, who lives like a monk, becomes Joe's therapist-cum-confessor, as she becomes his Sheherazade.
As she describes to him her sexual escapades, he becomes the on-screen surrogate for we voyeurs in the audience (and also for von Trier, who interviewed some of his ex-girlfriends and other women about their sexual experiences when he was preparing the script). LIke narrators deployed by Jonathan Swift, Henry Fielding, and Laurence Sterne, Seligman digresses satirically on subjects like fly-fishing, religion, polyphony in Bach, and Edgar Allan Poe. Whereas the porn drains the tension from Joe's journey, so Seligman's pictorialized pontificating saps visual cohesiveness from its effectively scruffy extended flashbacks (achieved through spare sets and darting, Dogme-style hand-held camerawork). One especially dull detour taken by Seligman prompts Joe to play the critic, though von Trier resisted the temptation to turn Nymphomaniac into a meta-movie.
The film is being released in two parts amounting to 241-minutes in total. Like Dogville, it is structured in Godardian chapters: three in part one, five in part two. Three was the number of vaginal thrusts and five the number of anal thrusts Jerôme gave Joe when he initiated her, the pleasure being all his. When Seligman learns of this he gets excited because three and five are Fibonacci numbers, one of his arcane obsessions. Von Trier's interest in them may derive from his countrywoman Inger Christensen's harnessing of them to define the number of lines in the poems in her 1981 collection Alfabet, or from John Fowles's description of them in his 1985 novel A Maggot. Audiences won't care much. They're more likely to recall the robust comic scene in which Uma Thurman (pictured with Martin, below) excels as a woman whose husband thinks Joe loves him, little realizing she sleeps with practically everyone. Oozing vitriol as she enters Joe's flat, where the husband and a younger rival have arrived, Thurman's dumped wife courteously asks Joe if she can show her small sons "the whoring bed… Daddy's favourite place." Classic.
A digression on psychology aside, von Trier doesn't probe the causes of Joe's nymphomania. Her mother (Connie Nielsen) was a cold woman who played solitaire with her back to her family. Her father (Christian Slater), a doctor who adored her as a child and taught her to love trees, was an alcoholic who fouled himself in front of her in his hospital bed and died mid-delirium tremens. The later experience made her lubricate but doesn't explain why, as a woman in her twenties and thirties, she would have sex with up to eight men a day. Carine Adler's Under the Skin more skillfully linked the death of a young woman's beloved parent with her lurch into promiscuity.
If Nymphomaniac seems like a step backward from von Trier's revelatory Melancholia, it successfully resonates with some of his earlier films. The trashy red leather shorts and fishnets worn by the teenaged Joe as she prowls the train looking for men are the same as those worn by Breaking the Waves' Bess (Emily Watson), a doomed innocent whose paraysed husband has told her to sleep with other men – pre-echoing the exhausted Jerôme's disastrous request to his wife. Seligman mirrors Dogville's Tom Edison (Paul Bettany), the virtuous hypocrite tormented by the refusal of the serially raped Grace (Nicole Kidman) to let him come near her. Von Trier is nothing if not egalitarian in matching his debased female characters with sexually thwarted (thus impotent) men.
The story of a self-rationalizing woman's descent into the gutter, Nymphomaniac gathers momentum as a study of a lonely woman haunted by the loss of the one man she cannot replace. Toward the end, Joe's pixieish former lover and criminal protégée (Mia Goth) urinates on her – the intensity of the humiliation maximized by the fact this teenager has become Jerôme's mistress. Sleeping with thousands of men may represent a death wish, but ceaseless heartbreak really hurts, even in von Trier's timeless, fathomless Europa.
Overleaf: watch the (fairly explicit) trailer for Nymphomaniac