One Night in Miami review - black history come alive |

reviews, news & interviews
One Night in Miami review - black history come alive
One Night in Miami review - black history come alive
Regina King's directorial debut about a momentous meeting
Wednesday, 13 January 2021
In 1964, Cassius Clay, NFL superstar Jim Nathaniel Brown, soul legend Sam Cooke and political firebrand Malcolm X gathered for one night in a dingy room at the Hampton Motel. It was a meeting that became a symbol of hope for black Americans.
A photo, taken by Malcolm X would make the moment iconic, marking a shift away from the horrors of Jim Crow
America
to the passing of the Civil Rights Act.
The events of that evening became the basis of Kemp Powers' 2013 play, and now form the directorial debut for Oscar-winning actress Regina King, who most recently played Sister Night in HBO's Watchman and won her Academy Award for her role in Barry Jenkins' If Beale Street Could Talk.
On stage, Powers' play was much more of a chamber piece. King however (along with Powers who adapted the screenplay) has given the story a wider scope, with flashbacks and additional scenes that provide context.
We see the struggles of each of the four protagonists: Brown (Aldis Hodge) might be a celebrated hero, but he still endures racial slurs from those who profess friendship; Cooke (Leslie Odom Jr) may have his dream gig at the Copacabana, but the all-white audience are less than respectful; Clay (Eli Goree), fresh from fighting Hopper at Wembley Arena, is perceived as an upstart rather than the world's greatest boxer; and Malcolm X (Kingsley Ben-Adir) is in conflict with The Nation of Islam's unsavoury leader, Elijah Muhammad, making him question his membership in the organisation.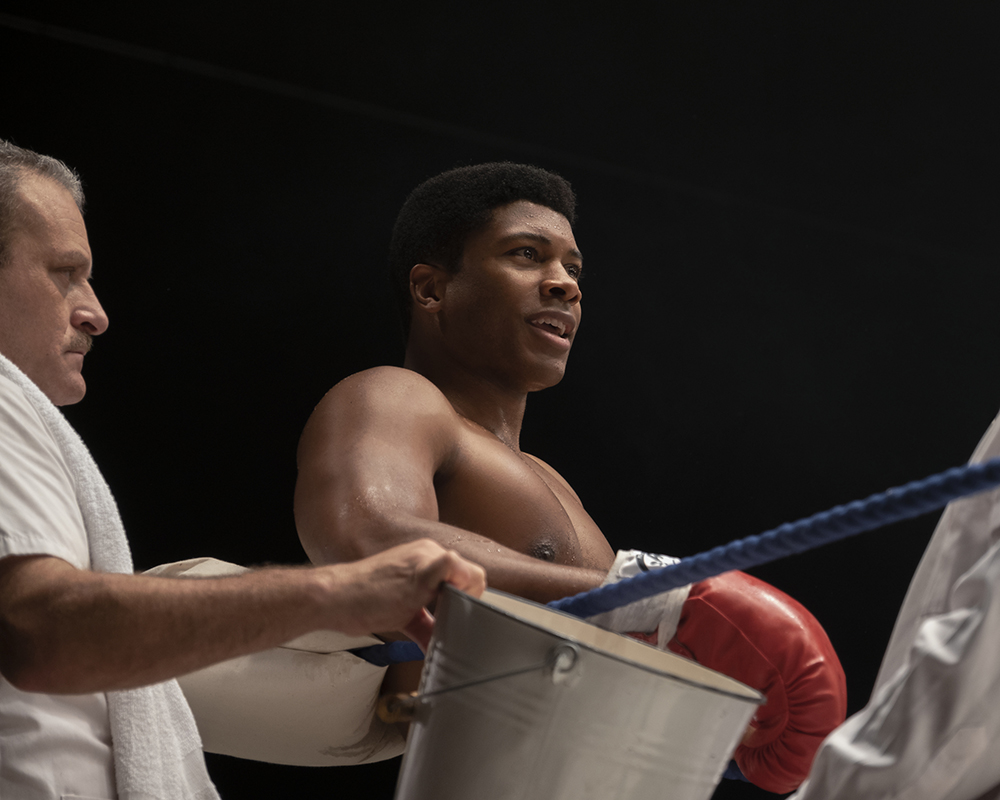 But people don't just leave the Nation of Islam, and Malcolm needs support. Following Clay's victory over Sonny Liston, Cooke, Brown and Malcolm X gather for what was meant to be a party. The reality is something much more low-key. In Malcolm's room, without booze or fellow revellers and flanked by bodyguards from the NI, the four men sit on motel beds and discuss the future of Black America over ice-cream.
King has carefully balanced each performance and amount of screen time so that no single player outshines the other. They work in perfect harmony. Malcolm's fury and fear over what's at stake balances against Cooke's charm and passion. Ali's confidence sits neatly against Brown's growing cynicism about the gladiatorial nature of the sport that made him famous.
There are stand-out moments however, like Cooke's Boston gig. Sabotaged by the warmup act, he is pushed into an acoustic rendition of "Chain Gang" that sends shivers down your spine as the audience stamp their feet and clap their hands, and Malcolm gazes on in wonder at what the soul singer can do. The rage, passion and eloquence with which Cooke and Malcolm spar is gripping, but so is the way Goree captures Clay's vulnerability and strength. Hodge meanwhile is quietly brilliant as a man tired of playing the game (in every sense) and now looking to master his own destiny.
King's greatest achievement with One Night in Miami is how she, along with Powers, not only put us in the room with these four titans of black America, but also humanises them. The static figures in that iconic image have come alive, to speak again to a new generation tired of suffering and eager for the change to come.
One Night In Miama is released by Amazon Prime Video on 15 Jan
The rage, passion and eloquence with which Cooke and Malcolm spar is gripping
rating
Explore topics
Share this article