Oscars 2014: Leo, Sally and Jonah all in, Emma and Tom and French lesbians out |

reviews, news & interviews
Oscars 2014: Leo, Sally and Jonah all in, Emma and Tom and French lesbians out
Oscars 2014: Leo, Sally and Jonah all in, Emma and Tom and French lesbians out
Who was left out and who was tipped the nod in this year's Academy Awards
Thursday, 16 January 2014
`Walt, where's my nomination?!?!': Previous two-time winner Emma Thompson failed to make the Oscar cut today
The 2014 Oscar nominations are out, and many of the expected awards-season favourites will be popping yet another champagne cork tonight (or, given that the nods take place at 5.30 am in Los Angeles, maybe over breakfast).
But even as Cate Blanchett, Bruce Dern, and Jared Leto toast the further
kudos
that continue to come their way, let's spare a thought for such hopefuls as Emma Thompson (
Saving Mr Banks
), Tom Hanks (
Captain Phillips
), and - most astonishingly - Robert Redford (
All Is Lost
), who lead the list of odds-on nominees who were left this morning at the starting gate.
One wonders what Redford, not far off 80 and about as bona fide a movie star as still exists in the proper usage of that phrase, has to do to get nominated, not least given his rapturous reception by the New York Film Critics Circle for the same, largely wordless performance at their awards ceremony several weeks ago.
Likewise, Hanks was at one point thought a possible double nominee this year - for his very nearly career-best work in Captain Phillips and also for his supporting turn as no less an iconic figure than Walt Disney opposite Thompson's Pamela Travers in Saving Mr Banks. In the event, Hanks wasn't cited for either film and nor was his Captain Phillips director, Paul Greengrass, whose slot went to Alexander Payne (Nebraska) in much the same way that Hanks and Redford saw their Best Actor toehold toppled by onetime long-shots Christian Bale (American Hustle) and Leonardo DiCaprio (The Wolf of Wall Street). Thompson's giddy antics as presenter made headines at last Sunday's Golden Globe Awards but Oscar ballots had already been cast by then, unfortunately for a two-time Oscar winner from years past.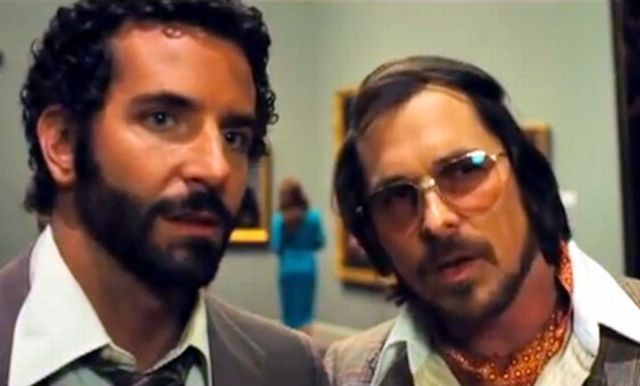 Indeed, though frontrunners Gravity and 12 Years a Slave scored heavily as had been expected, with 19 nominations between them, far more noteworthy is the major love that has been thrown in the direction of the Bale-starrer, whose ace ensemble (Bale and Bradley Cooper pictured) resulted in an acting nod for all four of its stars - which is very rare, indeed. And though Scorsese's three-hour trawl through life at the top of the Wall Street heap has divided audiences and critics, the Academy liked it enough to include not just DiCaprio but co-star Jonah Hill among its expectation-exceeding slew of nominations. The major casualty in the supporting actor ranks was surely Daniel Bruhl for Rush, whose co-star, Chris Hemsworth, was on hand to read the nominations alongside Academy president Cheryl Boone Isaacs.
On the distaff front, one takes real pleasure in finding Sally Hawkins taking the Supporting Actress slot that had been thought to be headed for The Butler's Oprah WInfrey (once presumed to be this year's winner in this category, in fact), not least because Cate Blanchett's brilliant Blue Jasmine co-star was shamefully overlooked for Mike Leigh's Happy-Go-Lucky five years ago. And those wondering whether the non-nomination of the lesbian-themed Blue is the Warmest Color is a sign of Hollywood prudishness, think again. As it happens, the film wasn't eligible, which leaves the way clear for Italy's The Great Beauty to have a bellissima Oscar night.
OSCARS 2014 Who was left out and who was tipped the nod in this year's Academy Awards
Explore topics
Share this article