Restrepo |

reviews, news & interviews
Restrepo
Restrepo
A searing documentary about Afghanistan's valley of death
Thursday, 07 October 2010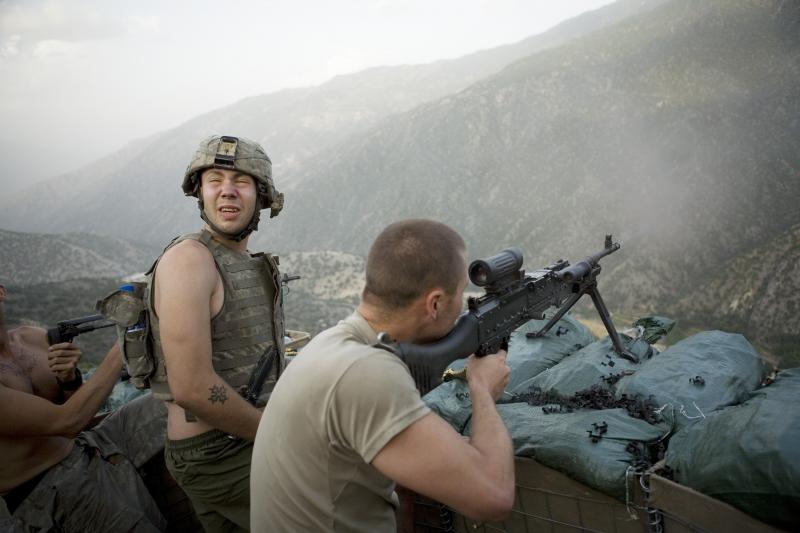 The deadliest place on Earth: Korengal Valley in Afghanistan
The most surreal scene in this searing, adrenaline rush of a documentary about a US platoon in Afghanistan is the sight of three soldiers dancing madly in their bunker to "Touch Me, I Want to Feel Your Body" on an iPod.
Stationed in the Korengal Valley, part of the mountainous range of the Hindu Kush, they've named their remote hilltop 15-man outpost Restrepo
after their medic, Juan Restrepo, who was killed in action (you see him at the beginning of the film, drunk, on a little video he made on a train in Italy before deployment: "We're loving life and getting ready to go to war," he says, his arm round O'Byrne, another soldier).
There's not much time for dancing, though. Battle Company of the 173rd Airborne call the Korengal the deadliest place on Earth, a shithole constantly under attack from the Taliban where monkeys howl at night and a new soldier thinks their yammering is the enemy. The firefighting is so intense and the after-effects so traumatising that "they [the military powers that be] are gathering intel on how to deal with us", says one soldier with an unnervingly intense gaze.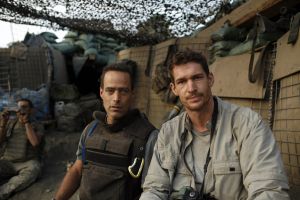 The directors, British photographer Tim Hetherington and American writer Sebastian Junger (pictured right), spent 14 months from May 2007 with the platoon on assignment for Vanity Fair and ABC News. Their film, which won Grand Jury Best Documentary prize at Sundance, gives new meaning to the term embedded. Junger and Hetherington developed a deep sense of connection with these young men - and they are so young, most in their early twenties. One of them, a guitar-playing, sketch-pad-carrying former snowboarder, looks as if he's only just left his hippy Oregon childhood behind. "We weren't allowed any guns...we were always doing stuff like making our own paper," he says. Restrepo was killed two days before his mom's birthday and he had to keep it together when he spoke to her on the phone.

The connection, beyond the remit of movies like The Hurt Locker and Green Zone, is what gives this film such power. This is war. There's no political viewpoint, no narration, no interviews with generals: you're just there with the soldiers. Ten minutes or so in, a Humvee drives over an IED; surprisingly, no one is killed this time. Interspersed with the constant mortar fighting and daily life at the outpost with its routines - one being burning shit with diesel fuel, as there's no running water - are starkly lit interviews with the men, conducted in Italy three months after deployment. "I'd prefer not to sleep and not dream than sleep and see the pictures in my head," says one soldier with a strange, permanent smile of his nightmares and useless sleeping pills.

In Korengal, there are weekly meetings with unimpressed village elders with kohl-rimmed eyes and dyed beards. There's outreach talk of building paths and water pipes. But a cow has been killed in an accident on Restrepo and the elders want $400 in compensation. The Americans are only willing to give rice and beans of a weight equal to the size of the cow. There are missions gone badly wrong. "I kill a bunch of bad guys but in the same instant I'm killing five locals," says the captain. "I need to know better." During firefights, when tracer fire and gunshots whistle and flash across the valley, the camera jerks sickeningly and you wonder how the film-makers survived. "It's like crack," says someone about the rush of being under fire, then asks himself how he'll go back to the civilian world. In another firefight, one of the platoon is killed and a man grows hysterical. "Don't look at him, don't look at him," another soldier tells him.

The mountains, vast and unchangeable, throw the pointlessness into relief. "I haven't figured out how to deal with it inside. The only hope I have is eventually to be able to process it differently," says a soldier who doesn't want to forget the horrors because the memories "make me appreciate what I have". "Hearts and minds," says the captain. "We'll take their fucking hearts and their fucking minds." Restrepo's final credit begs to differ. The US military began withdrawing from the Korengal Valley late last year, having lost nearly 50 American lives.
Watch the Restrepo trailer:
I'd prefer not to sleep and not dream than sleep and see the pictures in my head
Explore topics
Share this article