Ted |

reviews, news & interviews
Ted
Ted
Seth MacFarlane's cinematic debut sees Mark Wahlberg in a bromance between man and toy
Wednesday, 01 August 2012
You talkin' to me? Mark Wahlberg and a furry friend in 'Ted'
Seth MacFarlane is the equal opportunity offender responsible for a trio of animated sitcoms: Family Guy, American Dad! and The Cleveland Show. The hardest-working man in TV comedy is known for his colourfully un-PC style and agreeably obnoxious humour, marrying American brassiness with sharp satire, and for turning a baby into a maniacal genius.
Ted, his largely enjoyable film debut, focuses on a man held in a state of arrested development by his bad-influence buddy, the twist being that said buddy is a teddy bear. Teddy Ruxpin he most certainly isn't.
In last year's child-friendly Hop the raucous Russell Brand improbably voiced the Easter Bunny. Ted takes the gag much much further and ends up closer in spirit to Terry Zwigoff's perfectly puerile Bad Santa. Ted (pictured below right) is a hedonistic delinquent in the mould of - the not substantially less furry - Zach Galifianakis or John Belushi. He's voiced unmistakably by MacFarlane, who also performed using motion capture along with directing, co-writing and producing the picture.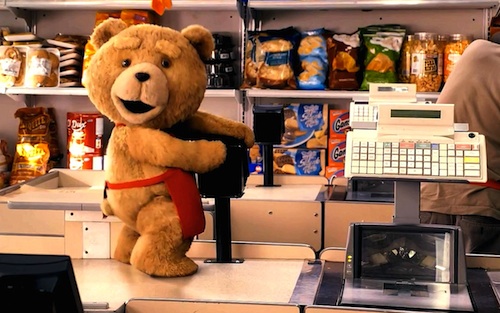 The story begins on Christmas Eve 1985, just outside Boston, with our avuncular narrator (Patrick Stewart) introducing us to the young John Bennett (Bretton Manley) who's having a "tough time making friends". Fortunately, awaiting him under the Christmas tree is a talking teddy bear who squeaks a saccharine but reassuring "I love you" when hugged. When John awakes the next morning it's to discover that his Christmas wish has been answered - teddy has sprung to life. And so the characteristic MacFarlane levity begins: when John introduces the walking, talking Ted to his parents their reaction is one of profanity-streaked horror, with his father urging his mother to "get my gun".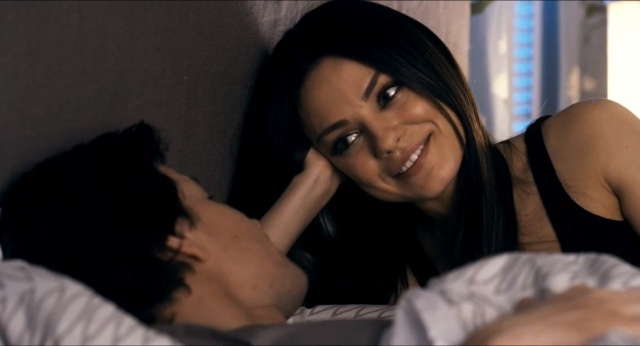 Ted quickly becomes a national sensation before the inevitable fall, a trajectory compared to that of a child star (Corey Feldman and Frankie Muniz are amongst those name-checked), and Stewart reminds us sagely that, however big the splash you make, "eventually nobody gives a shit".We jump to the present day via a "growing-up" credit montage with the 35-year-old John now played by Mark Wahlberg. Despite having scored a successful and attractive girlfriend Lori (Mila Kunis, pictured above left) his life is stuttering and stalling due in no small part to the staunch presence of a now thoroughly debauched Ted. John's working at a branch of Rent-a-Car, with no great prospects. He regularly slacks off to get stoned, a lifestyle which is putting a strain on his relationship with Lori. Danger comes in the shape of seemingly psychotic Ted fan Donny (Giovanni Ribisi) and his chunky, aggressive son, who are looking to snatch the talking teddy for themselves.
MacFarlane brings with him several members of his sitcoms' stable of talent, notably Kunis (who plays Meg on Family Guy) and Patrick Warburton (the sight of whom will delight devotees of Seinfeld) as John's hard-living colleague. Wahlberg is agreeably cast as an affable man-child/dim-witted hunk (see also The Other Guys and I Heart Huckabees) but he doesn't always nail the comedy. Kunis brings some charisma and good humour to the thankless role of third-wheel girlfriend in this bromantic comedy, and there are enjoyably mwa-ha-ha turns from Community's Joel McHale as her sleaze-ball boss and from Ribisi. Ted himself is a tangible CG presence, a trash-talking miracle, and you can't fault MacFarlane's confidently crass voice-work.
A couple of short fantasy sequences aside, we might have hoped for more visual ingenuity from this animation supremo. Moving from the endless possibilities and pace of that medium to this largely live-action feature-length film, some of the spark and swagger of his storytelling is lost; the initial momentum isn't maintained over the entirety, with the story spread too thin. Crucially, Ted is funny but it's rarely riotously and certainly not consistently so. Fans of the aforementioned sitcoms will no doubt rejoice at MacFarlane's elevation to the big screen but others will find that they will occasionally have to grin and "bear" it rather than finding themselves bent double in mirth.

Watch the trailer for Ted
Crucially, Ted is funny but it's rarely riotously and certainly not consistently so
rating
Explore topics
Share this article