theartsdesk in Berlin: the 26th European Film Awards |

reviews, news & interviews
theartsdesk in Berlin: the 26th European Film Awards
theartsdesk in Berlin: the 26th European Film Awards
The Great Beauty and the great Deneuve win, but Europe's showpiece film awards fizzle meekly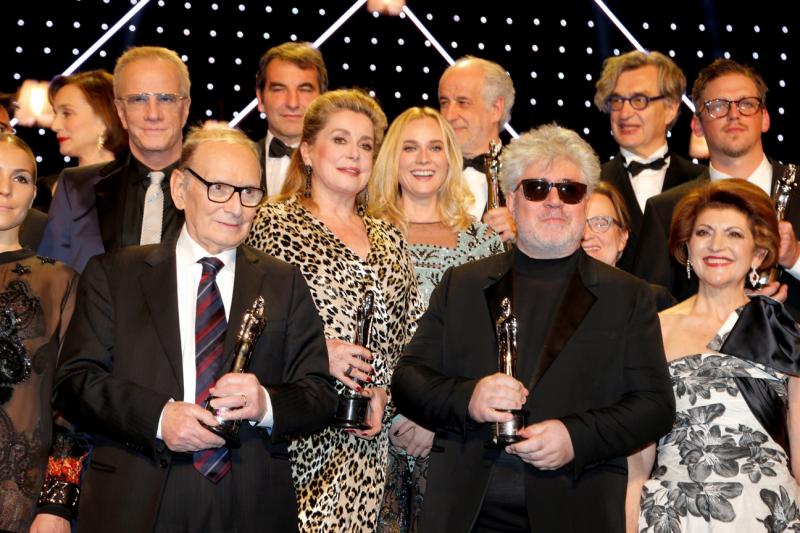 The prize is right: Morricone, Deneuve and Almodóvar are in the front row of winners
Paolo Sorrentino's The Great Beauty was the deserved big winner at the European Film Awards, with Best Film, Director, Actor and Editor. The bigger question the European Film Academy needs to confront is how few of its winners seemed to really care. A crisis in European film is often declared from this ceremony's stage.
Paolo Sorrentino's The Great Beauty was the deserved big winner at the European Film Awards, with Best Film, Director, Actor and Editor. The bigger question the European Film Academy needs to confront is how few of its winners seemed to really care. A crisis in European film is often declared from this ceremony's stage. But the most virtuously idealistic of the major awards shows, intended to embody the dreams of the post-war European project, has a crisis of its own.
The Awards were visibly strapped for cash this year, with fewer guests packed into an intimate theatre venue, the Haus der Berliner Festspiele. The early whoops booming off of its ceiling created a more potent atmosphere, though that soon died down. More worryingly, on-stage creativity had been reined in, or removed. The inspired irreverence of the long-time host, German comedian Anke Engelke, has verged on suggesting inconsequence for these awards in the past. This year she was muted, as if unsure of her role; the filmed sketches in which she poked annual fun at Michael Haneke and other austere Euro eminences were simply dropped. What remained was a serious ceremony, handing out deserved awards with little fuss, and occasionally provocative thought from its winners. Show business, which is part of the cinema business even at its most rarefied artistic levels, wasn't in the budget. Fun was off the menu.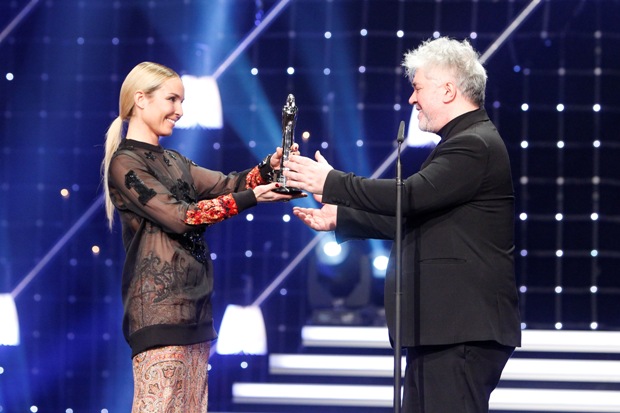 Still, Catherine Deneuve, Pedro Almodovar and Ennio Morricone were here to receive awards, and Kristin Scott Thomas and Noomi Rapace helped hand them out. Morricone was greeted with an inevitable standing ovation as he won Best Composer for Giuseppe Tornatore's The Best Offer (Italian cinema, a basket case ten years ago, was casually dominant in Berlin). His wordless acceptance as he slipped back off-stage with his statue was the first anti-climax.
Almodóvar was next (pictured above right with Noomi Rapace), winning European Achievement in World Cinema for his body of work. Noting the "blithe humour" with which Engelke helped introduce him, he claimed to have abandoned the "more serious speech" he had in mind, an early victim of the night's uncertain tone. The words he did offer, though long and rambling, were also provocative and sincere. "I grew up surrounded by women," he explained, dedicating the award to his mother's generation, who he pictured talking and working in the fields of Franco's La Mancha in the Fifties. He found the word he really wanted to say, praising "the resistance of my mother's generation, the resistance of my [producer] brother, when it was almost impossible to get finance for one of my dirty movies, and the resistance of the Spanish citizen, victim of a government that is absolutely deaf and insensitive to the problems of my country." It was a characteristic rebel yell.
Belgium is, like Italy, in rude cinematic health, winning Best Short Film for Tom Van Avermaet's fascinating-looking riff on a returning soldier's trauma, Death of A Shadow, and Best Actress for The Broken Circle Breakdown's Veerle Baetens (pictured left with Christopher Lambert). Forthrightly outspoken by nature, she outraged the Flemish nationalists she's a hero to back home by thanking "Belgium" and "Flanders and Wallonia. We're really doing a great job here, and we shouldn't break it." She forced the point home during the post-award press conferences, which had more vigour than the awards themselves. "I didn't want to stand there with a mouth full of teeth," she idiomatically reflected on her first outburst, before reminding her homeland again: "We're Nordic and we're south...we're not Dutch and we're not French."
Joshua Oppenheimer, winner of Best Documentary for The Act of Killing, his extraordinary investigation of the psyche of the Indonesian government's genocidal thugs, was softly intense as he reflected in Nazi Germany's old capital that "Europe has known much more than its fair share of genocide and trauma in the last horrible century", and that his grandmother had fled Berlin "just before it was too late."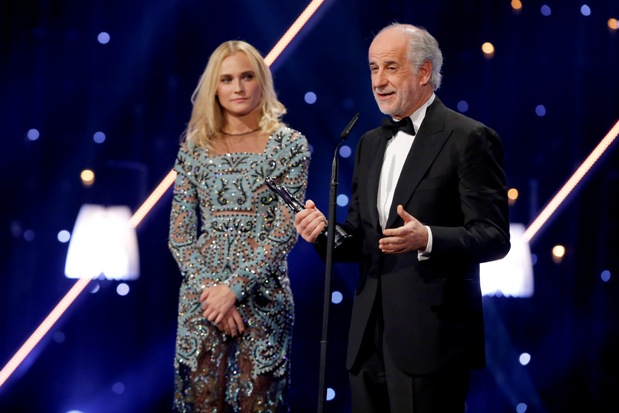 In his press conference later, he recalled the long periods of sleeplessness his eight-year association with his film's ageing mass murderers caused, and the concrete political importance of his prize: "Every award puts this film on the front page again in Indonesia... every recognition of The Act of Killing becomes an act of justice," fighting "impunity". He also laid into the "self-serving clichés of the human rights documentary" and its reliance on "a saintly victim with whom the viewer can identify... as if we're totally unlike the perpetrators." The hubbub of casual chat in the back room where the press pack were gathered was gradually silenced as this man of other-worldly charisma implicated us all in the world's evils, reminding us that "everybody [in poorer countries] who makes everything that we buy is so afraid... and every one of you already knows the truth of everything I'm saying." You wouldn't get that at the Oscars. But this was the back room where journalists probed, not the stifled main event.
There were so many more awards, but so little else to report. François Ozon won Best Screenplay for In the House, but later admitted that screenplays aren't the important part of a film for him. The great Toni Servillo (pictured above right) picked up Best Actor with his trademark warm smile but almost wordless, too minimal fuss. Sorrentino wasn't here at all, genuinely sorry it seemed, but otherwise engaged at the Marrakesh Film Festival as The Great Beauty won Best Director, and finally Best Film. That supposedly climactic moment felt businesslike and bored.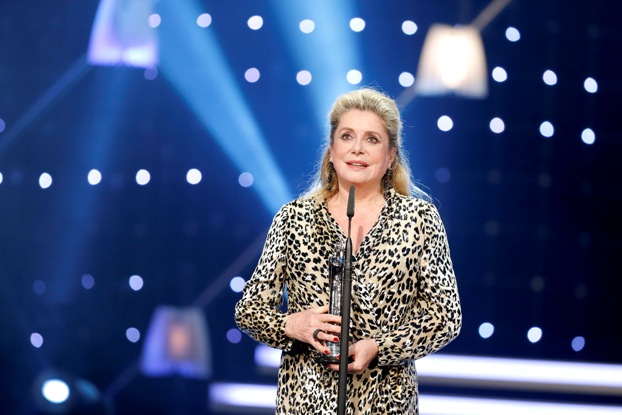 Wim Wenders, a great hero of European cinema and tireless champion of these awards, sounded hoarsely emotional as he presented Catherine Deneuve, pictured left, with the night's penultimate prize, the EFA's Lifetime Achievement Award. "It is difficult to say something in front of you, Catherine, because you made so big an impression on the young film-maker I once was," he told her, recalling watching a 2pm screening of her in Polanski's Repulsion, and staying till midnight to see it over and over. And during Truffaut's Mississippi Mermaid, with Deneuve and Belmondo, "didn't I weep all the way through?" Wenders wondered to her: "What's your secret? There must be a secret...there is a secret hidden in your eyes." The lasting beauty and enigma of that face in a half-century of European films at their most glorious played out in a brief montage. When Deneuve took the stage, she kept waiting for the standing ovation to die down so she could speak. Then all she said of consequence was about the collaborators in her films, "some of them gone", but "still part of me" as "I'm part of them". That aside, she could have been picking up a parcel from the post office. There was no sense of occasion to rise to.
In the party at the nearby Hotel Concorde afterwards, Almodóvar, Kristin Scott Thomas, and Blue Is the Warmest Colour's teenage star Adèle Exarchopoulos jostled to cram into a photo booth, and Carice Van Houten's bright red lips were a glamorous beacon to male admirers, who were happily indulged. Servillo and the rest of The Great Beauty bunch piled into a lift with their surprisingly heavy quartet of awards – so heavy, the lift couldn't move. European cinema felt funny, diverse and alive here, with hair let down, and an intimacy Hollywood insulates its stars from. That vibrant life needs to be breathed back into these awards. The world they are uniquely designed to celebrate deserves better than this year's functional, defeatist prize-giving.