Futurama: Game of Drones |

reviews, news & interviews
Futurama: Game of Drones
Futurama: Game of Drones
An entertaining spin on a well-worn formula
Special delivery: 'Futurama: Game of Drones' benefits from its source material's snarky humour
There is a glut of Match-4 games on every app store and gaming platform worth anything, and a few besides. Just what could this game add to a genre already packed to the rafters with identikit puzzlers and dominated by the all-conquering behemoth of Candy Crush Saga?
When Wooga announced Futurama: Game of Drones, it seemed like just another cash-in. Take a well-worn game mechanic and file the serial numbers off, then liberally apply branding in an attempt to fleece fans of the Futurama franchise via sneaky in-app purchases, at least until the reviews roll in and only the die-hard fans of Bender, Fry and Leela are left.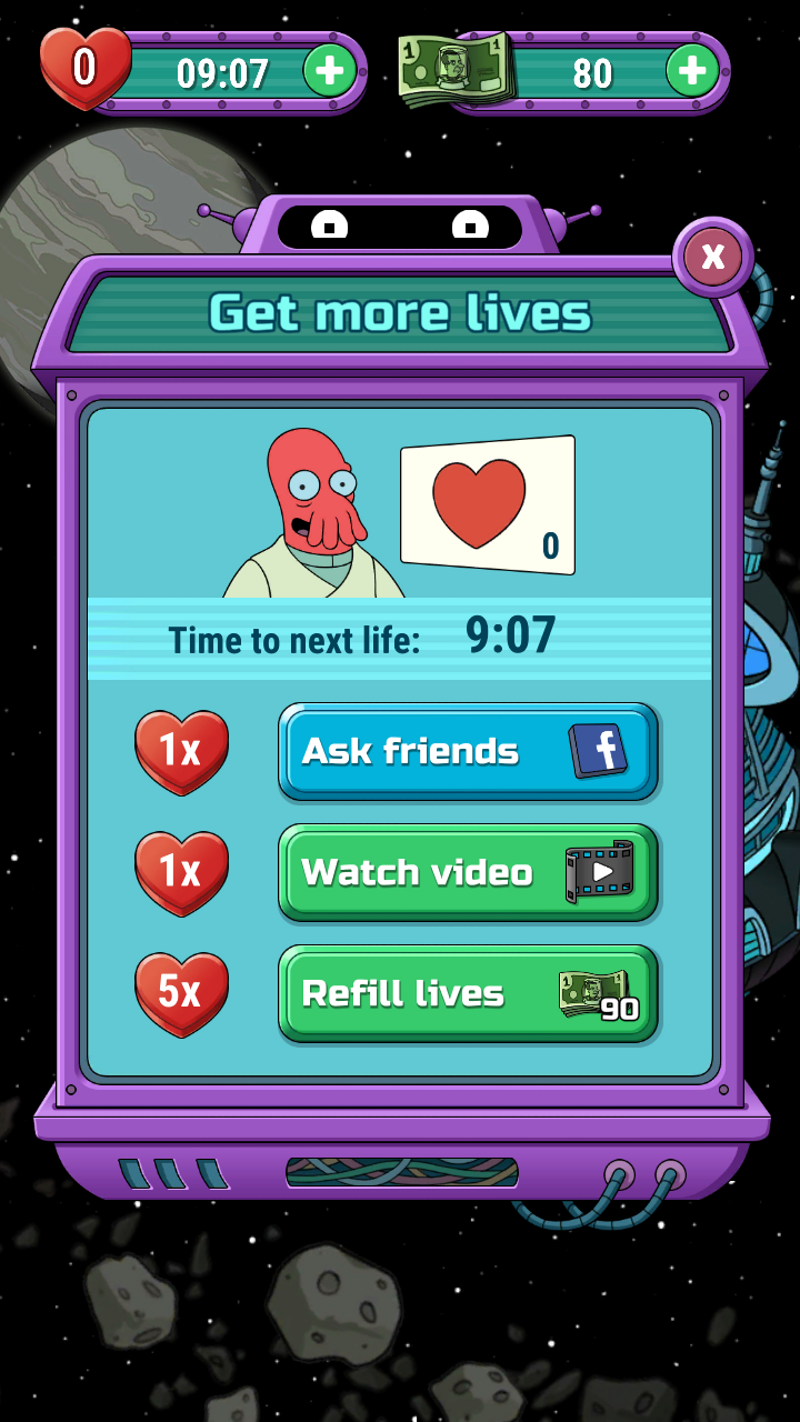 Sure enough, Game of Drones is pretty much exactly that but, somehow, it works, and while you have probably played this exact game many times before, the charm and snarky humour of the source material manages to make it a fun and funny experience that might even get you to shell out some hard cash.
If you're new to Futurama, all you need to know is that it concerns the misadventures of an interplanetary delivery company, who ferry packages across known space. Hilarity ensues, etc. Made by the same team behind The Simpsons, the show is a note-perfect parody of every science fiction trope that ever raised a blaster, which also manages to parody pretty much everything else in popular culture.
Like Candy Crush, you beat each level by shifting tiles around to match four or more of the same colour. Your aim is to either clear the board entirely or to match a certain number of each colour. The tiles in this case are "drones" – robots that your boss, absent-minded scientist Prof. Farnsworth, has invented to speed up deliveries. Each level assigns you a member of the Planet Express crew who can command a special ability when charged up by matching a certain number of drones, e.g. dimwit Fry can instantly match all drones of the same colour and Captain Kirk-wannabe Zapp Brannigan can use his blaster to blow away clusters of drones in the same area of the board.
Each level has its own challenges. Sometimes you have to match drones next to "Momazon Primo" packages from rival outfit, MomCorp. Other levels pit you head to head against an enemy who will try to match drones before you do.
The downside, as with most Free To Play games, is that the game would really, REALLY like you to make a few in-app purchases. Each level must be completed within a set number of moves, and if you run out you can either lose a life or pay some in-game dollars to buy some extra moves. Unless you want to slog away for hours, in-game cash needs to be bought with real-world £££s, as do extra boosters and special abilities.
You have five lives, which will renew after 30 minutes, but you can of course buy some extra ones... and so on. It's almost exactly the same pay-to-play mechanic as Candy Crush, but with some patience and skill (and maybe watching the odd video ad) it is possible to play without paying a thing. Just as well, as the top whack in-app purchase is £79.99. It does seem a shame that there's no option of a one-off payment to buy the complete game, but that's the presumably very lucrative business model Wooga has adopted.
Despite this, Game of Drones remains fun to play and the difficulty curve is such that you should be able to while away your commute or a lunch break without having to break the bank. The Futurama branding is more than just a gloss and the developers have put a lot of effort into both the central plot of the game, which plays out like an extended episode of the show, complete with animations and voice cast, and extras like the 'Twitcher' social network feed that the characters post to and the little one-liners and visual gags that pepper every screen. The game goes out of its way to entertain you every way it can.