XCOM: Enemy Unknown |

reviews, news & interviews
XCOM: Enemy Unknown
XCOM: Enemy Unknown
Like playing a game of chess with GI Joes and aliens, the aim of this super-cerebral strategy game is to know thy enemy
XCOM: welcome to the ant-farm
In the event of an alien invasion it really is important to learn to prioritise. And to juggle. In XCOM: Enemy Unknown you are plunged into the middle of just such an invasion. As the commander of an elite anti-alien unit you are responsible for the building, running and expansion of your XCOM base and its operations.
This is where the juggling comes in, because very early on you find yourself asking questions: how many fighter planes am I building for South America? Have my researchers perfected the art of mind control yet? Have my engineers finished building those jet-packs?
You have to keep both eyes on your grunts at all times
Structured like a giant ant-farm, the XCOM base can be added to depending on what you need, what you've salvaged, and what you can afford. Your two key facilities are your research department - which will investigate salvaged alien technology - and your engineering sector, which will construct your soldiers an amazing arsenal using the information the research department gives it.
While these two departments do their work, you're kept busy by building facilities, bolstering equipment, scanning the planet for alien incursions, intercepting ships, rescuing abductees, trading technology on the "grey market", balancing the panic levels of neglected countries, attempting to placate the powers-that-be, and beefing up your rag-tag team of soldiers into alien-human hybrid killing machines. And that's only when the aliens are taking a day off.
When they do attack, XCOM moves from the ant-farm to the battlefield and requires just as much calculation and tactical strategy. One of the most important lessons of the game is that you have to keep both eyes on your grunts at all times. This is a game that punishes reckless commanders, and the wasted technological investment in deceased soldiers is enough to bring a tear to the eye.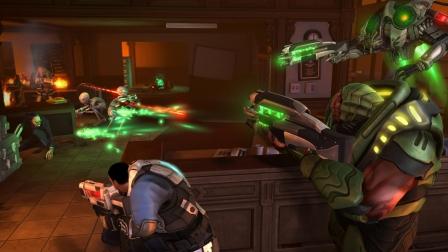 Your soldiers can seem a little samey to begin, with despite their speciality roles (assault, heavy, sniper, support), but once they have earned a few promotions and the new technology starts rolling in, you can make each one of your squad pretty unique. They even start to give each other nicknames. The more precious the soldier becomes, the more you will care about not getting them killed, whether it's monitoring the vulnerability of their position or making sure they're not about to panic and curl up into a gibbering wreck. (This promises hilarity when you're playing the multi-player mode and attempting to make your opponent's men freak out).
The battlefields themselves are intricately detailed, and with your bird's eye view you can sweep through and plan potential strategies with ease. The game provides ample amounts of shielded cover for you to post your pawns behind, which is rare in turn-based games and extremely useful. You are also only able to see as much of the battlefield as your troops can, so the risk of being ambushed by giant alien bugs or little grey men is high.
All in all this is the perfect game for lovers of building things not breaking them. For sneakers and tweekers, not smashers and grabbers. There is no real attempt at a story, but then you don't expect plot in a game of chess either. Besides, with the copious amounts of aliens and guns involved, this beats a game of chess any day of the week.
This is the perfect game for lovers of building things not breaking them
rating
Share this article