10 Questions for singer Live Foyn Friis |

reviews, news & interviews
10 Questions for singer Live Foyn Friis
10 Questions for singer Live Foyn Friis
Charismatic Norwegian singer on her journey through genre
Tuesday, 18 September 2018
Live Foyn Friis: part of the impro-pop movement
Norwegian-Danish singer Live Foyn Friis (for English-speaking readers, Live is her first name) has released six albums, and leads several different ensembles, scattered intriguingly across the divide between jazz and pop.
Her voice is recognisably Nordic, with an ethereal quality that expresses yearning, in particular. In this respect she evokes the tradition of Björk; yet she also loves Billie, Ella and Frank Sinatra and is capable of a more strident, swinging, jazz-infused expression, too. Originally trained as a saxophonist, she came to singing later, and was immediately struck with the dilemma of whether to write jazz or pop; she resolved that one by taking from both.
Live Foyn Friis and her bands have won several European jazz awards. She has performed with artists including Brian Blade, John Scofield and Bobby McFerrin, across continental Europe, North and South America, and parts of Africa, but never before in the UK. Her third album, Willow, was released last week. She is releasing a single, "Keep Me" (listen below) to mark the event of her UK debut at the Sounds of Denmark festival on 23 September.
MATTHEW WRIGHT: How did Willow come about?
LIVE FOYN FRIIS: Willow is a collaborative project between me and a friend, Nikolaj Hess. The idea originated on a trip to New York, some years ago. I wanted to make an album that mixed half jazz standards and half originals. The standards and originals are arranged alternately, one after the other. It was cool to combine the two different kinds of expression. My originals have an indie-pop feel to them, but I also love the jazz tradition, so the music is very varied. I love Chet Baker and Billie Holliday, for example.
You cover the American songbook quite often. What do these songs mean to a Norwegian or Danish audience?
It represents the jazz genre, which has a strong identity in Denmark, in particular. Some Danish artists have adapted traditional Danish songs to the Songbook style. In Norway the attitude is slightly different, and there's more emphasis on the Nordic folk tradition. Norwegian singers tend to focus on original Norwegian material. In Denmark the Songbook is always popular. As a Norwegian singer living in Denmark, this duality is reflected in my new album Willow and its alternation between cover and original.
What will you be performing at the Sounds of Denmark Festival?
This performance is with my other quartet: Jens Mikkel Madsen on bass, guitarist Aleksander Sjølie and drummer Andreas Skamby. We released an album last year with the Aarhus Jazz Orchestra, which has been nominated for a prize in Japan. We're touring there in October, after Sounds of Denmark. This band is all originals, with no standards.
What is the difference for you, as a singer, between performing with a small ensemble and a band like the Aarhus Jazz Orchestra?
For me, singing with big band feels natural, because I started my musical career as a saxophonist, and trained playing in a big band. That was my way in. It's cool to have a big band because it gives us more orchestral options, building up the melody across the sections of the orchestra. I trained as a saxophonist before my singing career, which was very helpful. Playing with an orchestra, and improvising are both excellent training for vocal performances.
Does your voice have a particular or distinctive mood or aesthetic? How would you describe it?
I feel like my sound is changing, but perhaps the overriding mood is of fragility. There's often a sense of longing, I think.
Which singers did you listen to most when you were young?
Billie Holiday, Björk, and Ella Fitzgerald. I was also a huge fan of Frank Sinatra. And Jamiroquai inspired me to write pop!
You're originally from Norway, but have studied in both Sweden and Denmark, and are now performing at a festival of Danish music. What does national identity mean to you?
I definitely feel Norwegian, but I've begun to notice, having lived in Copenhagen for 10 years now, that I'm beginning to find some Norwegian speakers difficult to understand. We have so many dialects in Norway, and some are impenetrable. I have an apartment in both Copenhagen and Oslo, so I'm back and forth.
My band started in 2008 when I moved to Denmark. It was originally a trio, with Jens Mikkel and Alex. For the second album, we added a drummer. Three years ago we found a guitar player, also called Alex, but Norwegian. In musical terms, I only notice a difference with drummers. Danish drummers have a more steady, demonstrative sound, while Norwegian drummers sound more natural.
Sometimes your bass player, Jens Mikkel, provides a rhythm section by beating on the body of his instrument, but at Sounds of Denmark you have a drummer. What difference does it make to your performance?
I love the trio format because I have a lot of room, and I used a beatbox to add rhythm myself. But recently we've been experimenting a lot with the sound and arrangements of the quartet, so I still have the beatbox but I don't use it so much.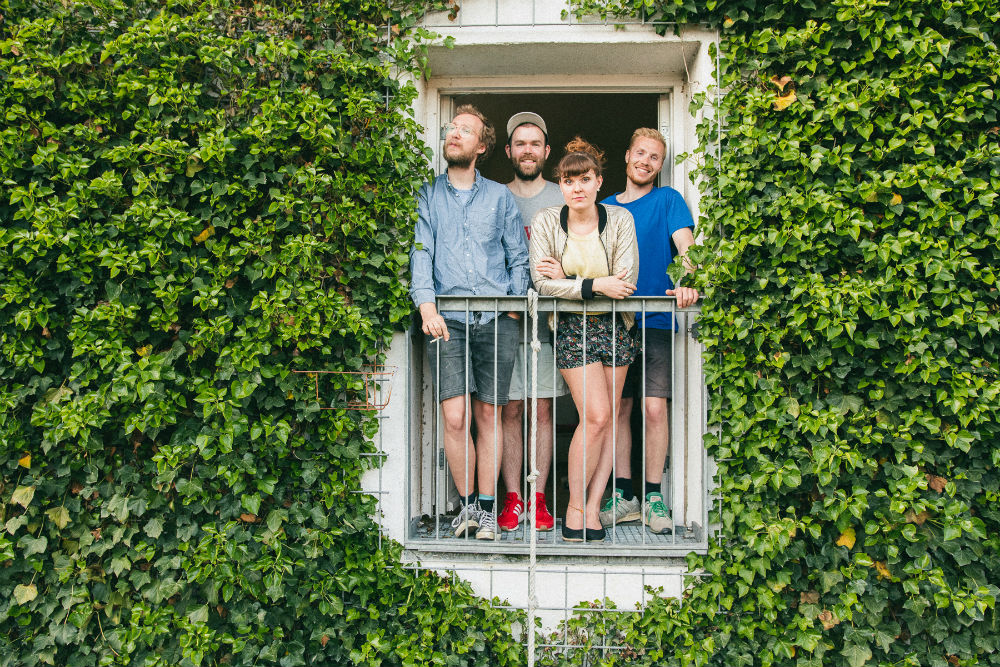 Your music is in an intriguing blend of styles and genres, including jazz, folk and indie. How would you describe it to a new audience?
We've been searching in new directions with the band. We tried calling it "indie-pop jazz" but that was a mouthful. Usually we settle on "impro-pop". It is between genres. When I started songwriting, I tried writing jazz, then pop; then I decided to focus on the songwriting and not worry about genres. When people asked, I would call it "indie-jazz" to begin with, but we were one of the bands that helped develop the concept of impro-pop. This was the scene in Denmark. Norway and Germany are a little bit similar. In fact, Germany probably has the biggest audience for this style.
This will be your debut performance (as a singer). What are you expecting from a London audience?
Our main concern is simply attracting a good audience, seeing as we are not well known in UK. We are releasing a new single, "Keep Me", specially for the show. The song is about travelling a lot, and needing someone to look after you. It begins, "I go round in circles", which is how I sometimes feel, as a touring musician.