The 11 Best Gigs on Film (after Stop Making Sense) |

reviews, news & interviews
The 11 Best Gigs on Film (after Stop Making Sense)
The 11 Best Gigs on Film (after Stop Making Sense)
As Talking Heads' masterpiece is restored on disc, we hail the great screen concerts
Saturday, 07 November 2015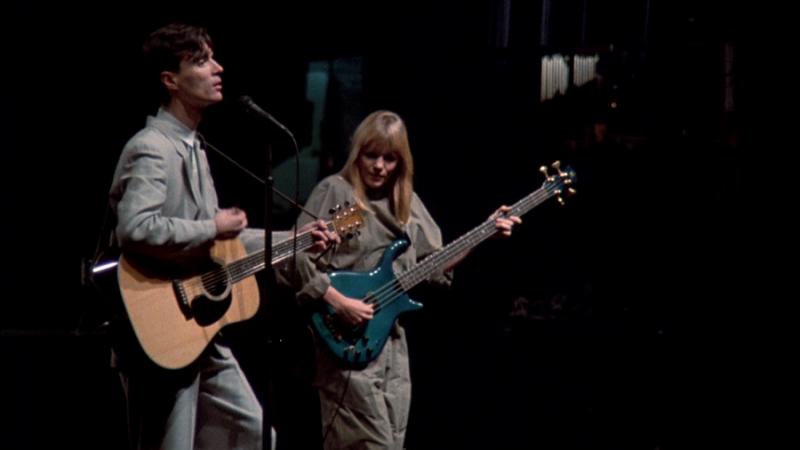 'This ain't no party': David Byrne and Tina Weymouth in 'Stop Making Sense'
In the arts there is never a best of anything. There is good, great and glorious. But best? There is, however, Stop Making Sense. Talking Heads invited the director Jonathan Demme to film them in performance over three nights in December 1983 at Pantages Theater in Hollywood. The result is (arguably) the greatest concert movie ever made.
And the good news, as a restored version is released on disc, is that time has not diminished its greatness, any more than it has shrunk the outsize suit David Byrne wears for "Girlfriend Is Better", which if anything looks bigger in an era free from shoulder padding.
Aside from Melvin and Howard (1980), Demme had yet to make any of the feature films for which he is known. How much of the film's impact is down to the way he frames the show's loose choreography, and how much to Byrne's semi-conceptual staging, is a discussion they possibly had at the time.
Byrne appears alone on a denuded stage with a beatbox to thrash out "Psycho Killer". In increments the band joins him, a backdrop descends, and a full complement of Afro-Caribbean musicians doubles the size of the original quartet, funking up the Heads' art pop sound. The music, driven by Tina Weymouth's delectable bass lines, Chris Frantz's propulsive drumming and Jerry Harrison's choppy guitar licks as much as Byrne's tenor howls, remains as good as pop gets. And they all dance exuberantly. Never have the Eighties less needed apologising for (see trailer below).
To mark its release, theartsdesk has put together a list of what we consider to be the 11 greatest concert films (after Stop Making Sense). You may well disagree, and we'd urge you to say so in the comments below.
The T.A.M.I. Show (1964)
The creation point for rock-era live music on the cinema screen, The T.A.M.I. Show – although it sported no Beatles – is one of the most important gatherings of Sixties performers under one umbrella before 1967's Monterey Pop Festival (later caught by DA Pennebaker). What was billed as an abbreviated version of "Teenage Awards Music International" show was filmed at Santa Monica's Civic Auditorium over two days in October 1964. The Beach Boys, Chuck Berry, Marvin Gaye and The Supremes were pitched against Brit competitors Billy J.Kramer and the Dakotas and Gerry & the Pacemakers. Most seismically, while waiting to perform, Mick Jagger instantly assimilated James Brown's moves for the Rolling Stones' set. Rarely is the future actually seen unfolding as it happens. Kieron Tyler
Monterey Pop (1968)
Though Woodstock looms larger in the history books, the three-day Monterey event in June 1967 was probably as perfect as a pop festival could be. DA Pennebaker, his feted Dylan film Don't Look Back just released, created what still stands as the most resonant document of the Summer of Love. Mind you, he got plenty of help from an incredible line-up of artists, most of them at the peak of their powers. The Who and Jimi Hendrix (both yet to break through in the States) are berserk balls of energy, Otis Redding is seen in his crowd-scorching pomp, the Jefferson Airplane's Grace Slick is utterly mesmerising, and The Mamas & the Papas resoundingly transcend their folk-poppy image. The three-DVD Complete Monterey Pop Festival gets you the original film plus a goldmine of extras and outtakes. Adam Sweeting
Watch The Mamas & the Papas sing "California Dreamin'"
The Beatles' Rooftop Concert from Let It Be (1969)
The Beatles' last live performance together – 40 minutes on the chilly roof of Apple Corps' Mayfair office on 30 January 1969 – wasn't a concert at all. It was really an ad hoc decision to do something resembling one for director Michael Lindsay-Hogg. The pressure on them once again to play live was global. This was their ingenious if eccentric response. The four, by then fractured (Billy Preston had had a binding influence) were on howling good form. Crowds below got wind of something extraordinary going on, invisibly. The noise "nuisance" infamously had to be shut down by the police. Though the film Let It Be, which ends with the gig, has had no airing since the early 1970s, fans know where to find it (pictured below). The thrill of seeing the quartet live remains intense. James Woodall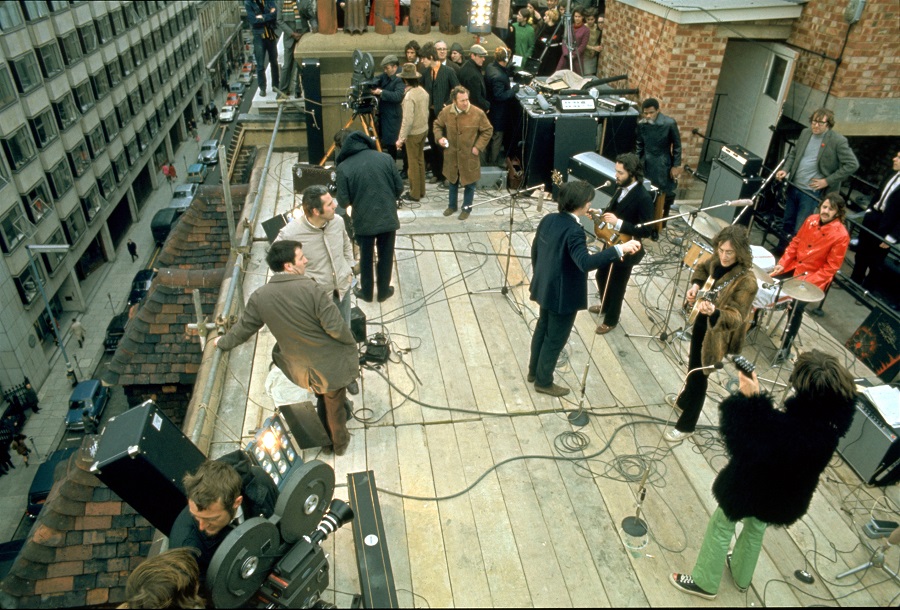 Ziggy Stardust at the Spiders from Mars (1973)
In which David Bowie famously gave the Spiders from Mars their P45. Rock documentarist DA Pennebaker knew little about Bowie but after shooting a few songs realised he had a movie on his hands. The backstage footage of Bowie switching outfits while Angie twitters and a hairy Ringo hangs out is fascinating. The music – led by Mick Ronson's yowling guitar – is out of this world. There's barely a glimpse of Trevor Bolder on drums and mutton-chopped Mick Woodmansey on bass. The kids with tricolour lightning stripes zigzagging across their faces get more screen time. To think they've all got bus passes now… Jasper Rees
Watch Bowie sing "Space Oddity"

Ladies and Gentlemen: The Rolling Stones (1974)
Filmed at four concerts in Fort Worth and Houston in 1972, on the Stones' Exile on Main Street tour, Ladies and Gentlemen... brings you the band raw and unvarnished in vivid close-up (although you don't see much of bassist Bill Wyman). By contemporary standards it's primitively shot, lacking the now customary battalions of go-anywhere cameras and space-age lighting, but the audio tracks are detailed and powerful as the Stones burn white-hot through the core of their catalogue. An outrageously flouncing Mick Jagger is the raucous master of ceremonies ("Can you 'ear anything in the back?"), but his buddy-bond with Keith Richards on tunes like "Dead Flowers" or a glorious "You Can't Always Get What You Want" indicates where the soul of the band lies. Adam Sweeting
Watch an extract from Ladies and Gentlemen: The Rolling Stones
The Song Remains the Same (1976)
Led Zep's The Song Remains the Same was released to a decidedly mixed reception. Chin-stroking critics questioned why the world needed another version of "Stairway to Heaven", especially one that breaks off to ask the audience, "Does anyone remember laughter?" More cuttingly, the film's fantasy sequences – like Jimmy Page wandering the woods looking for a Gandalf figure – were derided as self-indulgent twaddle. The passage of time, however, allows the film's true wonder to reveal itself. Nothing for Led Zeppelin was too big; and the film's finest 10 minutes – "Rain Song" intercut with footage of Robert Plant riding around the Welsh mountains dressed as a knight (video below) – is truly cosmic. Russ Coffey
Read theartsdesk Q&A with Jimmy Page and Robert Plant

The Last Waltz (1978)
The 1970s put Scorsese on the map, but amidst Alice Doesn't Live Here Anymore, Taxi Driver and New York New York, let's not forget the maestro's bravura The Last Waltz: a celluloid account of the farewell concert appearance by the band known as, yes, The Band. But rousing though they are from opener "Up on Cripple Creek" onwards, it's the guests that help deliver the lasting impact of a film that lives on not just on DVD but via a four-CD box set. A badass Muddy Waters rocks out with "Mannish Boy", Emmylou Harris brings that irresistible country twang to "Evangeline", and, first among formidable equals, is the paunchy powerhouse that is Van Morrison, his growly "Caravan" a rendition for the ages. Have a look below. Matt Wolf
Kid Creole and the Coconuts: Live in Paris (1985)
The retro beach party/cruise ship atmosphere created for Kid Creole and the Coconuts' infectious Caribbean-Latin rock-funk on the 1985 Leisure Tour was a cartoonish variation on their earlier exotic nightclub vibe. It was preserved by a recording (below and available on DVD) of the gig at Le Zenith on 10 September 1985 that caught the Cab Calloway-ish combo at its best: the suave, sly Kid, the capering Coati Mundi, and the sultriest incarnation of the Coconuts sweating buckets as they romp through August Darnell's songs of ironic sexual braggadocio. A standout is Cheryl Poirier's caustic, soaring blues-mama vocals on the two numbers performed by the girls. Unimpeachable. Graham Fuller
Sign o' the Times (1987)
His Purple Highness – as well as providing the world of pop with a hilarious and enduring euphemism – is surely one of the most complete pop performers ever. If there are any people left who doubt the veracity of this statement, then they really should check the overblown theatrics and rabbit-in-a-hat tricks that he manages to pull off in this film version of his magnificent 1987 album. His name is Prince. And he is funky. As is his drummer, Sheila E. Barney Harsent
Soul Power (2008)
In 1974, while George Foreman and Muhammad Ali were getting ready to settle scores in the Kinshasa heat, a three-day music festival, Zaire '74, was giving its organisers a heavyweight headache. The list of names that it drew to Africa was phenomenal – the Detroit Spinners, Bill Withers; BB King and, of course, James Brown at the peak of his powers – but the backstage footage gives a convincing sense of the chaos surrounding the event (although whether you can have backstage footage when you've yet to build a stage remains unclear). The performances, however, including an incendiary "Say It Loud – I'm Black and I'm Proud" from James Brown are the stars of the show. And what a show it was. Barney Harsent
Watch the Soul Power trailer
Don't Think (2012)
The Chemical Brothers' concert film, shot at the Fuji Rock Festival in Japan in 2011, as an immersive, head-frying hour-and-a-half that's as concerned with taking the audience on an eye-popping rave trip as portraying the band onstage. This is good news, since watching two middle-aged men pressing buttons would not make for greatness. Instead, long-standing collaborator Adam Smith directs with the emphasis on his own frazzling, surreal concert visuals – clowns, robot armies, etc. – while also utilising staged crowd events that put the viewer right amongst it. Don't think – dance! Thomas H Green
Watch the Don't Think trailer
Never have the Eighties less needed apologising for
Explore topics
Share this article