2011: From Bon Iver to Monty Burns |

reviews, news & interviews
2011: From Bon Iver to Monty Burns
2011: From Bon Iver to Monty Burns
Looking back on a year when folk rocked, and a talent show finally produced talent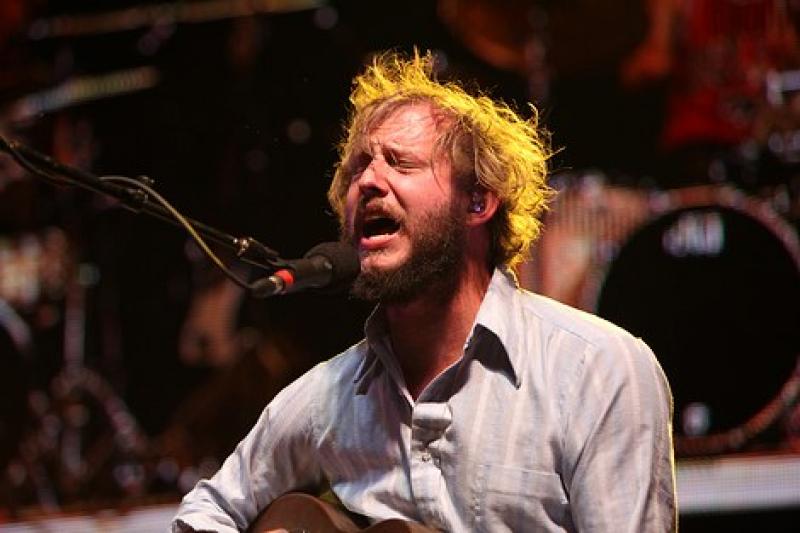 Justin Vernon: nerdy, lanky and brilliant
For about an hour in Hammersmith last October it seemed that all 2011's new music had coagulated into some kind of supernova and was exploding on stage. There were two drum kits, nine musicians, and a nerdy, lanky man singing like an alien. The support act had told us to expect something special and was it ever: Bon Iver's extraordinary live reimagining of their bucolic, eponymous album took in folk, prog, soul, metal and avant garde. It also pretty much embodied my review year.
Decibel for decibel Justin Vernon's folkies were now up there with Queens of the Stone Age who'd brought the Roundhouse down in May, or the Manics who'd relived their garage-rock days in Brixton in January. And if the Welsh rockers were earnestly exhilarating, QOTSA took their thrills to an alternative high with mainman Josh Homme (pictured above) acting like a shaman to an audience of punks, rockers, and stoners.
2011 opened for me, however, quietly, with two particularly magical CD releases from female singer-songwriters. PJ Harvey later won a second Mercury award with her very worthy Let England Shake. However, as good as Harvey's record was, Joan As Policewoman's husky homage to Seventies' soul, the underrated The Deep Field, was even better. The Mercury award nominations (in July) also included two remarkable odes to two small fishing villages. Fom Devon, Joseph Mount's Metronomy brought us the seductive The English Riviera (my CD of the year) and from Fife, elf-like King Creosote teamed up with composer John Hopkins for the sublimely evocative Diamond Mine.
It was a bumper year for quiet, reflective, music like Creosote's. Jesca Hoop, Ron Sexsmith and Teddy Thompson all gave exceptional performances. However 2011 was more notable for folk-rockers doing a little more of the latter. Like Bon Iver live, Bombay Bicycle Club and Laura Marling both injected a bit more rhythm into their records. In fact Marling's "Sophia" was, for me, the standout song of the year.
And of the individual performances I had the pleasure of watching, a special mention is surely due to Raissa Khan-Panni and her band The Mummers who came back from personal tragedy to transform the fetid, beery KCL student union bar into an enchanted wood. And to Glen Campbell, who, with Alzheimers' closing in on him, had the courage to go one final time round the block as The Rhinestone Cowboy.
My most charming conversation of the year was a toss-up between talking God and booze with Moses-lookalike, Josh T Pearson (pictured above), who memorably told me "It's hard trying to save the world. You can really start to lose your mind", or listening to Harry Shearer (aka Monty Burns) and his wife, singer Judith Owen trade anecdotes about almost wetting themselves backstage with Metallica when performing with Spinal Tap.
And the year ended with its most pleasant surprise. Former X-Factor runner-up Rebeccca Ferguson's debut album Heaven, might not have been as consistently good as some critics claimed, but the opening track, "Nothing's Real but Love", was better at being Adele than Adele; probably a good thing, and certainly a huge achievement.
A final word from Death Cab for Cutie who at their Brixton concert predicted how I'd feel today: "So this is the new year/ And i don't feel any different... So this is the new year/ And I have no resolutions."
2011 Highlight: QOTSA performing "I Never Came" at the Roundhouse
2011 Low: The death of Gil Scott-Heron.
2012 Recommendations: Laura Marling live. Early concerts didn't match the quality of her recorded songs. All signs are that her tour in March will. First Aid Kit also return to tour their excellent new long player, The Lion's Roar, in February. I saw a preview at the beginning of December and it was the very essence of charm. Welsh teenager Jodie Marie, Canadian Kathleen Edwards, and seasoned tourer Jon Allen are all looking pretty hot at the moment too.
Watch Queens of the Stone Age perform "I Never Came" live:
Marling's "Sophia" was the standout song of the year
Explore topics
Share this article