Album: Jackson Browne - Downhill From Everywhere |

reviews, news & interviews
Album: Jackson Browne - Downhill From Everywhere
Album: Jackson Browne - Downhill From Everywhere
Still giving a shit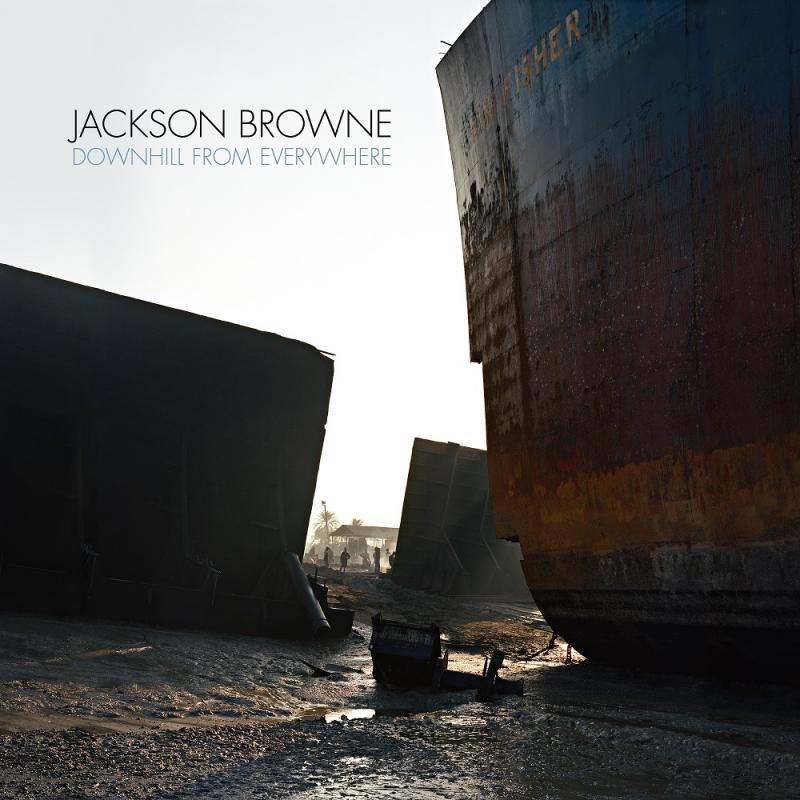 Lessons in empathy
It's hard to believe that it's almost 50 years since I splurged a day's Saturday pay on For Everyman, Jackson Browne's second album. The title track alone was worth it. A couple of years on and Late for the Sky yielded "Before the Deluge" and "Fountain of Sorrow".
He's written some great songs – and let's not forget that "Take It Easy", co-written with Glenn Frey, gave the Eagles their first hit. Another
singer-songwriter
from the fabled Laurel Canyon scene.
Downhill From Everywhere, a pretty good summing-up of where we all are, is Browne's first album in seven years and only his 15th in total: a modest output in such a long career. But then he's a perfectionist. Written before Covid (which he caught) upended the world that Trump had so fatally destabilised, it's easily recognisable as Jackson Browne, in terms of both overall style and his voice, which remains in good shape with the characteristically world-weary tone. It's his usual mix of the personal and the political, the two aspects of his life and work kept always in balance, as he demonstrates once more in "Song for Barcelona", the album's closer.
Working with guitarists Greg Leisz and Val McCallum, bassist Bob Glaub, Jeff Young on keyboards, Mauricio Lewak on drums, and vocalists Chavonne Stewart and Alethea Mills, all long-time collaborators, and recording close to home in Santa Monica, Browne the craftsman serves up an album that was several years in the making yet which remains fresh and topical. The issues don't go away, the can simply gets kicked down the road. The title track worries about the oceans – environmental catastrophe is the album's underlying theme – and the ruin we continue to inflict. In the week two megamillionaires launched themselves briefly into space, the line about "all mankind's ambition and vanity" sure hits home.
There are moments of real tenderness: "A Human Touch", which is what we've been missing all year, is beautiful, a proper duet, Leslie Mendelson sharing the vocal with Browne, their entwined voices underpinned by Leisz on pedal steel. "The Dreamer" bowls along, its upbeat Tex-Mex style deliberately at odds with the subject, the heartbreak stories of those who "cross oceans and deserts and rivers/ Carrying nothing more than the dream of what life could be". The song is co-written with Eugene Rodriguez, founder of Los Cenzontles, a band which began as part of a California Arts Council artist residency, and David Hidalgo of Los Lobos. It's sung in English and Spanish, the story told through the eyes of one young woman who "pledged her future to this land".
The album ends in exhilarating rumba-flamenco style, complete with Raúl Rodriguez's palmas and a chorus in Catalan, with "A Song for Barcelona", a love song to the city "that gave me back my fire – and restored my appetite", a city in which he can imagine living, "in my escape from rock and roll".
"No one gives a shit but Jackson Browne", Randy Newman sang in "A Piece of the Pie". Browne's not the only one but he's certainly kept the faith. Let's hope he doesn't make his escape quite yet.
Browne the craftsman serves up an album that was several years in the making yet which remains fresh and topical
rating
Explore topics
Share this article