Albums of 2015: Squeeze - Cradle to the Grave |

reviews, news & interviews
Albums of 2015: Squeeze - Cradle to the Grave
Albums of 2015: Squeeze - Cradle to the Grave
An impressive second act for the south London band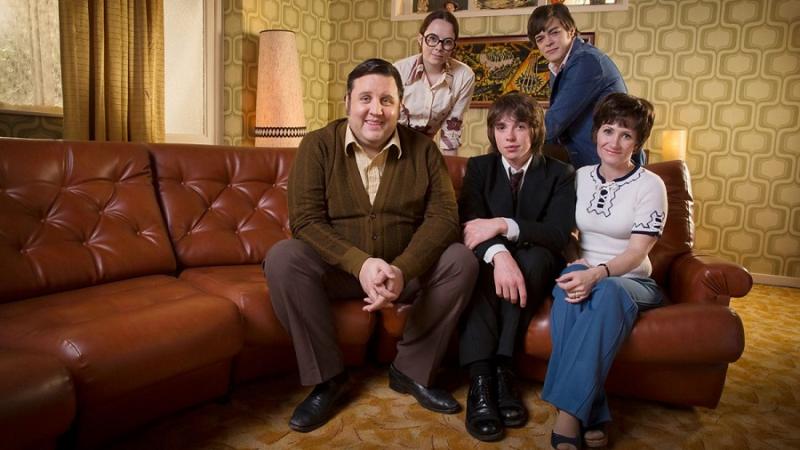 Squeeze up: Peter Kay and the cast of the sitcom of the memoir and album
They say there are no second acts, but in the world of contemporary dad rock there's little else. This year Squeeze became the latest band to re-form, not in quite the original line-up, but in an incarnation which patched up previous cracks between its two front men. The result was a cheerful tour and an enlightening album. I caught the live show at the Royal Albert Hall, where the old songs inevitably fared better than the less familiar new ones.
In their studio incarnation, the robust new songs have the potential to sink into the marrow.
Cradle to the Grave is the latest addition to a small subset of collaborations between bands and sitcoms. Noel Gallagher provided the intro to The Royle Family and the Divine Comedy performed the same service for Father Ted. Squeeze embedded them far deeper in the world of the show based on Danny Baker's memoir of growing up in Seventies south London, it being their world too. The songs from the album discreetly turned up throughout the eight episodes of Cradle to Grave, weighting Baker's grinning day-Glo nostalgia down with a melancholy ballast.
The songs found Squeeze still moving on musically and lyrically while returning to the epicentre of their roots, and supplied a lovely reminder that even in 1980 songs like "Up the Junction" and "Take Me I'm Yours" were entirely earthed in time and place. That's what they still do. It helps that the poles-apart voices of lyricist Chris Difford and composer Glenn Tilbrook haven't changed a bit. One growls, the other yowls. Here was a gravity-defying proof that the old ones aren't always the best ones and, as the song titles suggested – "Nirvana", "Sunny" and "Happy Days" – Squeeze can still stick a smile on your face.
The songs found Squeeze still moving on while returning to the epicentre of their roots
rating
Share this article