Albums of the Year 2022: Lizz Wright - Holding Space |

reviews, news & interviews
Albums of the Year 2022: Lizz Wright - Holding Space
Albums of the Year 2022: Lizz Wright - Holding Space
A remarkable year for vocal jazz, from debuts to live retrospectives
Saturday, 24 December 2022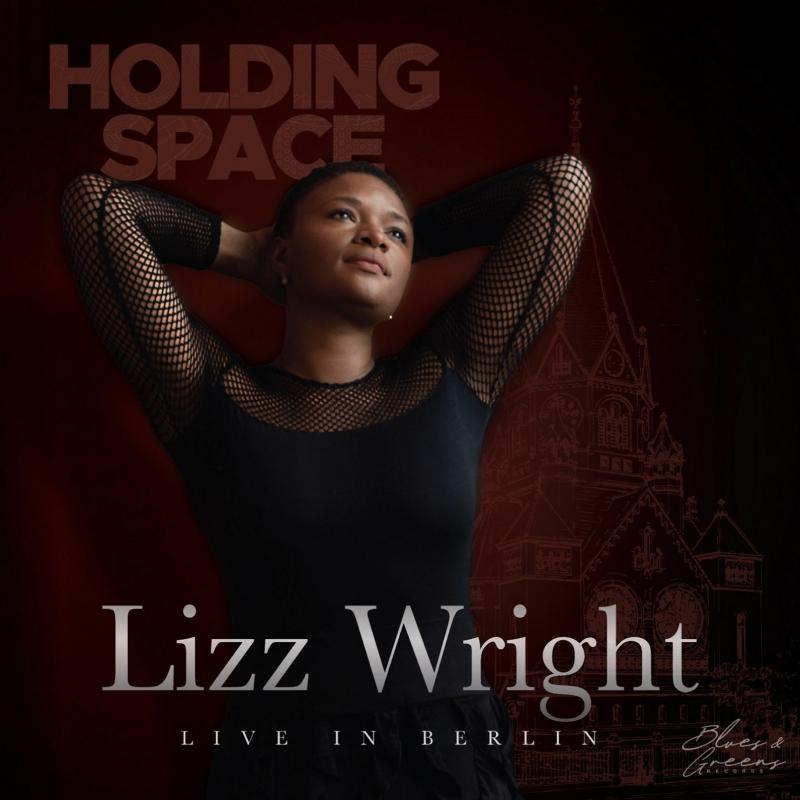 The best of humanity: Lizz Wright
Bolivian marching powder, sexual violence, fraud. As the actions of the present kakistocracy edged ever closer to that of a lost Brian De Palma film script, it was to music that we turned once again for beauty and the best of humanity.
With stunning recorded sound plus an irresistible communion between singer and band, Lizz Wright's Holding Space was the most transporting album I heard this year. Recorded live in Berlin on the final date of her 2018 European summer tour, the material ranged from her 2003 Verve debut, Salt, to her most recent studio album, 2017's Grace.
Cécile McLorin Salvant's Ghost Song supplied a treasure trove of marvels, seven originals (including the beautiful "Thunderclouds") and five covers (including the brilliant "The World Is Mean" from The Threepenny Opera) which together formed a supremely satisfying whole.
Samara Joy McLendon followed up last year's remarkable debut with the staggeringly fine Linger Awhile, with nods to Sarah Vaughan ("Can't Get Out Of This Mood") and Carmen McRae ("Guess Who I Saw Today") plus a brace of excellent self-penned vocalese.
From a Shirley Horn-slow treatment of the classic cabaret anthem "There's No Business Like Show Business" to a blazing account of the Ziegfeld Follies-era "I Don't Care", Emma Smith's Meshuga Baby, a welcome follow-up to her 2012 debut, proved to be an album of extraordinary cumulative power.
Blue Journal, the debut recording from the Slovakian singer, songwriter and alumna of Berklee College of Music and the New England Conservatory, Ester Wiesnerová, introduced an exciting new voice in European jazz, while another debut album, Winterspring by the California-born, Prague-based vocalist and songwriter Allison Wheeler, announced itself as one of the standout vocal releases of 2022 and its creator a storyteller of great sonic imagination.
The latest trio offering from Tord Gustavsen, Opening, vibrated between the introspective and the dramatic in rich and singular ways, with the pianist's brief nod to Jan Johansson's classic 1964 album (Jazz På Svenska) one of several deft touches.
Bandleader and multi-instrumentalist Michael Leonhart's singular eulogy to his 15-year-old mini dachshund, The Normyn Suites, contained a number of wondrous things, none more so than 'Nostalgia', which from its shimmering, otherworldly introduction and harmonic stasis to its perfectly judged solos was one of the year's most captivating passages of music.

Two More Essential Albums from 2022
Cécile McLorin Salvant - Ghost Song
Samara Joy McLendon - Linger Awhile

Musical Experience of the Year
SFJazz Collective's New Works Reflecting the Moment at the Barbican, a stunning Rite of Spring at the RFH from the Budapest Festival Orchestra and Iván Fischer, plus two wonderful trios – Diarmuid Ó Meachair (box), James Carty (fiddle), Jonas Fromseier (bouzouki) and Tommy Fitzharris (flute), Dónal McCague (fiddle), John Blake (guitar) – at the Return to London Town Festival of Traditional Irish Music, Song and Dance.

Track of the Year
Michael Leonhart Orchestra - "Nostalgia"
Below: Listen to "Nostalgia" by the Michael Leonhart Orchestra
With an irresistible communion between singer and band, Holding Space was the most transporting album I heard this year
rating
Explore topics
Share this article