Albums of the Year: Dolly Parton - Pure & Simple |

reviews, news & interviews
Albums of the Year: Dolly Parton - Pure & Simple
Albums of the Year: Dolly Parton - Pure & Simple
Dolly mixture: 'garage band' simplicity coupled with a Glastonbury giveaway
Saturday, 31 December 2016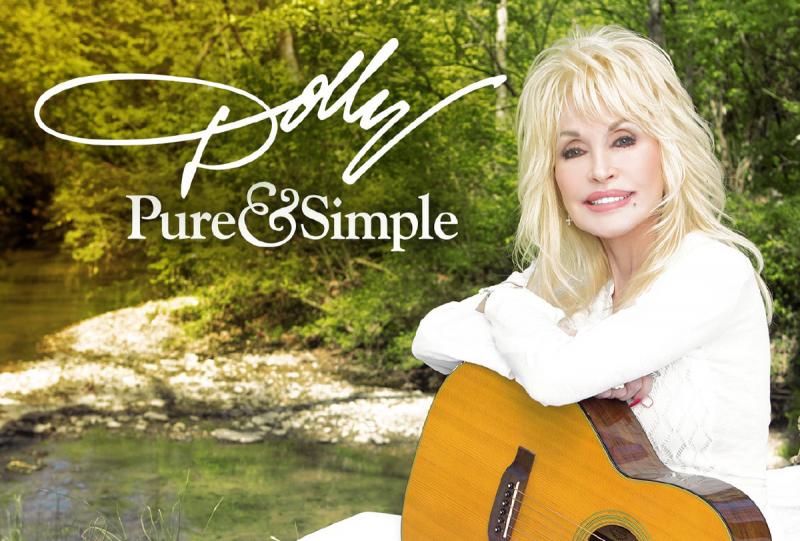 Dolly Parton – 'straight-from-the-heart storytelling'
The unsinkable Dolly Parton turned 70 in 2016 and the new year marks the 50th anniversary of her debut album, Hello, I'm Dolly. Pure & Simple is her 43rd studio album, its genesis a brace of stripped-down concerts given at Nashville's Ryman Auditorium which were reprised at Dollywood. Such a back-to-basics approach is much favoured by country musicians – Johnny Cash, Emmylou Harris and Loretta Lynn have trodden a similar path.
Everything is relative, however: the backing quartet multiplied in the studio yet still Dolly describes it as "almost like a garage band".
As ever, Parton's voice of silver rain – all perfect pitch and (in contrast to her celebrated image) understatement – is instantly beguiling. Hers is the most natural of talents, her straight-from-the-heart storytelling and innate musicianship an always-winning formula. Except there's nothing formulaic about any of it and those who laugh at the Barbie image and turn a deaf ear to the artist are missing out.
I'm a sucker for singer-songwriters, for music that is essentially acoustic
Many of the 12 tracks are love letters to her husband, Carl Dean. In "I'm Sixteen" she reflects on "drinkin' cherry coke" and "that ol' back seat" at the drive-in. All innocence – unlike "Head Over High Heels" where she sings, "It's just a disgrace, these thoughts that I think/When he holds me to him, I want to woo him/I want to undo him, and don't think I ain't." Then there's "Forever Love", in which a string quartet underpins Dolly's carefully wrought vocal and Tom Rutledge's acoustic guitar. "Mama" revisits territory explored years ago in the Parton classics "To Mama" and "Coat of Many Colours" but this time as a piano ballad.
Pure & Simple also includes Dolly's set from Glastonbury 2014. The hi-octane performance is neither pure nor simple but it is absolute Dolly, hit after hit performed with the energy and enthusiasm to which the vast audience responds. As another great American icon once sang, "You're lookin' swell, Dolly…You're still glowin', you're still crowin', you're still goin' strong". And long may she continue.
I'm a sucker for singer-songwriters, for music that is essentially acoustic and which tells a story, where the words and music – the artistry – trump production and artifice. New albums this year by Graham Nash, Paul Simon, Bonnie Raitt, Leonard Cohen and Joan Baez are all to treasure. Cohen left us when we need him most. Baez sings on, her voice no longer that "achingly pure soprano" but the live album a wonderful distillation of more than 50 years of music-making with guests including Jackson Browne, Paul Simon, Emmylou Harris and the Indigo Girls.
Two More Essential Albums from 2016
Joan Baez – 75th Birthday Celebration
Leonard Cohen – You Want it Darker
Gig of 2016
Graham Nash at Union Chapel
Track of the Year
Barb Jungr – "Eleanor Rigby"
Those who laugh at the Barbie image and turn a deaf ear to the artist are missing out
rating
Share this article