10 Questions for Musician Graham Nash |

reviews, news & interviews
10 Questions for Musician Graham Nash
10 Questions for Musician Graham Nash
Now in his sixth decade as a musician, the Salford-raised veteran is starting a new life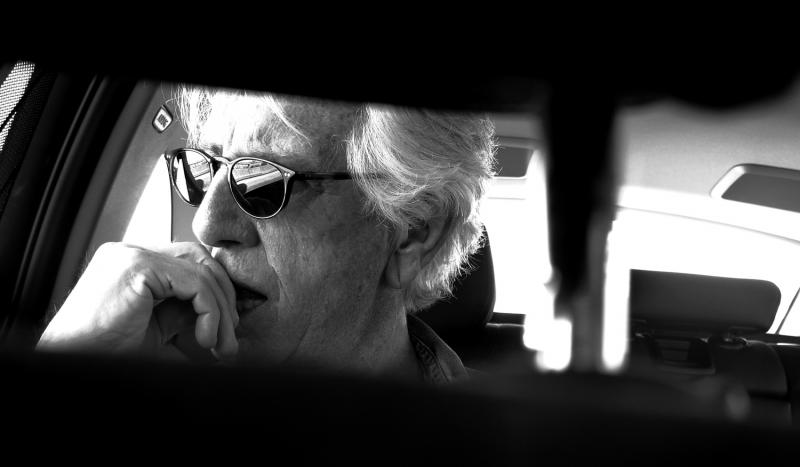 'I always knew what I wanted to do. Is that destiny?'
It was in August 1968 that Graham Nash, then still a member of The Hollies, took a cab from LAX airport in Los Angeles to Joni Mitchell's house in Laurel Canyon. He was just embarking on a love affair with Joni, but also about to blast off on a different kind of adventure with the two musicians who greeted him at her house, David Crosby and Stephen Stills.
When Nash added his high vocal harmony to the other two voices as they sang a new Stills song, "You Don't Have to Cry", it was the first spark of a California soft-rock revolution. Crosby Stills and Nash, later joined by Neil Young, would find themselves in the vanguard of an idealistic, politically aware, ecologically concerned musical movement that Nash himself once dared to liken to the artistic upheavals that galvanised Vienna at the start of the 20th century.
This week, the Salford-born Nash is releasing his sixth studio solo album, This Path Tonight, and next month he'll be back in Britain for live performances featuring just himself and guitarist and co-writer of the new songs, Shane Fontayne. "An acoustic performance gets you right to the essence of a song," Nash reckons. "And you'd better deliver it too because it's not like Neil's over there and Stephen's over there – they're watching you because it's a solo thing."
The new album is a collection of personal and introspective material which catches Nash at a new turning point in his life. At 74, he has parted with his wife of 38 years, Susan Sennett, for a new relationship with New York-based photographer Amy Grantham. An accomplished photographer himself – "I've been a photographer for longer than I've beeen a musician," he points out – he's staging his exhibition My Life Through My Lens at the Salford Museum and Art Gallery from 23 April to 3 July. The white-haired Nash is no longer the shaggy-haired young hippy who rode the Marrakesh express, but there's still something innocent and wide-eyed about him. And despite all those years in the States, he still appreciates a well-brewed pot of tea.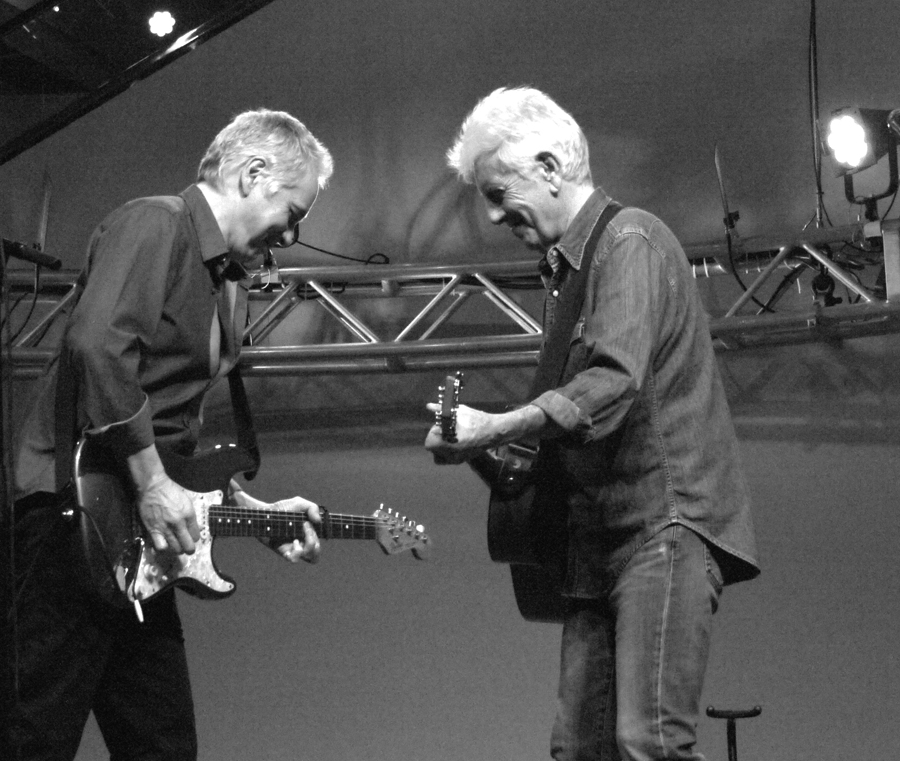 ADAM SWEETING: So you wrote the songs on your new album at amazing speed?
GRAHAM NASH: Yeah. Shane Fontayne and I wrote 20 songs in a month, that's almost one a day, and recorded them in eight days (Nash with Fontayne, pictured left by Amy Grantham). When I realised that that was happening, the rest just flowed great. Shayne is the second guitar player in the Crosby Stills and Nash band and the other guitar player is Stephen Stills. No pressure! Shane is beautiful, he's a great musician, he's English, he saw the Hollies at Finsbury Park Empire when he was 12 in 1964. He understands my limitations as a musician. I'm not a very good musician at all. I know enough chords to be able to write songs. I've always been a little uncomfortable writing with other people, but with Shane it seems so natural. Shane travels on my tour bus, and we got on our bus and I started writing because this woman I'd met [Amy Grantham] had set me on fire, and I just started to vomit words all over the paper. I would hand them to Shane and the next day we had a song. In fact the second song on the record is called "Myself at Last", that's the first take of the first song we tried. The songs are about looking back, but I'm also walking forward into my future. I start the album with "Where are we going? [from "This Path Tonight"], because I don't know. I just trust that the universe loves me enough to support what I'm doing.
Did you always feel a destiny calling you in some way?
I always knew what I wanted to do. Is that destiny? I knew I wanted to be a musician since I was 13 years old. I had a friend, Fred Moore, and for his 13th birthday his mother bought him a bike, and he rode all the way to Bad Nauheim in Germany and met Elvis. So of course I wanted a bike, right, but we couldn't afford it, so what's your second choice son? Well how about an acoustic guitar? I guess it was my first metaphysical choice. If I'd gotten a bike maybe I'd be Lance Armstrong instead of Graham Nash.
That might be a bit of a mixed blessing. But the Everly Brothers were a big inspiration to you, weren't they?
Unbelievable, yeah! It's like a five-part story, y'know, going to a Catholic schoolgirl dance and hearing "Bye Bye Love" for the first time, and having it knock me on my ass. I'd never heard anything like that in my life. The Everlys played the Manchester Free Trade Hall in 1960 and me and Clarkey [Allan Clarke, with whom Nash later formed The Hollies] decided that not only are we gonna go to the show but we're gonna go and meet them, 'cos there was no tour bus and the Midland hotel was two minutes away, so we figured that's where they were staying. And they came and they talked to me and Allan as people, not as fans, patting them on the head and signing autographs. We told them that we sang and we sang their songs and we wanted to make records eventually. In 1960 I was 18, what did I know? But six years later we were recording an album called Two Yanks in England with them, recording Hollies songs (The Hollies with Nash second from left, above).
Then in Toledo, Ohio in 1992, I was on tour with CSN and the phone rings in my room and it's Phil. He said we're playing tonight, do you want to come? So I went down and they were soundchecking and everything, then Don says to me "So um... what are you gonna sing with us?" Now I'm fucking dying inside, but I'm trying to be cool. I said "'So Sad' maybe, I love that song?" So now I have a mixing board tape of me singing "So Sad" with the Everlys in three-part harmony that thrills me to this day.
But the truth is that we're all just a link in the chain of musicians. There's been harmony singers before us and there'll be harmony singers after we're gone. Just a link in a big chain stretching from somebody banging on a log in a cave somewhere all the way through to Lady Gaga. For instance, a lot of people have said to us "I hear you taught the Grateful Dead how to harmonise", but not really. We just showed 'em how we did it. When we were doing the Déjà Vu record, the Dead were in the other studio and Jefferson Airplane were in another one. Jerry Garcia came to us one day, he said "show me how you get this blend". So we did. He stood there while we overdubbed some vocals onto a track, and then the Dead picked it up and ran with it.
Are there particular tricks to recording harmonies?
There are, and you have to be very careful. They call me "razor throat" because when I put my voice in there, you can take it down to the lowest volume and it's still louder than the other guys. I don't know what that is, but we have to be very careful how we balance it. Usually what happens is that whoever wrote the song takes the melody, which is obvious, right? If you're doing "Helplessly Hoping", Stephen wrote it and that's his melody. Then me and Crosby try and figure out where we should go. Very instinctual, very natural with us. Like I've said, that vocal sound that we have was born in a minute. One minute – wow! No months of rehearsal or trying to figure it out, we just did it. I realised at that moment that I'd have to come back to England and undo my entire life. The Hollies had had I think 16 Top 10 records, but I left my band and my equipment and my money and my friends and went to America to follow this sound that I'd heard. That's what my heart told me to do (Crosby Stills and Nash, 1977, below).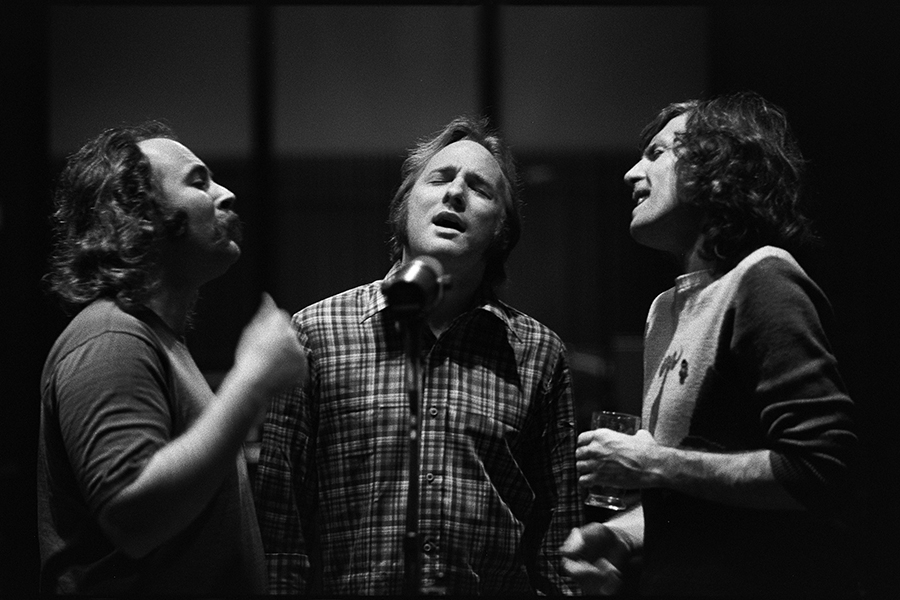 That's what's going on now with This Path Tonight, I'm just following my heart. I'm divorcing my wife after almost 40 years of marriage. I fell in love with this beautiful woman from New York City and she took the cover picture, and that's me walking in Woodstock. That was New Year's Day 2014 in a snowstorm. It was obvious that it was going to make a great album cover. I'm going down this path, you want to come along? See what happens? It never ends. That's why I put "Encore" at the end of the album. It's asking, who the fuck am I when the last show's over and the lights are fading and the people are leaving. Who am I? Am I a decent person? Am I worth a shit here or am I just a cock-up, you know? I'm from Salford. I've only just recently started to feel that I deserve all the things I've done in my life, because I spent many years waiting to get found out. "You're from Salford, you can't do any of this stuff. Bloody 'ell lad, get down the mine" (Nash and David Crosby, below).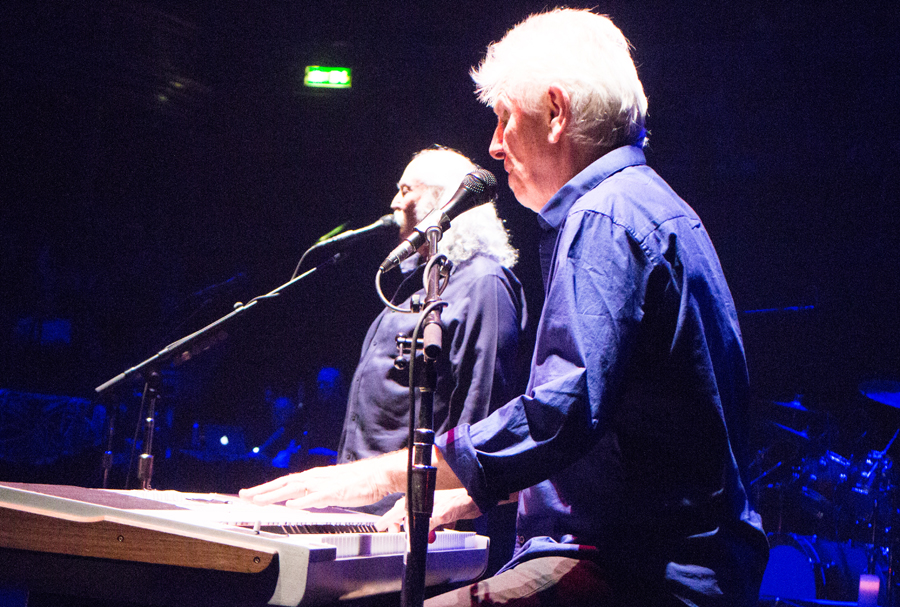 Your new song "Golden Days" has a melancholy, nostalgic feel, but is it also looking forwards?
Absolutely. It starts out with my friends The Hollies, we played across the land and it was almost at the beginning of rock'n' roll in the early '60s. The middle section is about how life was difficult after World War Two when you couldn't get food, you couldn't get sweets or sugar or butter without a government-issued ticket. And the last verse is basically about how bad news sells, but there are millions of great things that happen in this world every single day that you never hear about. I know we have problems with climate change and terrorism and the political system and Donald Trump and all that silly shit, but these are golden days to me.
"Back Home" is a very eerie song about mortality. Is death something you think about much?
"Back Home" is a song that we wrote when our friend Levon Helm was dying, it's basically our demo from the bus, we just overdubbed drums and my lead vocal. But we were only in the middle of February this year and we'd lost David Bowie and Glenn Frey and Paul Kantner and Signe Anderson [from Jefferson Airplane] and Lemmy from Motorhead – what's going on? And when you get to my age, 74, it makes you really think about your mortality. I mean I feel great, I'm ready for another 74 years, but the reality is I could drop dead in the middle of this fucking conversation. You'd have a great scoop. But what an incredibly beautiful death David Bowie's was. I think he obviously knew that he was very ill and he planned it that way, and that's brilliant. What a brilliant end to a genius career.
There are a couple of political songs on the album, included as bonus tracks – "Watch Out for the Wind", about the killing of Michael Brown in Ferguson, Missouri, and "Mississippi Burning". But presumably you're not expecting the kind of violent reaction you got on the Crosby Stills Nash & Young Freedom of Speech tour in 2006?
On that tour, we obviously knew we were going to piss people off and we were kind of thrilled that they reacted that way. They're allowed to completely disagree with us. Nobody has to agree with us, we're just four fucking hippies. But I wish I could talk to every single person that gave us the finger and threatened to kill us, and ask what they thought about George Bush now, in retrospect. Millions of people died because of that man. All for oil. That will haunt us for years, man. I don't think people in the Middle East have ever forgiven us for the Crusades, and that was hundreds of years ago. What we have to try and avoid is the perception that this is a war between the West and Islam. It's not, we're not against Islam, we're against extremism. I wrote a song called "In Your Name" because of this priest in Florida that told his congregation to burn the Koran. It's also kind of reflected in my song "Cathedral" that so many people have died in the name of "my God is better than yours and I'm killing you to prove it".
There's a part in your book, Wild Tales, where you say you wanted to, er, make love to Michelle Phillips from the Mamas and the Papas. But you don't say what happened next.
Nothing. No. Listen, trust me, she was a gorgeous young woman and I would love to have made love to her, absolutely, but I never got the chance. Although John Phillips [her husband] thought I did. I was at the Riot House hotel in LA and my phone rang around 4 o'clock in the morning, and he said "let me talk to Michelle." I said "what, you think Michelle is lying next to me? Are you fucking crazy?"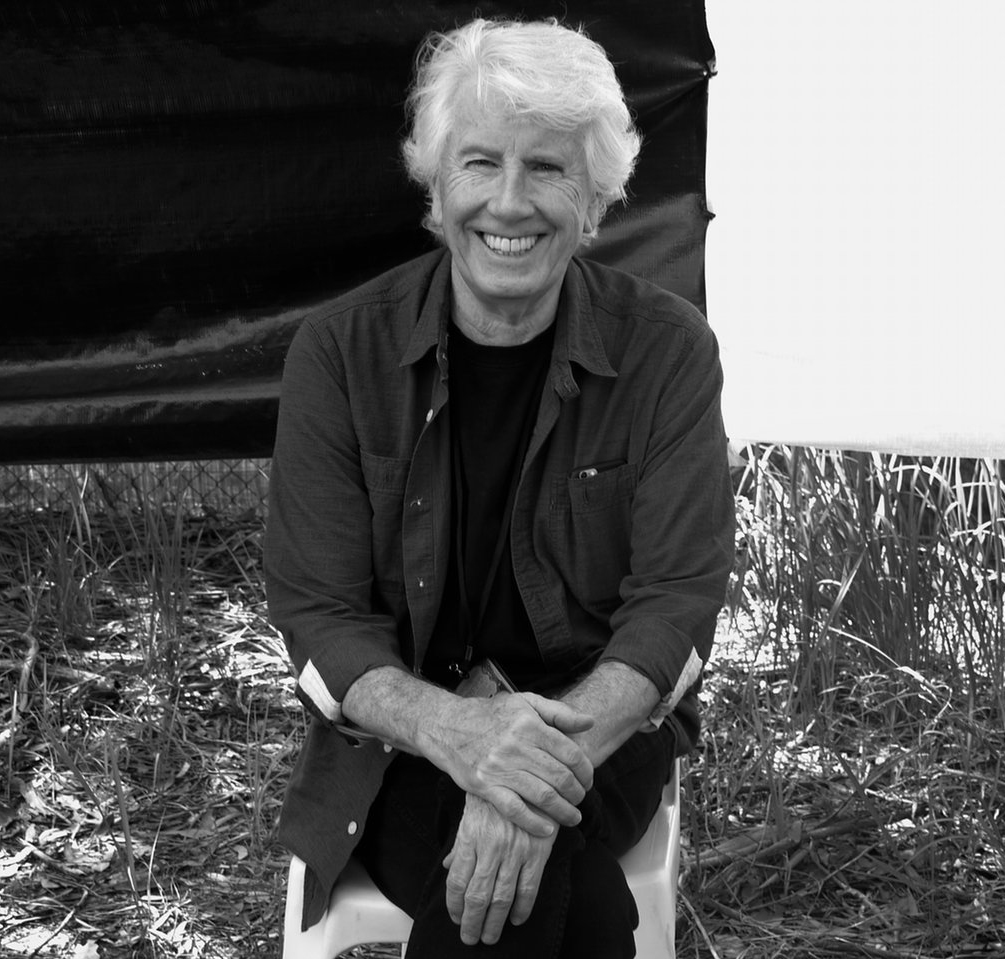 John Phillips's own book, Papa John, was a horrifying story of drug addiction.
Terrible. Y'know, I believe in everything in moderation. When you get that fucking crazy, it's like my friend Crosby, you know how crazy he got. I have no idea why he's still alive. I mean, I know he's a Leo and he's supposed to have nine lives, but holy fuck, he's on his 20th now. The only call I got from the legal department at the publishing house was about the story of Crosby selling his Mercedes to buy crack. Then the guy who bought it overdosed. David stole into the house while the body was still there and got his pink slip [the certificate of ownership] for the Mercedes back. That was the only time when the publisher said "look, we've got to get this straight". So I called Cros, I said "remember when you told me that?" He said "yeah." I said "you're alright with that?" He said "oh yeah, and don't forget I re-sold the Mercedes for more crack." So that kind of placated the legal department.
Are you able to talk about Joni Mitchell, who has been seriously ill?
We can talk about that. I've been in constant contact with her of course. I think it's well known she was found on her kitchen floor with a bleeding aneurysm and went into a coma, and then came out of the coma. She has an incredible team of people that are now bringing her back to being normal – whatever normal is for Joni Mitchell! It's going to be a little slower than people thought, but she's obviously awake and talking, and she has been starting to walk again. People are hoping she'll be fully restored to how she was. We can't afford to lose Joni Mitchell.
This Path Tonight is released on Friday 15 April. Graham Nash UK tour dates: 21 May Albert Hall Manchester, 22 May Town Hall Birmingham, 24 May Union Chapel London, 25 May G Live Guildford
I've only just recently started to feel that I deserve it, because I spent many years waiting to get found out
Explore topics
Share this article