Anna Calvi, Shepherds Bush Empire |

reviews, news & interviews
Anna Calvi, Shepherds Bush Empire
Anna Calvi, Shepherds Bush Empire
Guitar rock with an interest in emptiness is challenging but compelling
Wednesday, 02 November 2011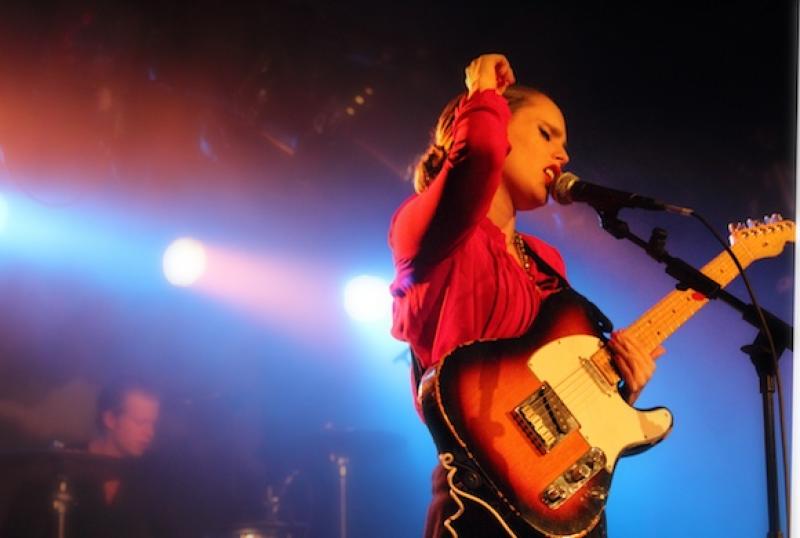 Anna Calvi: giving space its own space
It's guitar rock, but not as we know it.
Anna Calvi, the Londoner in her late twenties whose debut album created a stir earlier this year and earned her a Mercury Prize nomination, makes music that has all the familiar, recognisable elements of the music that we call "rock" – guitar, vocals, drums – but her treatment of it is idiosyncratic; she exploits the spaces between the instruments as much as the instruments themselves to create a dark mood, an atmosphere of heightened sexual tension.
It takes a bit of getting used to. At a sold-out Shepherds Bush Empire, on the London leg of her UK tour, for the first couple of songs I have to confess that I was a bit nonplussed: partly, I think this was because, like an old wireless set, the band's "valves" took a while to warm up, but chiefly it was because there's something disturbingly empty about her music. Most bands performing in the rock idiom are scared of space; they fill it up with more guitars and keyboards and voices. But Anna Calvi just gives space its own... well, space.
On stage she was accompanied only by a drummer, and a multi-instrumentalist who majored in percussion but also played the harmonium, occasional guitar and a pedal-operated bass synthesiser. The result was a sparse, clangy sound dominated by drums and percussion, by Calvi's fabulously twangy Fender Telecaster, with its echoes of Chris Isaak and Johnny Kidd and the Pirates, and by Calvi's extraordinary voice – for someone so tiny, she emits a remarkable hollering, soaring sound. At times - and this was also partly thanks to the sound of her Fender guitar - I was reminded of Jeff Buckley.
Dressed like a male flamenco dancer, her mouth painted a voluptuous shade of red, she was fierce
Her appearance, meanwhile, was striking: dressed like a male flamenco dancer, except with vertiginous stiletto heels, her hair plastered down and severely parted and tied up in a bun, her face stern, her mouth painted a voluptuous shade of red, she was fierce. The emptiness of the stage around Calvi and her band served only to further accentuate the harsh austerity of the whole affair.
It was, as I say, a bit challenging. But once my ears had become attuned to her sound, and once her guitar took its proper place at the heart of the mix, I found myself sucked into her orbit. Almost as compelling as Calvi herself was the dexterity of her multitalented bandmate, who would, for instance, momentarily stop using her left hand to pump her harmonium and instead pick up a drumstick to whack a small timpani a couple of times before returning to pumping duties; or she would tickle a pair of tiny cymbals, or tinkle a little xylophone. All the while, with one foot she was operating the bass pedals.
Among the standout tracks were the epic "Desire"; a fabulous version of Elvis Presley's "Surrender", the lyrics of which, coming from Calvi's mouth, sounded more like a threat than a seduction; "Love Won't Be Leaving", with an extended guitar interlude, featuring Calvi's distinctive circular strumming style, resulting in a sound that was dark and sustained; and "Jezebel", the old Edith Piaf classic, on which she really unleashed her voice and let it fly; fabulous.
And when she spoke, the contrast with her singing voice was remarkable – she said very little, but said it in a voice that was sweet, slightly squeaky and girlish. This was endearing. So, too, given her scary countenance and her commanding, domineering demeanour, was the fact that she seemed nervous – "There's so many of you," she blurted.
It was all over pretty quickly: she has only made one album so didn't have much more in the way of repertoire to plunder. But this striking, singular performer's music was reverberating in my head long after the show had finished.
Anna Calvi is on tour until 20 November
Watch Anna Calvi perform "Desire"
She exploits the spaces between the instruments as much as the instruments themselves to create a dark mood, an atmosphere of heightened sexual tension
rating
Share this article